Kristen Stewart Feels "So Accomplished" After Miley Cyrus Calls Her Hot
We would too, K-Stew.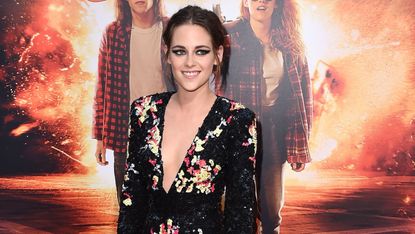 (Image credit: Getty Images)
Yes, Miley Cyrus has a girl crush on Kristen Stewart. And yes, K-Stew is 100% all about it.
Almost a month after Cyrus told her 27 million Instagram followers that "K Stew is hot!," the American Ultra actress has finally caught wind of the pop star's compliment. And as you can imagine, she's beyond flattered.
"I feel so accomplished," the 25-year-old told MTV News with a smile. "I feel closer to her."
While Stewart may have been half-joking about her latest *accomplishment,* it's clear she has nothing but love for the "We Can't Stop" singer. When reminded of Cyrus' upcoming hosting duties for the 2015 VMAs, the former Twilight star immediately said, "She's going to kill it."
Kristen Stewart, a Smiler. Who knew?
Watch the interview below: