The New Life of Lea Michele
A sneak peek of our November cover.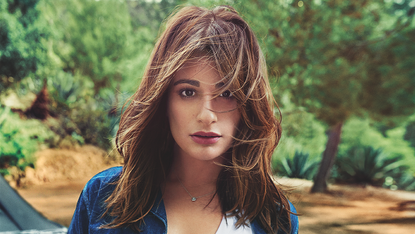 (Image credit: Boe Marion)
Marie Claire Newsletter
Celebrity news, beauty, fashion advice, and fascinating features, delivered straight to your inbox!
Thank you for signing up to Marie Claire. You will receive a verification email shortly.
There was a problem. Please refresh the page and try again.
In a recording studio in West Hollywood, California, Lea Michele is discussing the embarrassment of riches her team believes is her second album. For the past month, her songwriter and vocal engineer have been recording Michele's tracks to be produced into what Michele hopes will be a more successful venture than her first effort, 2014's Louder, which received mixed reviews and sold just shy of half a million copies worldwide. That album—a collection of conventional pop songs designed to lure her youthful Glee audience—was not a true Lea Michele album, as she now insists: "I have a better idea what that is."
She says she didn't have the courage to stick up for herself when it came to dealing with producers and her label. "The problem with the first record," Michele explains, "was that I would record a song, and then I would get it back from production and it would sound very different. As an artist, that can be jarring. That's why I'm more hands-on on this. This is about experience, about confidence. I'm sure it's like—kids? The first time around, you're just kind of winging it. You're like, 'I hope I don't fuck up this kid.' The second time around, you're not as intimidated, so you know how to handle each thing...I have a clearer vision."
Michele, 29, doesn't have kids, of course. She's waaay too busy for that. She promised herself two years ago that she'd never do a TV show, a book, and an album at the same time. (Back then, she was filming Glee, writing her first book, Brunette Ambition, and recording Louder.) But here she is, laying down tracks for her next album (out early next year) before heading to a lunch where she'll get her first glimpse of her fall book, all while preparing to fly to New Orleans with her boyfriend, aspiring actor Matthew Paetz, to shoot her next Ryan Murphy show, Scream Queens.
To read the rest of Michele's candid cover interview, pick up the November issue of Marie Claire on newsstands October 20. Here, a few highlights:
On moving forward after the death of Cory Monteith: "Getting to the other side takes a lot of work. All you can do is get to the other side. It's a struggle. When you do, there is happiness there. It's important to me to keep private some of that process with how I got here. But I am here, I am good, and I am very grateful for that."
On new boyfriend Matthew Paetz: "Matthew is a good cook. Food, for me, was always about love and connecting.'"
On her new life: "The new house might be a little baller. I've earned it."
On her favorite body part: "I love my butt. It is a showstopper."
On being famous: "Everybody thinks you're a star with roses being dropped at your feet. You have to take some fucking punches. Now I have my groove…I am much more aware. I also don't care as much. I am very content with me."
Read the full interview and see more gorgeous pics in the November issue of Marie Claire, on newsstands October 20. And for a little behind-the-scenes action to hold you over, see Michele at her cover shoot here:
Follow Marie Claire on Instagram for the latest celeb news, pretty pics, funny stuff, and an insider POV.
Celebrity news, beauty, fashion advice, and fascinating features, delivered straight to your inbox!