Courteney Cox in Control
After years of being a team player in Friends, Courteney Cox is finally ready to take the lead.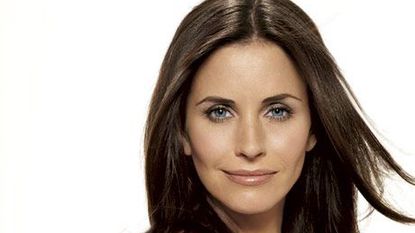 (Image credit: James White)
When you think of Courteney Cox, probably the last thing that comes to mind is "kooky." Composed? Sure. Organized? Judging by the neatly paper-clipped stacks of memos on her desk, her savantlike attention to her daughter Coco's schedule and the fact that her mind, and her mouth, can ricochet between two entirely different conversations at the same time, Cox seems to be, if anything, a woman who likes to be in control. In fact, the only thing about her that seems remotely kooky might be her husband of seven years, actor David Arquette, what with his loopy smile, out-there wardrobe and junk-shop collector's mind, in which the idea of owning, say, thousands of Russian nesting dolls seems perfectly normal.
"Oh, I'm kooky," Cox insists. "I'm probably more kooky than David, who is a lot more serious than people think he is. David loves structure, and I can't stand it." Cox is about to elaborate further when word comes that Arquette himself is on the line from New York. "David, do you think I'm kooky?" she asks, punching up the speakerphone.
"You're kooky in a fun way, and also a little neurotic, but in a good way. You're incredibly real, and you have an energy from being so real. You're silly."
"Okay, I'm silly, not kooky," Cox concedes. "But I'm not as controlled as it seems, although I have definite insecurities about things."
"Who doesn't?" Arquette says.
"Yeah, but you know the one thing that people don't know about me? That I am the most direct person. You never have to guess where you stand with me."
"You're honest," Arquette's disembodied voice agrees. "You're straight up."
"I'm not fake in any way. But David, how does it get me in trouble by being so real?"
"Because you wear your emotions on your sleeve, and you would rather have an uncomfortable moment than a fake moment."
Cox nods. "It's true, I would — and then I'll worry about it afterward. What I wish for myself is that I could be the kind of person who just goes, 'This is what I need,' and doesn't feel bad about it. There are actresses who say, 'I don't feel like doing that,' and throw a tantrum and don't worry about it, but I could never do that."
The Real Courteney: "I am very open"
Okay, so the woman wants to be kooky, even if she's actually controlled, focused and organized. Suffice it to say the distinction between the Courteney we see on-screen and the real Courteney is a nuanced one. Cox does not dispute the fine line dividing performer and performance. "There is no 'real me' versus the me you think you know, because I am very open," she says. But spend even a few moments with the high-energy actress — whose dark tresses and cheekbones so sharp they could be classified as weapons are obvious reminders of her early days as a model — and you realize that the comparison only goes so far. Cox in person is smarter, more ambitious and more commanding than any woman she's played on-screen. As she describes herself: "I have, like, hyper-awareness. It's like a disease. I can't help it. I notice everything."
Which goes a long way toward explaining why, on the May afternoon when we first meet, her eyes are going like a pinball machine when she first hurtles into her office, cell phone pressed to her ear, looking at least a decade younger than her 41 years. For starters, she's been up since 6:15am taking care of Coco. She's got two movies opening soon: Barnyard, an animated comedy in which she supplies the voice of a pregnant cow named Daisy, and Zoom, a family comedy costarring Tim Allen. She's also got Coco's second birthday, as well as her own wedding anniversary, to shop for. "I'm a little worried, because David is such a gift-giver," she says, showing off the diamond-and-gold ring and hoop earrings he gave her for Mother's Day.
But on this day, what's consuming Cox is the feeling of being on pins and needles while waiting to hear the fate of her new cable series, Dirt, which she produces and in which she stars as a hard-boiled tabloid-magazine editor. (A week after our interview, it is announced that Dirt is a go and is scheduled to start airing on FX early next year.) "As I'm talking to you, do you see my brain going at 1,000 miles an hour?" she asks. "The reason why I want to produce, to be honest, is for the control," she says. "I was on the most wonderful TV show ever, and I don't want to be just an actor for hire anymore."
Control is a big issue with Cox, who grew up the youngest in a family of six in Birmingham, AL. Her parents divorced when she was still young, and her father moved to Florida. "I came from a big family where everyone was talking and no one really listened, and I just need to be acknowledged," she says. "That's very important to me."
Unlike a lot of pampered Hollywood stars, Cox isn't afraid to do some heavy lifting to get what she wants. She's been working, she points out, since high school. "I wanted things — a car, a certain kind of jeans — and we didn't have a lot of money, so I worked," she recalls. That independent streak surfaced again when she quit studying architecture at Mount Vernon College and moved to New York after receiving an offer to become a professional model. "I thought I was cutesy, not beautiful the way models are, so it was exciting for me to get a job," she says — then she adds with a wry smile, "although, I was no big model. I went right into commercials." Her Family and Her Career
Cox is also unusually confident when it comes to spending and investing her money, and she is a renowned buyer and seller of houses, which she loves to renovate. "It's almost mandatory that I change my environment regularly, so I do take risks with real estate," she says. "I think you have to have faith in yourself." You can see the same self-assuredness behind her decision to start her own production company with Arquette. Rather than rest on her Friends laurels, which also came with one of the biggest paydays in prime-time history, Cox opted to fund her fledgling company. Before it officially launched, she and Arquette produced a home-decorating show, Mix It Up! — based on their own decorating dilemmas — which aired on the We: Women's Entertainment channel.
"I like being self-employed," she says, adding that she especially likes the freedom it gives her in fine-tuning her choice of roles. "I like playing comedy, where I can be goofy, like I am in Zoom," she says, in which she plays a comic book-crazed scientist. "But I don't want to be the straight person in a comedy anymore. I want to be challenged and creatively fulfilled, or I don't want to do it," she adds. "There is no reason for me to just take a job. Not right now. My priorities have changed."
They have indeed. It took five years of marriage, a series of miscarriages and in-vitro fertilization before Cox gave birth to her daughter two days before her own 40th birthday two years ago. "And what a little personality," she says, fishing out an envelope of baby pictures. "You can't get any cuter than that!"
Cox has taken a hands-on approach to child-rearing. She and Arquette have refused the typical Hollywood solution of live-in help (though a nanny comes when needed), and Cox is adamant about getting up when Coco wakes up every morning at 6. She also insists on bringing her to the office every afternoon (Coco even has her own "office," outfitted with a puppet theater), and she ardently disagrees with Arquette over how soon Coco needs to start preschool. "I hated school," she says. "I think growing up is hard, and you're in school for so long. Do we have to start that now? I say anything Coco wants to do now is fine." In fact, Cox has yet to spend a night away from her daughter, which is "kind of unhealthy," she says with a laugh. "But I am so nuts about my child."