Sex and the City: The Gossip, the Glamour, the Truth!
With the long-awaited Sex and the City movie hitting theaters, we dug deep for the juicy backstory on the show that changed our lives.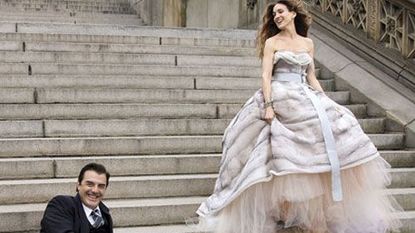 (Image credit: J. Devany)
IN THE BEGINNING
Darren Star (SATC creator): My idea was that this could be sort of a Mary Tyler Moore Show for the new millennium. It wasn't about T&A. It would be R-rated, but it had to be funny.
Kristin Davis (Charlotte York): It was the talk of L.A. that there was a show coming from HBO that was going to have four women in it. That was not a very common thing. And then everyone's like, "Ooh, New York City!" All the actresses were buzzing about it.
Willie Garson (Stanford Blatch): At the beginning, it was our secret little show that no one knew about. No one was watching; no one had HBO.
Cynthia Nixon (Miranda Hobbes): When the show started, it was more bleak, and rarefied, and so New York. Who was this show for? It just seemed like an experiment, really.
Kristin Davis: We were kind of making it up as we went along. We just wanted to stay on the air. I remember having conversations with Darren about how if we ever got nominated for a Cable Ace Award, we would be so happy, that it would be the biggest deal in the world.
Cindy Chupack (executive producer): On HBO we could use language and show sex without pressure from sponsors — like when we wanted to do an episode about Miranda's deciding whether to keep the baby or have an abortion. I don't know how you could have done that on network television as honestly as we did. Have your main character admit that she'd had one? It felt like a luxury that there was no pressure other than what would be true for these characters.
Chris Albrecht (former chairman and CEO of HBO): It wasn't that we didn't have pressure. The show was expensive. There was a lot of attention. But no one should try to make a show popular — that's a foolish endeavor. You try to make a show good.
Chris Noth (Mr. Big): It started slow and then it just sort of exploded. All of New York just changed at the same time, really. It all became cosmos and the Meatpacking District. I remember being really sort of in shock and awe.
Kristin Davis: When Time magazine put the four of us on the cover and said, "Who Needs a Husband?" that's when I thought, Wow. I hadn't really realized larger cultural connections were being made. Then I was floored.
Cynthia Nixon: We weren't on the cover of a women's magazine; we were on the cover of a news magazine. We were so big that we were news.
Willie Garson: It was like being on the Yankees or something.
THE GOSSIP
It was said you were the holdout on making the movie. Why?
Kim Cattrall (Samantha Jones): Four years ago I was going through a painful public divorce, the series was coming to an end, and my father was diagnosed with dementia. I felt it was time to be with my real family. A year-and-a-half ago, when I was sent the script, I was ready and strong enough to revisit Samantha. In some ways, I'm glad we waited. The script and the experience of making the movie was the best possible reunion.
What about reports of feuds and contract disputes?
Darren Star: I think you have to draw the line between what's happening in gossip columns and what's happening on a set. You can't create that kind of chemistry. When you do a series for so many years, you can't fake it completely.
Chris Albrecht: When you're keeping people for years, you have to continue to pay them more money. Sarah was becoming more and more famous, and her salary increased beyond what was contractually committed, which is normal for hit shows. The other actresses wanted to keep up.
Mario Cantone (Anthony Marantino): Certain people were vilified in some articles, and others were vilified in other articles. It's interesting how they never write stuff like that about the men on The Sopranos. They always go after the women. They just do.
BETWEEN THE SHEETS
Michael Patrick King: The first episode I wrote had the scene where they're all deciding whether Charlotte should let this guy go up her butt. She says, "I don't want to be Mrs. Up-the-Butt." When I was writing that dialogue, it was exciting because I knew no one had ever written this before. No one had ever tried to be funny in that area, literally and figuratively. At the table-read, the first time everybody started saying it, Sarah Jessica and Kristin got beet-red and started giggling.
Sarah Jessica Parker: I almost never got over it. But it's okay at table-reads, because you can have your head down. My hair was always down for table-reads.
Kim Cattrall: Samantha's sexual appetite has been likened to that of gay men, but I never felt that. I love gay men, but I'm not a gay man. I think she was unique in the way she led her life. She had no guilt and no judgment. That is almost unheard of in America.
Darren Star: These were women who were objectifying men. And it was sort of jarring. Men aren't used to hearing themselves depersonalized and referred to as Mr. This or Mr. That. I think if you had a show with that sort of locker-room talk from a bunch of guys talking about women, it would be a little "yuck."
Kim Cattrall: The only time I ever asked for a rewrite was when Samantha was hired by a young girl for her bat mitzvah. Originally, there was a scene where they were comparing fellatio techniques, and I said, "There's no possible way that a woman, unless she's mentally ill, could have this conversation with a 13-year-old girl."
Jason Lewis: One of the first sex scenes we did was a montage of us having mad-crazy sex. They had one of those 99-different-sexual-positions manuals in the prop department, so me, Michael Patrick King, and Kim looked to see what would be good. Mostly I deferred to the lady.
Kristin Davis: One time [when Charlotte dropped her robe in front of Trey], I mistakenly showed my nipples. But it was a hard scene to shoot, and I had enjoyed that take so much, I said okay. HBO sent me a copy to approve.
Cynthia Nixon: Most of my sex scenes were comic — the dirty talker, the marathon man, the guy who wants to kiss my ass and wants me to do the same to him.
Blair Underwood: The first sex scene we had, I was on the bottom, Cynthia's on top, and she's doing the whole "ride 'em cowboy" type thing. In fact, they were playing rodeo music.
THE ULTIMATE EPISODE
In which Carrie lives her dream of being a model. Sort of ...
Willie Garson: It is the quintessential Sex and the City episode. Every guest star is a majorly famous person—Margaret Cho, Alan Cumming, Ed Koch, Kevyn Aucoin, Heidi Klum . . . It was like an embarrassment of riches. Which kind of sums up the show.
Michael Patrick King (executive producer; writer/director/producer of the movie): When Carrie fell on the runway, that was a big, stylish moment. I loved the idea that she could humiliate herself in trying to be somebody who's bigger than her. You have these ideals—like Carrie's adulation of a model or Charlotte's adulation of a preppy doctor—that you can't fulfill.
Sarah Jessica Parker (Carrie Bradshaw): The episode is sparkly, and it's silly, and it's funny, and it's sad for a moment, and it's triumphant.
Alan Cumming (Dolce & Gabbana's O): I based the character on lots of people I've met through the years. When my character said, "Me likey," that was in the script, so I can't take credit for that. The "Trot on" we just made up that day.
Margaret Cho (fashion show director Lynn Cameron): The character is a real person. I actually look like her. Except she doesn't swear so much.
THE GUYS
Big
Chris Noth: My character started out as an archetype—the perfect bachelor. He was a very suave, detached man, which I was never interested in playing. I used to argue with Darren about it. The show was so funny all around me, and I didn't want to be the straight man. I would say, "I don't want to be a symbol for what a girl needs. I want to goof around." And finally, I got to. They started to have more fun with me, like when Big put the whoopee cushion under Carrie's chair. Or when he gave her the ugly purse.
Candace Bushnell (original SATC columnist): The first two seasons of the show followed the real-life story of me and my Mr. Big. But the real Mr. Big got married, is still married, and now has a child. So at the end of the second season, when Carrie's Big marries somebody else, I thought, that's the end. And then they said, "No, we're making another season!"
Aidan Shaw/John Corbett
Sarah Jessica Parker: Aidan was only supposed to be there for a few episodes. But John Corbett was just so good and so different and so present on camera, it threw us for a loop.
Michael Patrick King: Aidan was the incredible, sexy, nesting, artist's-hands, granola nurturer—quiet, slow, available, lying-around-on-the-weekends-in-bed guy.
Cindy Chupack: I read the episode where Aidan wanted to stay in and eat chicken and she wanted to go out. He's so sexy, so cool, and you were watching her, thinking, Why is she going out to a club when she has this guy at home? I was on set and said to Michael, "I don't know if it works." And he goes, "Have him not make as much eye contact with her. He needs to be sitting there with his tummy out." So we went back and redid it.
Sarah Jessica Parker: When they took Aidan away from Carrie, I thought she would never recover.
Jack Berger/Ron Livingston
Ron Livingston: What if two people are right for each other, but it's just the wrong time? I wanted Jack to be the right guy at the wrong time.
Sarah Jessica Parker: I never fell in love with the Berger storyline. I understood it was necessary, but it didn't seem happy or friendly.
Alexandr Petrovsky/Mikhail Baryshnikov
Michael Patrick King: Big was considered an outlaw by some of the audience members: older and darker, and maybe not her dream guy. So I made her fall in love with a guy who was even older, and complicated and European. That way, Big looked like the high-school quarterback.
Richard Wright/ James Remar
James Remar: He was sort of modeled after Ian Schrager. With Richard, Samantha met her match. The rooftop scene [where Richard and Samantha slow-danced after skinny-dipping] was framed in such a way so that the two of us were standing opposite each other, and in the background was the World Trade Center. There were these two giant buildings facing each other and these two giant paragons of sexual promiscuity facing each other. But then, 9/11 happened and the World Trade Center was digitized out. And that's a very poignant and deeply personal aspect of the scene for me.
Smith Jerrod/Jason Lewis
Jason Lewis: Smith saw life as simple; he saw the difference between right and wrong. He didn't judge. He gave Samantha room to be who she was.
Steve Brady/David Eigenberg
David Eigenberg: In the first episode, I was reading Hemingway or something like that in the bar. By the second season I was watching Scooby-Doocartoons. So they kind of adapted it to my level of stupidity.
Michael Patrick King: We brought in the softest, strongest guy we could to balance Miranda's hard side.
David Eigenberg: The best episode was early on when they're in the bar and Miranda gave me a bunch of shit, and I grabbed her and I just go, "I don't know why you're hating me so much, but I'm not that guy." And I walked outside, and it was raining, and then she came out and she was like, "Steve." Then she ran up and we made out in the rain. A poor man's Casablanca moment.
Robert Leeds/Blair Underwood
Blair Underwood: I was originally contracted for four episodes, but they called me back and said, "We need to bring closure to this relationship. We need to show more of an asshole side to Robert, to make it clear that Miranda's not going back to him."
Trey MacDougal/ Kyle MacLachlan
Kyle MacLachlan: When I initially heard that they wanted to meet me, they said heart surgeon, Upper East Side, his mother is a strong influence in his life. I had images of John Kennedy throwing a football dancing through my head. The one part they did not discuss until I met them face-to-face was, "Oh, and by the way, he's going to have his problems with impotence."
Michael Patrick King:He was Charlotte's dreamboat because he was a doctor, and he was preppy, and he was perfect—but he couldn't get it up.
Kyle MacLachlan: When they brought in the whole cardboard baby thing [when Charlotte was unable to get pregnant, Trey brought home a big cardboard cutout as a joke], I was like, "I don't get it." Everyone said, "This is funny; it's hilarious." I was like, It is? I thought Trey was a little more evolved than that. But they needed to find a way to wrap me up. So rather than having a tragic accident, they did it this way.
Harry Goldenblatt/ Evan Handler
Kristin Davis: At first, they wrote, "Charlotte marries this ugly guy." And I said, I hope you're not going to put that in the description for the actor, like, "Must be really ugly."
Evan Handler: At the audition, it was the bagel-eating scene and they just kept shoving a cupcake into my mouth.
Kristin Davis: And he had to put fake hair on his back. Harry comes over one day to Charlotte's apartment so she can sign the divorce papers. They had it written in the script that he drips sweat onto the documents because he's so nervous. I thought, Eww. And Charlotte would think the same thing. So we go to shoot the scene and the director says, "Now he drips that sweat on the paper, and you just think that's so sexy." And I said, "No, listen, man, I've been playing Charlotte for a while, and she would not think that's sexy. You have to trust me."
Stanford Blatch/Willie Garson
Willie Garson: I didn't audition for the role of Stanford at all the way he's played in the show. I just read it as a guy who happened to be homosexual. Then when we went to shoot the pilot, I remember Darren shouting at me, "Gayer!" You know, to the point where it felt really kind of artificial to me. But people loved it.
THE GIRLS
Carrie
Kristin Davis: The Carrie in the pilot was much more like Candace [Bushnell] herself, with some Samantha mixed in— like, she smoked and swore nonstop. I think the description was that Carrie has the body of Heather Locklear and the brain of Dorothy Parker.
Michael Patrick King: The whole reason I agreed to do the series was the last moment in the pilot, where Carrie's left alone in the street after Big drives off. I thought, Wow, that's a big moment—that surprise of the know-it-all who suddenly knows nothing was amazing. And at the end of the first season, when Carrie said to Big, "Just tell me I'm the one," we set up a phenomenal roller-coaster ride: Will they ever be in the same place at the same time?
Darren Star: The idea that we argued about in the room was that Carrie was going to become this really flawed character. Mr. Big's gonna get married, but then Carrie and Mr. Big are gonna have an affair. It was not something you see with stars of prime-time comedy series. The question was, "Are we gonna hold the audience's sympathy for the character?"
Cindy Chupack: There was a lot of debate as to whether, if Carrie ended up with anybody at the end, it would undermine the whole point of the series—that being single, being alone, is OK. I felt like, if we can't write a happy ending for these people then there's no hope for any of us.
Samantha
Kim Cattrall: When I was first sent the script, I didn't think Carrie was the role for me. I thought, I'm too old. I also thought I was too old for Samantha. Then I picked up the book, by Candace Bushnell. I read about half of it and I literally threw it across the room. It was such a distressing scenario. Most of the girls were hard to connect to, and the guys were all jerks. I was dating at the time, so it was the last thing I wanted to hear or read.
Darren Star: So I cast another actress in the role of Samantha. but after seeing her, I felt she was too young.
Chris Albrecht: Before we started shooting, there was the very distinct possibility of still getting Kim, and I said to Darren, if she's right, let's pay off this other actress, whatever her guaranteed fee was for the pilot, and go get Kim.
Kim Cattrall: Six weeks before they started shooting, I got a call from Darren's boyfriend saying, "You know, I'm just curious why you said no to this. They gave the part to somebody else, but it doesn't fit." I had a really sleepless night and when I woke up, I called my rep and said, "Why don't you call Darren."
Michael Patrick King: Samantha was crazy, fearless, fun, independent. We let her have as much fun as we wanted.
Kim Cattrall: People say, "Oh, I've seen you naked." I really disagree. You've seen Samantha naked. Me naked and Samantha naked are two different things. There was a storyline where Samantha was going to have her body documented because she wanted everybody to know she looked good. But before the photo session started I was really nervous because I didn't have any lines, or affectations of who Samantha is, to hide behind. I said, "I need a minute." So I said some of Samantha's lines, and that basically got me to a place where I could stand naked in front of the camera.
Miranda
Darren Star: We read a lot of actresses for that role. At the time Cynthia's hair was blonde and I kept thinking, But Miranda's a redhead. She'd read for the role, I'd have her on tape, and I'd look at her and I'm thinking, She doesn't look like Miranda to me.
Cynthia Nixon: I auditioned a million times and my agent badgered them, and they kept saying, "Well, we haven't met anyone we like better but we're not ready to offer it to her." And literally months went by, and I was about to take another pilot.
Michael Patrick King: Miranda was ball-busting and sarcastic, and I mean that as the ultimate compliment. Sarcastic, push-away, afraid, so vulnerable she had to be strong and brittle.
Cynthia Nixon: In the second season, when she was buying an apartment for the first time as a single person, she started to have these panic attacks about what it means that I'm taking this major step in life by myself. Am I going to die alone? And that was the beginning of seeing why she's so armored and guarded.
David Eigenberg:I always loved Cynthia's character. She reminds me of Hillary.
Charlotte
Michael Patrick King: Charlotte was simply somebody who believed the fairy tale. She had the rules and she had the lists of what she wanted in her life, and she went after the surface idea and got burned. And when she let go of the idea, she found what she really needed was love. She went from being Cinderella to the Princess and the Frog.
Candace Bushnell: The character of Charlotte was always a little bit of an anomaly. My friends and I always used to joke that Carrie, Samantha, and Miranda would be friends, but they wouldn't be friends with Charlotte.
THE CLOTHES
Darren Star: At my first sit-down with Pat [Field, the costume designer], she brought this 1950s S&M book that had women in it with men on leashes. That was the initial pitch.
Sarah Jessica Parker: We asked Pat to do the wardrobe not just because she's outrageous and bold, but because she really is a storyteller with clothes. At first, no one let us borrow a thing. We were unknown, kind of renegade. The dam broke when Fendi loaned Carrie a baguette. Once they saw their sales change, design houses knew it was the right place for them.
Willie Garson: I had one fight with Pat Field, and it was about a pink V-neck sweater. I remember saying, "This is, like, the gayest sweater I have ever seen." But she was right. Because Pat Field is making a painting. She knows what color the chairs are, what colors the walls are, what everyone else in the room is wearing.
Patricia Field: It starts with a script. I read it, absorb, see what the characters do. I would never say, "This just came out from Chanel, you've gotta wear it."
Sarah Jessica Parker: Carrie's hits were big, and Carrie's misses were big. And that's exactly how it should be. She just loved fashion, and she would try anything.
Kristin Davis: Pat and I went to Barneys one time, and nothing fit. I just whined, "I can't wear these clothes!" She's like, "Yes you can! You just have to find the right thing." She kept saying, "Sexy secretary, sexy secretary."
Patricia Field: I would say to Kristin, "Let me work your hourglass shape! It's hot!" It was hard for her to see herself like that. Samantha was bold and honest. I interpreted that in bright colors, powerful shapes, and big pieces of jewelry as armor.
THE TAKEAWAY
Sarah Jessica Parker: I don't think I really understood the impact until the final episode aired. I was watching CNN and the ticker said, "Carrie Bradshaw and Big are back together." When you're on CNN, that assumes that everybody in the world knows what you're talking about.
Kim Cattrall: I was at the fish counter at a store in East Hampton, and this man came up and said, "I really have to thank you. There's no way I could really talk about sex with my daughter, and your show has helped me through it." I said, "I guess you're welcome?" I'd never thought of the show as an educational tool.
Jason Lewis: I knew that the show was a big deal when I was on the border of India and Pakistan and somebody recognized me. I was like, Are you kidding me?
Kim Cattrall: I think the show redefined what being single is about, which had a negative connotation of not being wanted or attractive or sexy enough or good enough. This was, I'm single because I choose to be single. I'm not looking for Mr. Right. I might be, in Samantha's case, looking for Mr. Right Now, and what's wrong with that? Men do it all the time.
Willie Garson: I think people mistake why they love the show so much. Whether people think they're watching for the fashions or the pretty girls or the locations or the jokes, the real reason is the show is about love: searching for love, finding love, holding on to love, losing love, holding on to the people who love you the most.
Chris Albrecht: Now they're all trying to do the next Sex and the City, which means that there hasn't been one. It's a silly way to develop shows. It was the right material in the right hands at the right time.
Cindy Chupack: I have to say, we were unaware of our power, but I hope we used it for good.