Why Is The Weeknd Praised for Singing About His Exes When Taylor Swift Is Punished for It?
Fans of The Weeknd have been praising the raw lyrics on his new album, which are presumably about exes Selena Gomez and Bella Hadid. Meanwhile, Taylor Swift has been doing this for years and get dragged for it.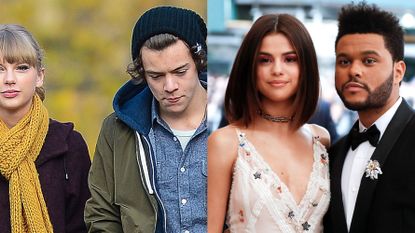 (Image credit: Getty / Shutterstock)
Marie Claire Newsletter
Celebrity news, beauty, fashion advice, and fascinating features, delivered straight to your inbox!
Thank you for signing up to Marie Claire. You will receive a verification email shortly.
There was a problem. Please refresh the page and try again.
If you've ever listened to a Taylor Swift song, then you already know: The girl writes music about her exes. Whether it's an emotional ballad about John Mayer or an entire album about Harry Styles, Swift uses her infamous celebrity relationships (although, she never names names) as lyrical inspiration. Her openness about heartbreak has earned her a devoted, record-smashing fan base—but also plenty of criticism for "playing the victim" and "making money off her exes," too. The "watch out she'll write a song about you" jokes are have reached clichédom. She's even parodied it herself, with "Blank Space."
Yet men in the music industry are getting praised for doing—literally—the exact same thing. Last week, The Weeknd released a new EP, My Dear Melancholy, full of reflective, feels-heavy lyrics that fans think are about his previous relationships with Selena Gomez and Bella Hadid.
The Weeknd talks (presumably) about Hadid in "Wasted Times," saying she put him through hell. "I can't seem to forget 'bout you, 'bout you / I want you to myself." He also (again, it is assumed) calls out Gomez, telling her to enjoy her privileged life in "Privilege," but in "Call Out My Name," he speaks to a deeper pain about the relationship: "I helped you out of a broken place / You gave me comfort / But falling for you was my mistake." His choice to use his real-life experiences resulted in lyrics that read like a diary entry in certain moments, and has received a lot of positive feedback for being raw and courageous.
when an artist only writes shit from the heart and from real life experience and not just for the sake of being relatable that shit is so good wow the weeknd did THAT five starsMarch 30, 2018
See more
Yet, Swift has done the same thing for her entire career and gets trolled for it in return, as some fans were quick to point out.
This is so funny, Taylor's been bashed for years, this is the type of thing that make me believe that that sexism thing is still workingMarch 31, 2018
See more
Double standard much? The Weeknd singing about his feelings inspires positive feedback because when a man shows emotions it's a huge deal. It means he is in touch with his feelings, and because he is a man, he has every right to tell his side of the story. Women who lay their emotions bare, on the other hand, are "hysterical" and "crazy."
My Dear Melancholy feels real, it gets us perfectly. "The way I kissed your scars / The way I fixed your heart / Don't you mess with me, babe," from "Try Me" sounds pretty clearly like a line about a specific experience that The Weeknd had dating Gomez, but the average listener is able to turn it into something that relates to her own experiences.
This is exactly why Swift has been so successful in her career. Lyrics like "And you call me up again just to break me like a promise / So casually cruel in the name of being honest / I'm a crumpled up piece of paper lying here," from "All too Well" might be about her relationship with ex-boyfriend Jake Gyllenhaal, but Taylor Swift fans think of someone different when they hear (or scream-sing) that line.
Here's the thing: When artists use their pain, happiness, and every real emotion in between in their songs, they are going to be better. We all are tired of the same repetitive choruses about going out and falling in love, so when an artist does something that is genuine, it is going to lead to better work and to a better reaction. Every good artist writes songs about themselves that are relatable to everyone, so stop shaming Taylor Swift for doing the exact same thing talented male artists do.
RELATED STORY
Celebrity news, beauty, fashion advice, and fascinating features, delivered straight to your inbox!