Here Is Selena Gomez Having the Best Movie Night Ever
Selena Gomez posted a video of her movie night for Amy Schumer's 'I Feel Pretty,' which included matching pajamas, ice cream, pizza, and enchilada casserole. Yum.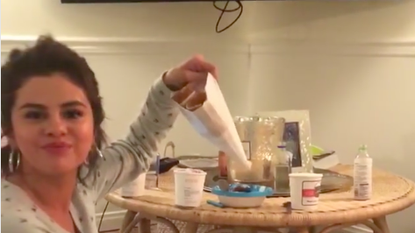 (Image credit: Instagram)
Selena Gomez, singer, actress, hero, knows how to plan an epic movie night. The 25-year-old posted a video to Instagram that shows her and her friend Caroline Franklin settled in on the couch to watch a screener of Amy Schumer's new film, I Feel Pretty. The two are in very appropriate couch clothes (matching PJs FTW) and have the best assortment of movie snacks:
"We got pizza, an enchilada casserole. I've got lavender ice cream, strawberry-vanilla ice cream, almond-something, and then cones. So, I feel pretty," she tells the camera, smiling broadly.
It's the most magnificent assortment of food (especially the enchilada casserole—I must know more about this), but according to Selena, the movie itself was pretty great as well.
"Yesterday @amyschumer sent me her new movie I Feel Pretty (its because I'm obsessed with her) this movie is so important to watch," she wrote in the caption. "I encourage all my ladies out there to go with your girls and watch! We used to live in a time where we would say "I can't wait to BE older" to now being a generation that wants to LOOK like an adult without understanding the responsibility or who we truly are on the inside sometimes. I know I can relate for sure! GO WATCH!! It's our modern day 13 going on 30!!! #notgettingpaidtosaythis #truth 💕💕"

Amy Schumer also reposted the video, captioning it "The sweetest lil 🍯"
So now, I want to watch this movie—but I also really want an enchilada casserole.