Who Is Michelle Wolf? 7 Things You Need to Know About the Comedian Who Hosted the White House Correspondents'
Everything you need to know about White House Correspondents' Dinner host, Michelle Wolf.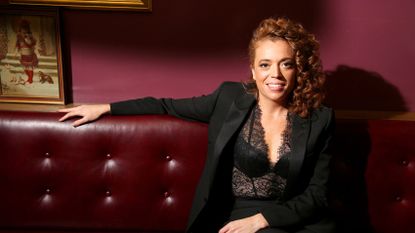 (Image credit: Getty Images)
Saturday night, comedian Michelle Wolf hosted the 2018 White House Correspondents' Dinner and delivered jokes (opens in new tab) that cute deep on both sides of aisle. While some appreciated her biting commentary on both the current administration and the media, others felt she went too far. Here's what you need to know about the buzzy comedian.
1. She's a Daily Show correspondent.
She joined The Daily Show with Trevor Noah in 2016, after a two year-stint as a writer on Late Night with Seth Meyers. In a Village Voice profile from November 2017, she explained that she made the switch because she craved more screen time, which The Daily Show offered.
2. She has her own Netflix show coming soon.
Wolf is hosting her own weekly Netflix show, The Break, which begins streaming weekly on May 27. "My show has jokes and sketches and celebrities," she teased in the show's trailer, which dropped over the weekend. "You know what, just watch the show, it's really fun."
From my roommate's dad's password to my own show. Thanks @netflix!! 🐺 https://t.co/nBfPZRYqrbFebruary 12, 2018
See more
3. She also has an HBO special.
NBD, right? Wolf's special, Michelle Wolf: Nice Lady, aired in 2017 and covered everything from climate change to lady farts.
4. She is one of the youngest White House Correspondents' Dinner hosts in history.
Cecily Strong, who hosted in 2015, and Hasan Minaj, who hosted last year, were both 31 when they hosted the annual event. Wolf is just slightly older at 32. She's also only the fifth woman in history to host the dinner. In addition to Wolf and Strong, the others include 2009 host Wanda Sykes, 1993 host Elayne Boosler, and 1992 Paula Poundstone.
5. She worked in finance and at a research lab before breaking into comedy.
Wolf studied kinesiology at the College of William & Mary and then worked as an investment banker at Bear Stearns for several years after graduation.
"I was the low person on the totem pole… but I felt terrible for the people there who'd been there for their entire careers and invested in the company. That was heartbreaking," she told The Daily Beast. "It would almost have been better if everyone got fired on one day, but it dragged on for years. You'd just hear about people getting pushed to other departments and would think, yeah, they're getting pushed out. It was pretty soul-crushing."
She eventually left Bear Sterns for a job at a research lab because it gave her more time to work on her comedy.
"It gave me a ton of time to sit at my computer and tweet all day, which really helped with my joke-writing," Wolf explained. "I would just read the news and tweet jokes about the news. It teaches you an economy of words."
6. She was inspired to get into comedy after seeing a taping of Saturday Night Live.
In 2008, Wolf went to see a taping of SNL with some high school friends who were visiting her in New York. After the show, she googled the cast members and realized that each one had gotten their start in improv—so she signed up for a class (opens in new tab).
When she was taking the level 1 improv class at The PIT (People's Improv Theater), she was still working in finance during the day and would come to class straight from the office.
"I used to go to improv classes in my skirt-suit from work, wearing heels," she said (opens in new tab). "I finally started bringing pants and sneakers to wear and thought, 'Oh yeah, you can move!'"
7. She famously cried when Hillary Clinton lost the 2016 election.
Near the end of Wolf's first post-election Daily Show segment, her voice audibly cracked. While she later admitted to tearing up during a 2017 interview with The Hollywood Reporter, Wolf still isn't entirely comfortable with the unintended display of emotion.
"I mean, I cried a little bit right after I walked past [the Javits], but I also—like I hate showing emotion," she explained. "It's still a thing when people bring it up, I'm like, 'Uh-uh...' I'm glad it happened because I think a lot of people were feeling the way I felt and I think they wanted the go-ahead for it to be okay to feel like that. Maybe. That's just my opinion. Also, at the same time, I am not really an emotional person so it's always been a little strange, in a sense, for people to be like, 'That was really great.' And I am still sort of embarrassed I guess."
Kayleigh Roberts is a freelance writer and editor with more than 10 years of professional experience. Her byline has appeared in Marie Claire, Cosmopolitan, ELLE, Harper's Bazaar, The Atlantic, Allure, Entertainment Weekly, MTV, Bustle, Refinery29, Girls' Life Magazine, Just Jared, and Tiger Beat, among other publications. She's a graduate of the Medill School of Journalism at Northwestern University.