Yolanda Hadid Responds to Rebecca Romijn's Comments About Gigi and Kendall
"They accomplished more at half your age in the fashion industry."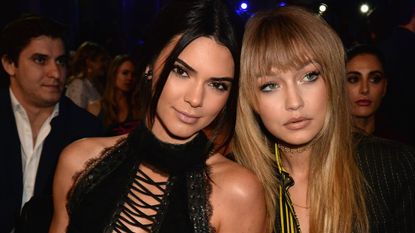 (Image credit: Getty Images)
Anyone who has seen an episode of The Real Housewives of Beverly Hills knows not to mess with Yolanda Hadid's kids. Rebecca Romijn clearly has never watched the show. The former model made some shady comments to Entertainment Tonight when asked her opinion of Gigi Hadid and bestie Kendall Jenner, saying "I know a lot of people—legitimate fashion people— can't stand it. Hate it that these, you know, social media stars are now the supermodels in fashion. They are not true supermodels."
Naturally, Yolanda went into full attack mode. She took to Twitter to throw some shade of her own:
❤️Kind, hard working and they accomplished more at half your age in the fashion industry @KendallJenner @GiGiHadid https://t.co/WKBeORnQb6April 29, 2016
See more
Ouch. However, It seems like Yolanda's message was in response to a tweet Romijn sent claiming that her comments were twisted by the media:
hey @kendalljenner @gigihadid don't believe the #clickbait. Never talked smack about you. Both amazing & beautiful pic.twitter.com/4WFSVLgRNCApril 27, 2016
See more
But Yolanda clearly was not convinced and went out of her way to insist that it's Gigi and Kendall's hard work that got them where they are, not their family names:
❤️ did you even bother to see what she said on entertainment tonight? No need 2 throw shade on hard-working children https://t.co/DvngPeMOdAApril 29, 2016
See more
❤️It's THEIR hard work and daily commitment to their profession that got them where they R today #NoParentsInvolved https://t.co/5HGeJPBNHeApril 29, 2016
See more
The whole spat seems to have died down after Romijn laughed it off with a heart emoji and a funny message:
Woohoo! Twitter beef cherry popped! ❤️ you @YolandaHFoster @Andy https://t.co/9iVJe7qj7FApril 29, 2016
See more
Yolanda has yet to respond, but it's clear she got her message across:
Celebrity news, beauty, fashion advice, and fascinating features, delivered straight to your inbox!