The Queen Reportedly Invited Meghan Markle to a Place Prince Harry Has Never Been
Meghan's grandmother-in-law has never asked Harry, William, or Kate.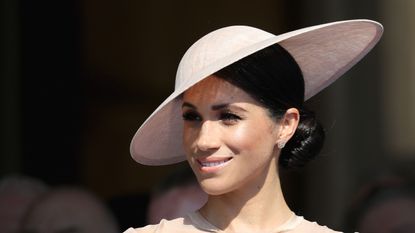 (Image credit: Getty Images)
In today's royal family news: Meghan Markle has officially been invited to accompany the Queen on her personal train—a.k.a. the royal train, (opens in new tab) which is typically reserved for senior titles (think: Prince Phillip (opens in new tab), Prince Charles (opens in new tab), and the Duchess of Cornwall).
Next week, the Duchess of Sussex will be joining the monarch for a royal visit in Cheshire, and the duo will arrive by the Queen's personal train.
What makes the train in question so damn special? Well, it's often referred to as Buckingham Palace on wheels. It's equipped with a super-luxe smoking room, multiple bedrooms and bathrooms, as well as a dining room that seats 12. Translation: It's way bigger than your puny apartment.
The train is reportedly a big deal for taxpayers, too. In 2017, the train was used just 14 times and cost taxpayers a whopping £900,000 (more than $1 million)—which is damn close to the amount we'd pay to be a fly on that expensive-as-hell wall next week. Tbd if more royal protocol (opens in new tab) will be broken on their journey.
RELATED STORIES
Ruby was the beauty editor at Cosmopolitan, where she covered beauty across print and digital. Her work has appeared on The Zoe Report, Fashionista, and StyleCaster. Follow her on Instagram.