Beyoncé and Jay-Z's "Apes**t" Video Included This Major Reference and Everyone Missed It
It's at the very end.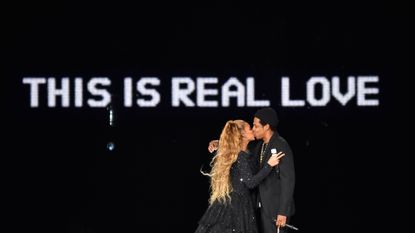 (Image credit: Getty Images)
Early Saturday evening, Beyoncé and Jay-Z released a surprise album, Everything Is Love, out of the blue—and simultaneously dropped a music video for the album's second track, "Apes**t." The music video is filmed in the Louvre, and features a ton of artwork (including the actual Mona Lisa) as its backdrop. And as Vox writer Constance Grady points out, the inclusion of one portrait at 5:37 of the music video speaks volumes.
Writes Grady: "So this is the painting at the end of the Apeshit video for #EverythingIsLove btw. it's "Portrait of a Black Woman (Negress)" by Marie-Guillemine Benoist. it's one of the only pre-20th c portraits of a black person in the Louvre that's not explicitly a portrait of a slave."
Benoist painted "Portrait of a Black Woman (Negress)" just a few years after the official end of slavery, and it swiftly became a symbol of emancipation. Yet the echoes of slavery hang over the subject of the painting, and continue to hang over people of color in the U.S. (in a recent New York Times interview, Jay-Z quoted his sort-of friend Kanye: "Racism's still alive, they just be concealin' it"). The close-up of Benoist's painting is a symbol you can read in a variety of ways—but a symbol nonetheless.
There are other references to race relations in "Apes**t." At one point, Jay-Z appears to reference unconfirmed reports that he turned down an offer to perform at the last Super Bowl, apparently in support of Colin Kaepernick. "I said no to the Super Bowl," Jay-Z says in the song. "You need me, I don't need you/ Every night we in the endzone/ Tell the NFL we in stadiums too."
You can watch the full "Apes**t" video below.
READ NEXT
Director of Content Strategy
Jenny is the Director of Content Strategy at Marie Claire. Originally from London, she moved to New York in 2012 to attend the Columbia Graduate School of Journalism and never left. Prior to Marie Claire, she spent five years at Bustle building out its news and politics coverage. She loves, in order: her dog, goldfish crackers, and arguing about why umbrellas are fundamentally useless. Her first novel, EVERYONE WHO CAN FORGIVE ME IS DEAD, will be published by Minotaur Books in 2024.