This Week in Timothée Chalamet, July 27 Edition
A review of 'Hot Summer Nights' on a hot summer night.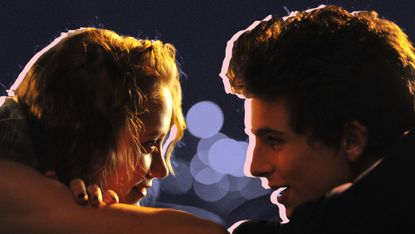 (Image credit: A24 )
Because being a person in the world is hard and you deserve something nice, this is MarieClaire.com's semiregular column on everything talented young man Timothée Chalamet did that week. You can catch up on last week's here.

Hi, friends! Welcome back to another edition of This Week in Timothée Chalamet. I don't know how the weather is where you are, but in New York City (Timothée Chalamet's hometown) it has been humid and raining for eight days straight. It's the sort of maddening weather that makes you feel dreamy and possibly a little nuts. Perhaps that's why earlier this week I wrote an entire alternate introduction to this column that was just a 500-word spec of Hot Summer Nights as imagined by Terrence Malik. (I deleted it. You're welcome.)
But it was relevant because this week the film Hot Summer Nights was released, which means you could watch two hours of Timmy right now if you wanted! More on that below.
Shall wé get into it?
Here's an extremely Timothée Chalamet-forward review of Hot Summer Nights.
This week, Hot Summer Nights hits theaters with a limited release in New York and L.A. (it's also available for VOD download here and through DirecTV), so some quick background: It's directed by first-timer Elijah Bynum, who cast young Chalamet before his Oscar-nominated turn in Call Me By Your Name, which is why he looks quite young in this movie. In fact, Hot Summer Nights had a long road to final cut—it was filmed in 2015 when Timmy was just 20 years old. Here's the trailer:
First the good news: Timothée Chalamet is really good in this as Daniel, a teenager reeling from the death of his father when he gets sent to live on Cape Cod with a townie relative for the summer. Timmy is charming and wide-eyed and deeply emotional as expected, and the casting in general is good—especially Maika Monroe as his love interest (and the estranged sister of Timmy's drug dealing mentor).
The whole movie takes place over the course of the summer of 1991, with a hurricane looming off the coast. You can tell it's 1991 because Timmy wears a lot of oversized striped polos. Like, more striped polos than seems possible for one costume designer to have found. Seriously, where the hell are they getting all of these striped polos?! The soundtrack is also pretty great, with a lot of '70s and '80s hits played fast and loose.
Now for the less-good news: Despite moving at a decent clip and pulling out some flashy cinematic stops, this movie has no idea what genre it is or what plot point it wants you to focus on (something Bynum is seemingly aware of). Take, for instance, the narrator, a teenage boy who's telling the story of that summer from the future, but who we never actually meet or learn anything about other than "this happened in [his] town a few years back." It makes it hard to believe any of the action, really, because all the characters feel dreamily disjointed. When he starts talking about how all the WASP-y summer birds in town smoke a ton of weed, I found myself thinking, "If you say so!"
And speaking of gimmicks, there are a lot of them in this movie. "Smash cut" isn't a genre, but Hot Summer Nights wants to plead that case anyway. There are a few things that feel culled from other movies and shoehorned in here to the film's detriment. For instance, early on, there's a would-be quirky, Mean Girls-esque montage of strangers sharing rumors they've heard about Hunter Strawberry, the drug dealer who takes Chalamet's Daniel under his wing (played by Alex Roe). It's supposed to be a quirky portrait of the town of Hyannis and its weird residents, but it's not as funny as it thinks it is and kind of just zaps precious screen-time away from Timmy and Monroe, who are far more compelling to watch.

The chemistry between the two leads means Hot Summer Nights works best as a teen romance, rather than the druggy thriller it abruptly becomes midway through. This movie is not a slog by any means, it's just a little sloppy? But like I said, Timmy is excellent in it. He's acting his ass off here, and had Hot Summer Nights come out before Call Me By Your Name and Lady Bird, we'd have been thrilled with that introduction to him. Unfortunately for HSN, it didn't come out before those movies and it's now getting compared to them—and found a little wanting.
Timothée tweeted something.
Enigmatic! Now, if I'm translating this right, he's trying to tell us he's in Canada and it's delicious. He also tweeted and deleted a response to a fan about how he'd just eaten maple syrup out of a cup? I don't know. (Hat-tip to @love_zhennn for the screenshot.)
He might also just be talking about being in Toronto for the Toronto International Film Festival premiere of his highly-anticipated film Beautiful Boy, which we've discussed in the past.
Should we watch the trailer again real fast, just as a refresher? I think we better.
No, no, they're not tears. It's just that I have, um, allérgiés.
This observation by MarieClaire.com's designer is all you need to know.
Morgan McMullen is our wonderful designer—she's responsible for the lovely art that accompanies TWITC each week. Let's just say, you're in good hands, Timmy stans:
So that's what happened! If you need me, I'll be working on my spec for a Facts of Life reboot done in the style of Tree of Life. You take the good, you take the bad, you take them both and there you have injured dinosaurs, but set in the 1980s.
Have a lovely weekénd.
RELATED STORIES
Celebrity news, beauty, fashion advice, and fascinating features, delivered straight to your inbox!
Cady Drell is a writer, editor, researcher and pet enthusiast from Brooklyn.