Jenna Dewan Was in Mandy Moore's 'So Real' Music Video Back in 1999
"This was like the biggest deal in the world to me," remembers Dewan.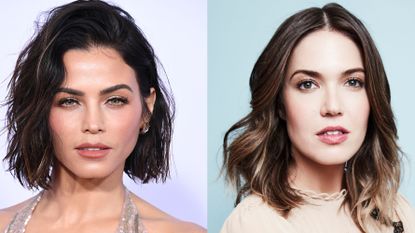 (Image credit: Getty Images)
Here's something you probably, definitely didn't know: Jenna Dewan and Mandy Moore go way back. During their appearance on The Late Late Show with James Corden last night, the duo revealed that their friendship began 20 years ago when Dewan landed a dancing gig in one of Moore's music videos. Yup, you read that right—a Mandy-freaking-Moore music video during the actress's brief stint as a singer in the late '90s.
"Back in the day, I used to sing. I don't know if many people know that," the This Is Us star laughed. "It was a song called 'So Real' that was like a single in Australia or something." Prior to being cast in early aughts movies like A Walk to Remember and How to Deal, Moore began her career as a sorta-pop star in 1999. One of her biggest fans? Dewan.
"Funny enough, this was like the biggest deal in the world to me," Dewan said of booking the music video. "I called my family, I was like, 'I'm doing a Mandy Moore video.' It was like this huge production," she recalls.
Dewan and Moore remember the video being tough—especially since it was shot at night. "I was a cranky crabapple," Moore said of her mood. "I was just overly excited. I danced like way too hard the entire time. I was so excited," Dewan added.
Welp, here's to the week's sweetest dose of nostalgia! And since we're definitely all thinking the same thing—please enjoy the beauty that is Mandy Moore's "So Real," below (peep Dewan around the 2:00 mark).
RELATED STORY
Celebrity news, beauty, fashion advice, and fascinating features, delivered straight to your inbox!
Ruby was the beauty editor at Cosmopolitan, where she covered beauty across print and digital. Her work has appeared on The Zoe Report, Fashionista, and StyleCaster. Follow her on Instagram.