Nicki Minaj Is Here to Slay
With a new album and a TV series inspired by her life in the works, our November cover star—the most bankable woman in hip-hop—is at the height of her game.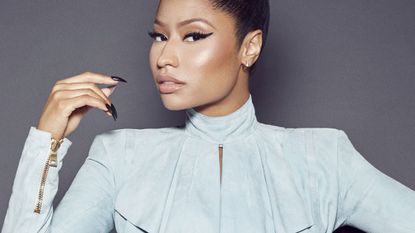 (Image credit: Kai Z Feng)
As I wait for Nicki Minaj in her suite on the top floor of the Trump International Hotel & Tower overlooking NYC's Central Park, I'm struck by the commonalities between her and the Republican presidential nominee. Both are mononymous New Yorkers from Queens who have flaunted citrusy coifs, eliminated contestants on television (she on American Idol; he on The Apprentice), and brokered lucrative product deals. They also speak their minds no matter the consequences.
When the Trinidadian-born rapper who spun gold without a silver spoon appears, she purrs to her publicist that she's worried her glam team won't arrive early enough to get her stage-ready for tonight's performance for cable network Adult Swim's upfronts at Terminal Five.
"Oh, my God," Minaj says when she notices me. "I look a hot-ass mess!"
Actually, she doesn't. Her skin is poreless without a drop of foundation. Her beyond-blonde hair hangs well past her waist. She possesses the beauty of someone of an indeterminate age with eyes fixed in a perpetual squint as if she were inspecting and questioning. At 5'3", the dominant rapper cuts a much smaller presence in person, compacted in gray leggings, a matching T-shirt, a Marc Jacobs denim jacket, silver Miu Miu sneakers, and a leather hat.
Curled up on a plush velvet sofa, Minaj is direct, and her responses are unfiltered mini-essays without a request to go off the record. She's the kind of figure to whom, when she speaks, the world tends to lean in and listen. She went viral for confronting Miley Cyrus at the MTV Video Music Awards ("What's good?") for tone-policing her, schooled Taylor Swift on race and body politics, and inspired a generation of women to get theirs by rejecting pickles. (Look up "Nicki Minaj and Pickle Juice" on YouTube.) The fact that she doesn't merely want but demands more for herself is the reason the world knows her name.
Here, a few highlights from our interview, in our November issue on newsstands October 18:
On young women's goals: "Nowadays, I feel like [young women] see marrying into money—I think that's a big thing now. I don't want that to be a woman's goal in life. I want your goal in life to be to become an entrepreneur, a rich woman, a career-driven woman. You have to be able to know that you need no man on this planet at all, period, and he should feel that, because when a man feels that you need him, he acts differently."
On competing with male rappers: "I don't need to read a book about [business]. I can look at someone's career and just pinpoint the dos and the don'ts, and the one person I've done that with for my entire career was Jay Z. He did such a great job being an authentic street guy and a businessman, and I was like, Why aren't there women doing that, taking the success from rap and channeling it into their empire? I felt like anything he could do, I could do."
On the double standard that exists for women of color in the media: "When Kim Kardashian's naked picture came out, [Sharon Osbourne] praised it, and my fans attacked her for being such a hypocrite. So it wasn't trashy and raunchy when a white woman did it, but it was when a black woman did it? It's quite pathetic and sad, but that is my reality, and I've gotten accustomed to just shutting it down."
On the people living with violence in our country: "We tend to not remember the black women who are mourning these men and who are thinking, Oh, my God, what am I going to tell my child now about where his father is, and the struggle it is for black women to then move on after they lose their husband or their boyfriend ... The strong women in these inner cities often go unnoticed ... no one really ever puts a hand out to them."
On collaborating with Beyoncé: "Every time Bey and I do something together, I see how women are inspired, and it has nothing to do with how we look. It has to do with how we are owning who we are and telling other women you should be the boss of your own career and the brains behind your life or your decisions or your art. I just love that feeling."
Read the full interview and see more photographs in the November issue of Marie Claire, on newsstands October 18. And for a little behind-the-scenes action to hold you over, see more of Minaj at her cover shoot here:
Marie Claire email subscribers get intel on fashion and beauty trends, hot-off-the-press celebrity news, and more. Sign up here.