A Page Boy at Princess Eugenie's Wedding Recovered Like a Champ After Tripping Up
Happens to the best of us.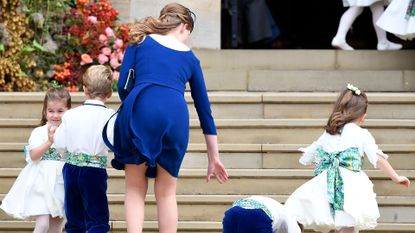 (Image credit: Getty Images)
It was a windy day in Windsor today for Princess Eugenie's wedding to Jack Brooksbank, and the couple's page boys and bridesmaids certainly noticed. As Lady Louise Mountbatten-Windsor escorted the adorable group into Windsor Chapel, one tiny page boy, Louis de Givenchy, tripped and fell, causing a domino effect that led to almost everybody almost-falling over.
Which happens to the best of us, right? I mean, can you imagine having to climb 20 quite steep-looking steps in front of dozens of cameras and about a million people on television in several different countries? Forget falling, I'd be running away. Props to Louis for managing to get there in the first place, frankly.
The page boys and bridesmaids included the ever-adorable Princess Charlotte and Prince George, who took on their trademark roles—Charlotte looking sweet and regal and waving at onlookers, while George looked like he was considering what mischief he could get up to. (He takes after his uncle in that way.) Both wore outfits with emerald accents to match Eugenie's emerald tiara, which also matched her earrings and her mom's outfit, coincidentally, Pippa Middleton's outfit.
Here's how the whole spill unfolded:
Little Louis got right back up and stoically walked into the chapel, which, again, would have beaten my tactic of "bursting into tears and running away."
RELATED STORIES