Misty Copeland Wants to Change Ballet
Ballerina Misty Copeland makes her film debut treading familiar ground in this month's Disney fantasy 'The Nutcracker and the Four Realms.' Here she answers our 25 Questions list, offering career and relationship advice.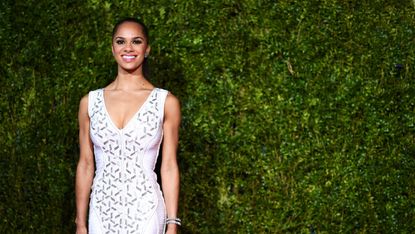 (Image credit: Mike Coppola)
The ballerina—the first African American principal dancer with the prestigious American Ballet Theater—makes her film debut treading familiar ground in this month's Disney fantasy The Nutcracker and the Four Realms. Here, she offers up career advice, love advice, and advice for a history-making life.
If I weren't a dancer, I'd be: A chef.
Best career advice I've gotten: Work hard! Communicate with your boss! Always! Even when things are going well.
Most gracious response to rejection/career setback: "I will learn and grow from this."
The three qualities that got me where I am today: Patience, respect for others, my work ethic.
Moment I felt I made it: Hmmmmm. This is tough. I don't know that I feel I have "made it." However, I think I felt something similar to having made it during my first season as a Principal Dancer with American Ballet Theatre when I walked down the red carpeted Principal Hallway, which leads to the dressing rooms at the Metropolitan Opera House. I wasn't sure that would ever happen. Dreams can and do come true.
Most agonizing career decision I've ever made: Remaining with American Ballet Theatre for 15 years, with the hope of maybe one day helping to change the misconceptions about black women and classical ballet. That's a very long time to dance in one company and not be a Principal Dancer. [She became Principal Dancer in 2015.]
Easiest career decision I've ever made: Choosing ABT.
Favorite perk of the job: Traveling the world.
Change I'd like to see in my industry: There's honestly far too much to address. But I'll try. There's the lack of diversity, as well as giving more power to the dancers in terms of what we need to do to improve our jobs financially, to better educate our audiences, to have stages available that are more suited for classical dance.
Who do you admire and why? [Argentinian ballet dancer] Paloma Herrera for her talent, perseverance, and strength. [American ballet dancer and first African-American woman to dance for a major classical dance company] Raven Wilkinson for her will, message, and purpose.
Last thing I binge-watched: The Handmaid's Tale on Hulu.
Book that left a lasting impression on me: The Power Of Now: A Guide to Spiritual Enlightenment, by Eckhart Tolle.
Songs that always make me cry: J. Cole's "Be Free" and Mariah Carey's "Looking In."
Movie with the greatest ending: Queen Bee (1955).
First album I bought: Mariah Carey's eponymous debut album.
Food I'm not ashamed to admit I love: Taco Bell nachos with no meat and Krispy Kreme.
Cocktail of choice: Prosecco with a splash of Saint Germain.
If I could live in a foreign country, it would be: Italy.
My perfect day would begin with: Ballet class.
My perfect day would end with: Making dinner for my husband while listening to music and drinking champagne.
How do you clear your mind after a crappy day? A bath, convo with my hubby, and a cocktail.
Something nice I did for myself recently, because hey, why not: Accepted wearing flats during the day!
If I could compete in an Olympic sport, I'd like it to be: Gymnastics floor exercise.
Advice to a woman with a broken heart: Give into the process of recovery. Cry, recover, then learn.
Relationship advice to my younger self: You hold the power to your happiness. Don't settle for anything less. Communication and honesty are everything.
A version of this article originally appeared in the November 2018 issue of Marie Claire.
RELATED STORY
Celebrity news, beauty, fashion advice, and fascinating features, delivered straight to your inbox!