Why Did the Queen Call Prince Charles a Duchy Original in His 70th Birthday Speech?
The proud mom referred to her eldest son as a "Duchy Original."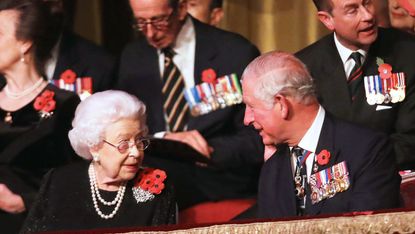 (Image credit: Chris Jackson)
Marie Claire newsletter
Celebrity news, beauty, fashion advice, and fascinating features, delivered straight to your inbox!
Thank you for signing up to . You will receive a verification email shortly.
There was a problem. Please refresh the page and try again.
At a private Buckingham Palace dinner party to honor Prince Charles on his 70th birthday, the Queen lovingly raised a toast to her eldest son, congratulating him on his parenting, charitable work, and business efforts.
"Over his 70 years, Philip and I have seen Charles become a champion of conservation and the arts, a great charitable leader—a dedicated and respected heir to the throne to stand comparison with any in history—and a wonderful father," she said. "Most of all, sustained by his wife, Camilla, he is his own man, passionate and creative. So this toast is to wish a happy birthday to my son, in every respect a Duchy Original."
Duchy Originals (opens in new tab) is actually the name of a company the Prince of Wales set up in 1990 (named after the Duchy of Cornwall) to sell organic food products. The company's first and most well-known item is an oaten biscuit made from organically grown wheat and oats.
The silly aside from the Queen during the toast might have been a testament to how sweet Charles is (sweet as a British biscuit!) or perhaps a reference to his dedication to Duchy Originals (opens in new tab). In 2010, the brand went into partnership with Waitrose, a chain of British supermarkets, according to a website for the Prince of Wales and Duchess of Cornwall (opens in new tab).

Today, there are over 300 organic Waitrose Duchy products available, including vegetables, milk, ales, and biscuits, according to the Waitrose website (opens in new tab). Sales of products also provide a donation to The Prince of Wales's Charitable Foundation (opens in new tab).
At the birthday event, the Queen went on to commend Charles, even calling it a "privilege" to raise him.
Revealed: The Queen has paid the most beautiful tribute to #PrinceCharles tonight at a private dinner party at Buckingham Palace, describing him as a 'dedicated and respected heir to the throne to stand comparison with any in history - and a wonderful father.'November 14, 2018
See more
"It is a privilege for any mother to be able to propose a toast to her son on his 70th birthday," she said. "It means that you have lived long enough to see your child grow up.
"It is rather like–to use an analogy I am certain will find favor—planting a tree and being able to watch it grow."
RELATED STORIES
Rose is a Staff Writer at ELLE covering culture, news, and women's issues. She is an accomplished and compassionate storyteller who excels in obtaining exclusive interviews and unearthing compelling features.