This Week in Timothée Chalamet, December 7 Edition
This week Timothée Chalamet was nominated for a Golden Globe for his work in 'Beautiful Boy,' and also appeared on 'Actors on Actors,' met Barbra Streisand, and more! Read all about his latest escapades here.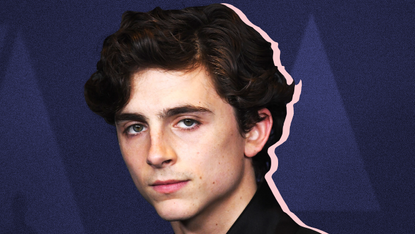 (Image credit: Getty Images/Morgan McMullen)
Because being a person in the world is hard and you deserve something nice, this is MarieClaire.com's semiregular column on everything talented young man Timothée Chalamet did that week. You can catch up on last week's here.
Hello, fruit doves, to welcome to another edition of This Week in Timothée Chalamet. And what a momentous week it was! I know I say that a lot and at a certain point people will stop believing me, but I really mean it! Like, so many Timmy things happened and I don't even plan on writing about how he's been all-but-confirmed for the cast of the upcoming Wes Anderson film The French Dispatch!
I could preface this more but, honestly, I want to just start talking about all the things.
Lét's do it!
Timmy got a Golden Globe nomination for Beautiful Boy!
To absolutely no one's surprise, Timmy was announced as a nominee for the Supporting Actor in a Drama Golden Globe! God, I always forget how long that show is—like Actor and Actress and Drama and Musical/Comedy?!—but what it lacks in the prestige of the Oscars, it makes up for in sheer drunkenness. The Golden Globes is like if you put all of your favorite celebrities on a horny pirate ship across the ocean—which makes sense because the typical broadcast clocks in at around the same amount of time as a transatlantic voyage.
But I digress. His snub (yes it was a snub!) last year for Call Me By Your Name could be reconciled this time around, because I think he's really a favorite to win. But he's not in The Favourite, which is my favorite to win. But he is my favorite. And the favorite. But not The Favourite.
Know what I mean?
He sat down with Emma Stone!
As promised, Timmy and Emma Stone sat down in conversation for Variety's Actors on Actors. He opens by asking her about In Search of the Partridge Family, a reality show she appeared on more than a decade ago, and then talked about not loving Los Angeles because he wants to actually grow as a person (it's such a New Yorker response and I am very susceptible to it).
I love their chemistry despite the disappointing fact that they did not kiss, but I also think Emma Stone would have chemistry with literally anyone? For example, Timmy disclosed that he cried for "an hour" after his first viewing of Interstellar (one of his earliest roles) because his part in it was so small. Sorry to say it but this story is, um, not wildly becoming? At least he seems to laugh at himself for telling it, and Emma offers him a great, thoughtful out with, "Because it felt so big to you?" Damn, she's very good.
The whole thing is surprisingly not-boring, even though the very title Actors on Actors forces me to suppress a reflexive jerk-off motion. Watch the whole thing here.
Timmy met the greatest living legend!
I regularly tell my boyfriend that our first child will be named Barbra if it's a girl and Timmy if it's a boy (I'm pretty sure guys love it when you talk about your future kids as early in the relationship as possible), and this week I got a glimpse into the future Drells because Barbra Streisand and Timmy Tim met IRL at the Amazon Christmas party!
I think Babs stans too, because she posted a pic of just the two of them to her Insta:
I. Am. Verklempt. This is my beautiful family. We are so happy, even though when I sent this pic to said boyfriend he told me to, "Drink some water, you'll be fine." (I will fight for full custody.)
Timmy returned to Twitter!
Though he's been uncharacteristically active on Instagram lately, TimCha hadn't posted anything on Twitter since July. (Did we chronicle his last tweet all those months ago? Ha! Of course we did. I will never log off!!)
So what did he break his nearly 6-month silence to tweet about? A gif of an AOL Instant Messenger login screen, naturally!
I really...I really don't know. But good to have you back, Tim.
And that's all the news that's fit to print. Have a great wéekend.
For more celebrity news, beauty and fashion advice, savvy political commentary, and fascinating features, sign up for the Marie Claire newsletter.
RELATED STORY
Marie Claire email subscribers get intel on fashion and beauty trends, hot-off-the-press celebrity news, and more. Sign up here.
Cady Drell is a writer, editor, researcher and pet enthusiast from Brooklyn.