From Backstreet to Britney: Why '90s Pop Is Taking Over Las Vegas
The Backstreet Boys' Las Vegas residency is the fastest-selling in history. Why? Nostalgia.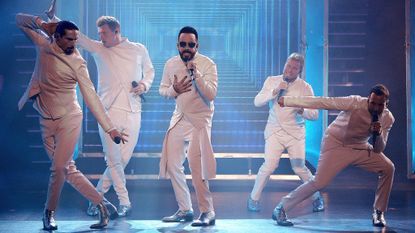 (Image credit: Getty Images)
For a brief second—while suspended in a giant, illuminated, rotating box during the opening moments of the Backstreet Boys' Las Vegas residency—Nick Carter felt like he had stepped straight back into 1999.
Inside Planet Hollywood's packed AXIS Theater, 4,600 shrieking fans awaited smash hits like "I Want It That Way" and "Larger Than Life" during a production spectacle reminiscent of the group's dazzling early tours. Outside the venue doors, everything from slot machines to billboards were adorned with images of the band.
"There was definitely a moment standing up in those boxes and turning around towards the audience that I had a flashback," says Carter, during an exclusive interview with MarieClaire.com. "I think we're close to what that was again…and maybe in some ways, better now."
The Grammy-nominated group never actually went away (they've been consistently producing albums for almost 24 years), but the unavoidable and endless "Backstreet's Back, Alright!" headlines have never been more relevant. As well as being the fastest-selling residency in Las Vegas history, the AXIS Theater had to open up balcony seats for the first time ever just to house the massive "Backstreet Army"—with fans flying in from Spain, Belgium, Japan, and New Zealand for the group's 26-date run. Meanwhile, BSB is getting radio play thanks to their new collaborative single with Florida Georgia Line, making casual appearances on The Bachelor, and landing 6-page spreads in magazines they haven't frequented so predominantly since their heyday.
But transitioning from chart-topping nineties heartthrobs to 2017's hottest new act on the Strip isn't just a random stroke of luck. Reignited interest in the group coincides with a changing tourist profile in Las Vegas and most significantly, society's new obsession with nostalgia. "Maybe I'm just biased, but I feel like the late nineties and early 2000s was a really great time in everyone's life," reflects Carter. "It was a feel-good time and we really represented that. Britney, J.Lo, and *NSYNC were part of it too. Musically, it was unlike any other time in history."
While AJ McLean once saw "nostalgia" as a negative word, he agrees it's a significant factor behind the success of the city's new wave of pop music residencies. "Nostalgia is now hip and cool," he says. "It's not about, 'Oh, we're just doing our hits because that's all we got.' We're doing nostalgia because it takes people back to a great moment in their lives—whether it's their wedding day, first kiss, or the first time they heard a song. It takes you to a happy place, and for two hours nothing else matters. You leave happy, glowing, and singing the songs. This is what the new nostalgia is."
For BSB, a Las Vegas gig also offered a chance to have a home away from home, where their families could join them in an environment more stable than living out of a tour bus. The ability to have "somewhat of a normal family life," is something Britney Spears emphasized when McLean and Kevin Richardson checked out her residency show, and also something fellow nineties chart-topper Ricky Martin is looking forward to when he kicks off his "energetic and explosive" run at Monte Carlo in April. "Vegas has tons of stuff to do for kids," he says. "My kids enjoy magic shows, we will have a great time visiting all the themed hotels—and let's talk about those swimming pools! Most importantly, I'll get to explore these things with them."
Martin's residency comes at a time when the Latin star has found family contentment with his two sons and fiancé Jwan Yosef. Spears, meanwhile, endured two decades of highly-publicized personal ups and downs before settling into Vegas life with her children. As for BSB, between group lawsuits, label conflicts, and explosive arguments, the quintet have faced a stream of personal obstacles. But the band's greatest hurdle came in the mid-2000s, when following the mind-blowing success of BSB, *NSYNC, and Spears, mainstream interest in pop music started to wane. Suddenly, the industry was "done" with boy bands.
"In anyone's career, if you stay around long enough you'll have peaks and valleys, and for us there was a long time that things just took a dive," Carter says. "People were like, 'We're done with TRL, done with boy bands, and done with playing them on the radio.' Those years were grueling, but we carried the torch and made sure that every time we hit the stage—whether it was 2,000 people or 10,000 people—that we were consistent. It showed our fans we were never going to give up or just go away. We've always been in a position of having to prove ourselves, even since the beginning when no one wanted to sign us. It feels like we're always fighting for our survival."
Thanks in part to their 2013 record In a World Like This, a hilarious, award-winning cameo in Seth Rogen's This Is the End, and a growing love for '90s nostalgia, mainstream momentum began to blossom again—and September's residency announcement further surged renewed interest in the group. But make no mistake—signing up to a Las Vegas gig did not come without its doubts.
If you had asked AJ McLean about a residency a few years back, the singer would have scoffed. "I always had this view that any celebrity doing anything like this in Las Vegas was at the end of their career, washed up and doing it for the money," he admits. "But I could not be more wrong, because in my opinion the true pioneer of Vegas residencies is Celine Dion—and now the whole residency thing has become a hip and trendy thing. Celine broke the mould and since then it's been Britney Spears, Jennifer Lopez, and even Bruno Mars."
One of the team members behind the resurgence of nineties pop music on the Strip is former Caesars Entertainment executive and current Live Nation Las Vegas president Kurt Melien. Having lived in Sin City for years, Melien has witnessed the turning tide of entertainment, sparked by the explosion of the DJ scene and paving the way for residencies targeting a younger audience than the likes of Celine Dion, Elton John, and Rod Stewart. Britney's 2013 Piece of Me launch came amid a changing tourist profile, with an increase in the number of Las Vegas visitors aged between 30 and 49—people who were in their teens and twenties during BSB and Britney's heyday.
Spears' show recently surpassed $100 million in ticket sales, while Lopez broke a record by raking in $1 million in just one night last August. Melien commends the songstresses for keeping their shows fresh, citing the day Spears made one simple change that transformed the most talked-about aspect of her concert—pulling a male audience member onto stage to play her victim.
"I loved the day Britney woke up and we got a note saying, 'Until further notice, Britney will only be having female victims.' Just to mix it up completely and keep fans on her toes. She had been having male celebrities then just went, 'You know what? I'm only doing females now,' and had people like Nicole Richie. It's a testament to how you never really know what's going to happen at Vegas shows."
What we do know happens at BSB's Vegas shows is that fans leave beaming and breathless, whether it's from the group's iconic chair routine for "As Long As You Love Me," or making canes look hotter than ever during "Get Down." By their third show, BSB left fans on such a high that a crowd of hundreds epically erupted in an "I Want It That Way" singalong while exiting the venue.
For Carter, being able to perform such hits night after night, is the ultimate gift for surviving the roller coaster ride of ups and downs since he last hovered above a crowd of thousands during 1999's Millennium tour.
"The music encompassed a great period in everyone's life, which is why people still love it. And while we're not as young as we used to be, we pride ourselves in making sure that when we hit that stage, it's something that people can remember and it's a representation of an era," he says. "This is like Christmas for us. It's like a Christmas present that we get to open up."