Exclusive: Rachel Lindsay on Interracial Dating and That Guy Who Said He Wanted to "Go Black and Never Go Back"
America's new Bachelorette and host Chris Harrison talk to MarieClaire.com about embracing diversity on a historically white show.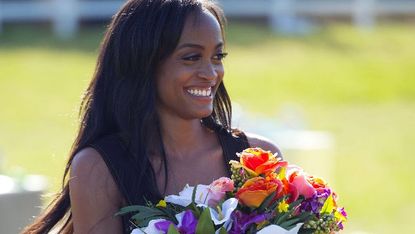 (Image credit: ABC)
Rachel Lindsay has made history. Not only is the Texas-born litigator the first African-American star of ABC's mega-popular reality series The Bachelorette, she's also the first black woman to find her future spouse on the show.
But the bigger significance of how these two facts have cemented her story in the pop culture cannon? Lindsay says she actually hadn't given it much thought until MarieClaire.com asked her.
"It's so humbling for me that it's almost not real," says an understandably giddy Lindsay. "I just take everything day by day. It's such a humbling experience; a place that I never thought I'd be. Who knew my law degree would take me here?"
The Bachelorette is always cause for celebration, but this year there's even more reason to tune-in: the 31 contestants vying to be Lindsay's husband make up the most diverse cast in the franchise's history. And while Lindsay had no control over which guys made it onto the show, she appreciates the variety. Chris Harrison, who hosts both the series and its ever-growing list of spinoffs (Bachelor: Winter Games coming in 2018!), says "that elephant in the room" that is Lindsay's benchmark hiring "is not lost on us"—particularly when it comes to the press' scrutiny.
"Nobody cares about happiness or good things, so the only thing you need to write about is something that's controversial and might stir things up," the long-time host tells MarieClaire.com. "That is what people glom onto, and if that's what they want to point out, then great. I hope they'll also point out that Rachel's an amazing woman: beautiful, talented, smart, educated, and all those other attributes that make her a great candidate."
It isn't just the press who can't help pointing out the franchise's race issue. Lindsay could barely enjoy the much-publicized sneak peak at her suitors during The Bachelor's After The Final Rose ceremony earlier this year before one of them—a white man named Dean whose tattoos we'd later learn include the word "righteous" on his inner lip and his mom's initials on his chest—blurted out that he was "ready to go black and I'm never going to go back." Was this risky? Stupid? Awkward? Charming? The internet quickly weighed in, but Lindsay has her own thoughts.
"Dean's comment did not bother me," she says. "I actually thought it was funny; I thought it was bold because he didn't know how I would take it. It sparked my interest in him. He did it, to me, in a funny way. But also, during the first episode of this season he talked to me about how I felt about that. Obviously, I'm the first black Bachelorette. It might be the first time that men have dated interracially. I have no fears of talking about it."
Harrison says that he welcomes Dean's comment, as well as similar ones that popped up during the first episode, because "it's real life" and "there's going to be so much talk about diversity over the next few weeks." In fact, judging by the first guy to win Lindsay's affections, interracial dating is going to be a hot topic this season. After he shocked her with a couple passionate embraces during the first episode, Lindsay bestowed Colombian-American chiropractor Bryan with the coveted first impression rose, thus marking him safe from that round's elimination. And no, Lindsay doesn't find it sexist or anti-feminist that Bryan grabbed her unexpectedly, saying "I wouldn't be a part of anything that was like that." Besides, she did the same to Bachelor Nick Viall when she was a contestant on his season.
RELATED STORY
"I was completely taken a back by Bryan kissing me," Lindsay says. "I didn't think any of the guys would kiss me on the first night and none of them did except for Bryan. Again, the same way that Dean was very bold and saying 'I'm ready to go black and never go back,' I love how bold Bryan was in just going with what he felt. I like a bold guy."
So, will Lindsay's love connection encourage The Bachelor and The Bachelorette to continue to push for diversity? Harrison says producers are still deciding who will be the next Bachelor, but that he hopes these casting changes "are not a trend" and that we get to the point where they're "common place."
"If you're not represented, then you're not going to make the effort to show up. Why would you?" he says. "It's something that needed to evolve and take time, and I'm glad that ABC gave us that time to cultivate that culture so everybody does feel welcome. So you do see yourself represented. It did take some time and some years to make this happen with Rachel and this group, so now it's not such a big deal. We will see more and more diversity in casting because people are going to show up. We will have bigger numbers and better people to choose from."
For Lindsay, though, this show is about more than being the "most diverse season." She's also basking in the fun of saying "I do." Or more specifically: "I do get what I want at the end of this."
Follow Marie Claire on Facebook for the latest celeb news, beauty tips, fascinating reads, livestream video, and more.
Celebrity news, beauty, fashion advice, and fascinating features, delivered straight to your inbox!