This Week in Timothée Chalamet, May 31 Edition
Timmy went to Cannes!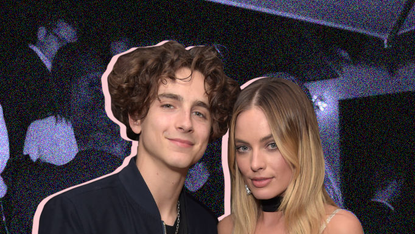 (Image credit: Getty Images)
Because being a person in the world is hard and you deserve something nice, this is MarieClaire.com's semiregular column on everything talented young man Timothée Chalamet did that week. You can catch up on last week's here.

Hello and welcome back to another edition of This Week in Timothée Chalamet. I am so excited about how many of you sent in your lists, fan art, and ideas for this column! It's really fun to get to know you all.
Plus, great news everyone: Timmy showed up at the Cannes Film Festival in France, presumably on shore leave from filming Dune. He made time to pose with famous people and not attend the premiere of Little Women! (Update: Turns out that's because there was no Little Women premiere, which makes sense.)
Without further ado, the néws:
Timmy has been sighted at Cannes!
There he is! Though He did make time to hit the Once Upon a Time...In Hollywood after party, where he posed with Margot Robbie (above) and Saria Kessler.
First of all, I am very into this hair. So floppy. So soft. I...wow.
Also at Cannes, his Little Women co-star Florence Pugh said some really nice stuff about him (from British Vogue):
"He's very beautiful," said Florence Pugh who stars as Amy March opposite his Laurie Laurence to Variety. "There isn't a shot where he doesn't look picture-perfect. He's also an incredible performer so that was great and he's not just someone that looks perfect but really does the world in sharing a scene with them. It was an experience."
Aww. I am so excited for this movie that it gives me physical pain.
One more thing before we move on though: Can I just say how of course Timmy made time for a Tarantino premiere? He is just soooo the guys I dated at art school. I know he'll probably grow out of it—not the part where he loves film, just the part where he feels like his taste in it says something interesting about him—but I get the sneaking suspicion that if Timmy and I had a conversation about movies, I would have to deglaze my eyes after hearing about Pasolini for just a smidge too long.
Like, never forget:
Relatedly…
Here's a ranking of every film Timothée Chalamet has ever mentioned!
For the first submission from the stan world, I had to include C's list. I was bowled over and showed all of my coworkers and we all adored it just as much.
C, of the fan Instagram @find_me_elio, writes:
"If anyone is a fan of Timmy they know his favorite movies are The Dark Knight, Punch Drunk Love, and James White. They also know he talks very passionately about The Master. I decided to start documenting a Timothée Chalamet movie list on Letterboxd."
Oh. My. God. First of all, the fact that two of those four are Paul Thomas Anderson films just absolutely fucking proves my above point. Second, C, you are doing the Lord's work. This is legendary. I am inspired by you, and also fear you (respectfully).
Let's have just a taste of what C has compiled here:
Good things.


Nice, Mean Girls. I like that this shows that Timmy has a really robust, eclectic taste. Rom-coms, artsy films, the less gross Lars von Trier flicks...
God, this is so wonderfully thorough.
C, I think you're amazing. I'm going to start writing a column about how dope you are.
Do C the favor of checking out the rest of the Letterboxd here, it's genuinely awe-inspiring.


And if you have an idea that you want us all to see, submit it to timmy@marieclaire.com. Don't forget to include the name you want me to call you by, or totally fine if you just want to call me by your name....Yeah, Oh, and your social media stuff/preferred pronouns/anything you might want me to include.
And that's all the news that's fit to print. Have a beautiful wéekend.
For more stories like this, including celebrity news, beauty and fashion advice, savvy political commentary, and fascinating features, sign up for the Marie Claire newsletter.
Cady Drell is a writer, editor, researcher and pet enthusiast from Brooklyn.