Exactly How Hot Is Keanu Reeves, According to Science*?
*No actual science was used in the making of this story.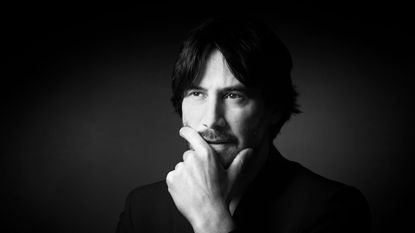 (Image credit: JOEL SAGET)
Ladies and gentlemen. First, I want to thank you on behalf of my colleagues at the Marie Claire Institute for Thirst Research for your interest in our work. We have some findings today that we're thrilled to be able to share with you, the results from a week-long survey to which we dedicated all of our manpower and resources. By combining our cumulative years of experience in the fields of schematics, precise polling analysis, and semi-ironic horny content creation, we've come up with a groundbreaking piece of anthropological research that could have repercussions far beyond the humble work we do here at The Institute.

It all began last week, when the Marie Claire office found itself divided over a question that has plagued humanity for decades: Exactly how hot is Keanu Reeves? Or, put another way, is the actor behind John Wick, Bill & Ted's Excellent Adventure, Speed, and a particularly hilarious, largely ad-libbed cameo in Netflix's recent rom-com Always Be My Maybe, in fact, universally a heartthrob? Or is he more of an acquired taste? Or, perhaps, is his sexiness confined to a certain demographic, the vertex of his popularity a past moment rather than an ongoing trend?

Our preliminary research found that society is experiencing a recent Keanussaince. And though he's never not been A-list, the fanfare of John Wick 3 proves that he remains a fully bankable franchise star and the aforementioned cameo demonstrates that he has a sense of humor about his whole mystique. Though the theory most commonly accepted by the scientific community posits that he's talented, interesting, and seems to have a rich interior life, the question of universal smoochality remains.
Many of our researchers were shocked to know that this question was still up for debate, having known since at least 1986's River's Edge that Keanu is a bonafide smokeshow. As a result, we divided researchers into two teams, Team Keanu Is Hot and Team Keanu Is Not Universally Attractive. The former was particularly thorough, and had fellow Nicole Maggio track research progress on a board erected in the MC office, though to those outside of the scientific community it may just look like a wall of old Keanu movie posters with hearts all over it.
The latter team was there to play Devil's Advocate—no, sorry, I misread the presentation. They were just there to play devil's advocate—and what began to emerge was a picture of a generational divide.
Susanna Hayward, 25, a designer at MC and head of number-crunching for Team Keanu Is Not Universally Attractive, specifies that her opinion is not based on any empirical evidence. "I need you to know that I am not judging him based on his movies, his character, or his personality," she explains. "I am fully judging him on whether, if I was walking down the street, he would turn my head. And he would not." This, despite the fact that he falls within the range of "her type," she reports. "Everyone I've talked to who is my age thinks he's not hot," she adds, though admits she has never seen one of his films.
Design director Wanyi Jiang, in her 30s, the lead researcher on Team Keanu Is Hot, succinctly explains our hypothesis: People above the age of 27 generally find him attractive, and those younger than that generally don't.
To test it, analysts Jiang and Hayward conducted Instagram polls, and their results were almost utterly opposite: 71 percent of Wanyi's followers found he was hot, while 69 percent of Susanna's voted not hot. As a control group, Jiang asked the same question about Ryan Gosling and 55 percent found that the Goss was not their type. All of this, they conclude, can be attributed to the general age of their followers (Susanna's followers, she says, tend to skew younger, in the under 27 demographic).
But we needed more data. A formal poll of the Marie Claire office showed overwhelming support for Keanu's hotness—nearly 75 percent of the staff (20 votes) found Keanu hot, with five declaring "no" and two that we decided to count as "maybes" because they caveated the particular role they would smash him from.
To fill out these tables, we found a directly proportional relationship between the amount respondents knew about Keanu's personality and the level of overall thirst: Knowledge that he has nice hair was the baseline test, but attraction levels increased when respondents discovered that he's also profound. The understanding that he's got a certain sexual aloofness, a renegade charm that says, in the words of one poll participant, "I ride a motorcycle but also have an organized sock drawer" further achieved this effect, as did the awareness that he was in a band and now feels silly about being in said band. Perhaps the biggest deciding factor, though, was being informed that he has secretly given away millions of dollars to those who need it.

An additional subset of our test groups found that he became hotter once they realized, as one internet sleuth pointed out, that Keanu doesn't make physical contact when posing for fan photos—suggesting that he is not only woke but also unwilling to take advantage of his station as an A-lister.
Lol Keanu ain't taking no chances. 😂😂 pic.twitter.com/nnfIOZKbT1June 9, 2019
See more

Finally, there is some evidence to suggest that he actively inspires good in others. We point to the website Keanu Kares, which makes adorable Keanu-adorned goods and gives 100 percent of all proceeds to the ACLU.
Our conclusion is that while attraction for Keanu transcends the physical, context is critical for achieving optimal thirst levels.
We now ask you to participate in our research by filling out the short questionnaire below.
Thank you for your time. Your answers have been recorded, and will prove invaluable to the important work conducted here at The Institute.
For more stories like this, including celebrity news, beauty and fashion advice, savvy political commentary, and fascinating features, sign up for the Marie Claire newsletter.
Marie Claire email subscribers get intel on fashion and beauty trends, hot-off-the-press celebrity news, and more. Sign up here.
Cady Drell is a writer, editor, researcher and pet enthusiast from Brooklyn.