Cara Delevingne Is Obsessed With Ashley Benson's Nude Instagram Photos
Us, too!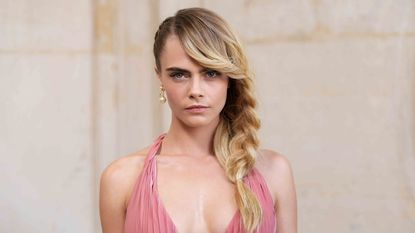 (Image credit: Dominique Charriau)
Ashley Benson posted some nude photos on her Instagram page.
Marvelous Mrs. Maisel actress Rachel Brosnahan commented on the picture and so did Ashley's girlfriend, Cara Delevingne.
It's been a minute since everyone was consumed and delighted by the photos of Ashley Benson and Cara Delevingne lugging a sex bench called the "Dicktator Extreme Sex Machine," so we're long overdue for a Cashley (?) update. As any Benson follower knows, she's always working on some fancy photo shoot or collaboration and posting the evidence on her page. It's not fully clear what her latest project is because she didn't use any captions other than a no-smoking emoji for a picture of her smoking, but everyone is praising her for posing nude.
In the first picture she posted, she's looking straight at the camera and you can only see her from the shoulders up. But in the second, she used a strategic angle to nearly bare it all. When she posted it, Marvelous Mrs. Maisel star Rachel Brosnahan commented, "😵," which just about sums it up.
And when Delevingne saw Brosnahan's comment, she responded, "Tell me about it." Oh, and when Benson saw that, she replied, "♥️ I love you." That's an adorable chain of events right there.
In her cover story for Marie Claire's September issue, Delevingne got candid about her relationship with Benson. "We weren't looking for it. It was really just very authentic and natural," she said. In a gala back in the summer, Delevingne movingly described Benson as "one of the people who helped me love myself when I needed it most."
For more stories like this, including celebrity news, beauty and fashion advice, savvy political commentary, and fascinating features, sign up for the Marie Claire newsletter.
RELATED STORIES
Shannon is a news writer at Cosmopolitan.com, and when she's not obsessing about Cardi B, she's thinking about Justin Bieber and still trying to memorize Beyoncé's Beychella choreography.