Dakota Fanning: All Grown Up
She talks to Tom Cruise regularly. Sean Penn visits her on set. And her first grown-up on-screen kiss is now behind her. Dakota Fanning is definitely not a little kid anymore.Want more? Go behind the scenes of our cover shoot with Dakota and check out her red carpet style through the years!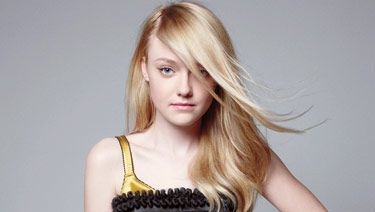 (Image credit: Tesh)
The dress code at Campbell Hall, the private Episcopal school in North Hollywood, California, once attended by Mary-Kate and Ashley Olsen and now by Dakota Fanning and her little sister, Elle, is strict: khaki skirt, shorts, or trousers, white collared shirt, navy sweater, closed-toed shoes. "You could actually wear this," says the elder Fanning — wide-set, frank blue eyes; fair hair; milk-white skin; and the wispy limbs of a John Currin painting — flouncing her skirt, a cream-colored silk pouf, and in the process gaily jangles a wristful of bangles. We are sitting opposite each other in a quiet booth at the Sunset Tower Hotel, in Los Angeles. Her skirt might be passable, I think, but that little distressed white cotton tank with the bra peeking out could be grounds for detention. Ditto the 5-inch, brown Marni wedge sandals that were a present for her 16th birthday, in February, and that add significantly to her petite, not-quite-5-foot-4 frame.
And her costumes for last spring's The Runaways would have probably gotten her expelled. The movie tells the story of the rise and fall of Joan Jett's first band, an all-girl hard-rock ensemble (dubbed "glam-punk" by some) that emerged in the mid-'70s. As the 15-year-old lead singer and Jett sidekick Cherie Currie, Fanning played part naïf, part sexed-up jailbait, in a frost-white wig, fishnet stockings, and an S&M corset. All in a moment, Fanning went from being an adorable if talented "child star" to the full-fledged genuine article, and critics took notice. Reviewing The Runaways in The New York Times, A.O. Scott gushed: "Ms. Fanning, who has shown herself a remarkably disciplined and self-aware actress almost since toddlerhood, displays heartbreaking vulnerability as well as frightening poise." The Denver Post called her performance "uncorked." The message was unmistakable: She had popped.
One lasting friendship to emerge from the experience was with Kristen Stewart, the 20-year-old Twilight lead who played Joan Jett to Fanning's Currie. According to both young women, re-enacting the intimate friendship between Jett and Currie brought them close instantly, and a mutual respect has kept them that way. "Dakota is so unfaultingly steady," Stewart says. "In most cases, I feel like she's older than me. It's only when she starts talking about boys that I remember how young she is." (No, Fanning doesn't have a boyfriend. So far, she says, there has been "nothing serious.") The two, who briefly shared the screen in Twilight: New Moon, reunited in this summer's Eclipse, the third installment of the series, with Fanning reprising her role as a diminutive child vampire in a long cape and Mary Janes. Her character, Jane, can inflict pain with her thoughts, achieved while staring intently at her victims with eyes that appear reflector-red, thanks to a pair of color contacts. Given how much actors rely on their eyes to communicate emotion, the contacts were a handicap that might well have unsettled another, less confident performer. "It's something that's always been there for me, that I have huge blue eyes — it's been something that people have always talked about," Fanning says. "But I enjoyed the red. You're automatically transformed into a creature when you put those red eyes in." Fanning (who has been reading since she was 2) tore through the Twilight books after she was cast. "They're so addicting!" she says, though her natural taste in literature tends toward the more refined: Right now she's reading Jeffrey Eugenides' novel, The Virgin Suicides.
Sixteen is an age of ambivalence, a time of lingering on the threshold of adulthood with one foot safely in the realm of childhood. Some of Fanning's recent choices seem calculated to project the message that she is no longer the wise child who debuted opposite Sean Penn's mentally disabled character in I Am Sam when she was 6. (Penn was nominated for an Oscar for his performance; Fanning was nominated for a Screen Actors Guild Award — she didn't win, but she was the youngest person ever to receive a nomination.) One such decision, playing an Alabama adolescent who gets raped in the 2007 indie movie Hounddog, created a backlash. To her astonishment, people seemed not to be able to distinguish between the real Dakota Fanning, then 13, and her character on-screen. "When you start out young, people get really attached to who you are at 6 years old," Fanning says. "I hope that The Runaways was kind of a moment to be like, 'You know, I'm not that young little girl anymore, but I'm still not all grown up, either.'" There is a deliberate, patient rhythm to her ambition; right now she's looking for a project to do with her sister, who's 12 and is about to appear in Sofia Coppola's Somewhere, due out later this year. Fanning is on the brink, and she knows it: Picture an Olympic diver bouncing three times at the edge of a springboard before she takes the leap. "As you get older, there's so much more that you can do in films," she says. "I've never wanted to rush that; I've always wanted to do what's right for my age, but as you approach 18, a whole new world opens up to you as an actor, and I really look forward to that."
Check out Dakota Fanning's red carpet style evolution here and read the rest of Marie Claire's exclusive interview with the star in our August 2010 issue, on newsstands July 13.