Exclusive: Michael Kors' Lifetime Achievements
The designer speaks out on everything from Project Runway fears to French women and Target collaborations.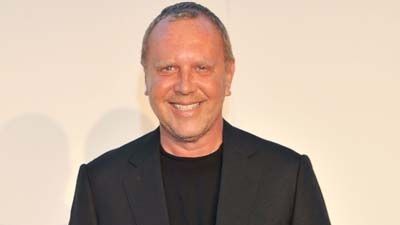 (Image credit: D Dipasupil/FilmMagic)
When placed together, lifetime and achievement are two very heady words. "They say it at the Oscars and people think, Oh, he's on his last gasp," laughs Michael Kors — this year's recipient of the Council of Fashion Designers of America's Geoffrey Beene Lifetime Achievement Award. But despite his nearly 30-year career, Kors shows no signs of fatigue. "Fashion is a moving target. The minute you think, This is my pinnacle, you're over," he says. Doors to his first Parisian store — his largest retail space — will open in spring 2011. And he prides himself on creating clothes that suit women ages 12 to 80.
Marie Claire: Take us back to your very first fashion show. What was going through your head?
Michael Kors: I remember thinking, "Is anyone really going to come? Oh God, I hope people come!"
MC: Was there the whole front-row celebrity culture that there is today?
MK: Not to this degree. Back then, you had one television crew — CNN, that was it. Photographers — all ten of them — sat in the front row. They stood up during the show and snapped their shots. But we only had three rows on each side of the runway. There was no monitor backstage. I had no idea what the show looked like. When I walked out at the end of my first show I was just so excited that the place was packed. People had shown up!
MC: How have your shows changed since then?
MK: In those early days, I showed everything I made. There was no such thing as editing a collection. In the '80s, it got to the point where we'd have shows with a hundred looks. You'd want to order a pizza before it was over!
MC: What's one thing you know now that you wish you'd known then?
MK: The biggest lesson that I've learned is that fashion is this tightrope where you have to be consistent but inconsistent. You need the connective thread but at the same time you need a sense of surprise.
MC: You spent several years as the creative director of Céline. What were some of the differences you noticed between American and French sportswear?
MK: Most houses in Paris are a kind of distillation of a couture house. It's gowns, it's the entrance at the opera, but Céline wasn't. Céline was a luxury sportswear house. So I was true to myself. Initially, of course, I had people in Paris saying, "You can't wear sneakers on the runway! Stop drinking Coca-Cola so often, it's too American! This is Paris!" And I said, "No, I can only be true to myself." Paris at the time was feeling a little stodgy, and a little old. Then Marc [Jacobs] arrived at Louis Vuitton the same season as I arrived at Céline. We were American boys, so it woke everyone up in Paris. There was no such thing as this old lady with a poodle, perfumes, and a beret. The world had changed.
MC: Is there really a great style divide between French and American women?
MK: American women often fall into the trap of, "Oh, these are my weekend clothes. These are my work clothes. This is what I wear at night." It's so old-fashioned. The French are not afraid of their luxury. Americans can be so puritanical and think, "That's my special-occasion bag." Whereas, for a French woman, it's her everyday bag.
MC: A lot has been made of high-end designers collaborating with Target and H&M. Why haven't you jumped on that bandwagon yet?
MK: Because I'd rather do it myself. At the end of the day, whenever you can control something from point A to point Z, it's fantastic.
MC: Project Runway has made you a celebrity. When did you first realize it was a hit?
MK: The first year the show was on, I ran into Rashida Jones and she said, "I love the show, it's so great." Then she said, "My dad loves the show, too." I said, "Do not tell me that Quincy Jones is watching em>Project Runway." It's not like he's a big fashionista. She said, "No, he loves the show." I asked her why and she said, "He loves seeing something created out of nothing. It's like alchemy." Then, more and more, I started hearing the same sorts of things from businessmen and men on Wall Street. That's when I knew we were on to something.
MC: Is it true you once waded in the ocean for nearly an hour to avoid Ralph Lauren on the beach?
MK: Oh, yes. It was in Round Hill in Jamaica. It was probably the mid-'90s, and I had on these big ugly board shorts and was white as a ghost because it had been raining for five days. But Ralph was as tan as a walnut in his black Speedo. I was like, Oh God, my shorts are hideous and I'm pale, and he's so tan. So I just stayed in the water. He saw me from afar. I think I was about shoulder up. Kind of a Liz Taylor White Diamonds moment, where I was just waving and we left it at that.
MC: Do you usually try to avoid other designers?
MK: People always think that designers hate each other. And we're certainly a competitive lot, but we also enjoy each other's company. Once, the Scottish Trade Commission wanted to promote Scottish textiles. So they were having this huge event and invited designers from all around the world. When they called to invite me, I asked them who else was going. They said Marc Jacobs and I said, "Let me think about it." I called Marc and asked him if he was really going to Scotland and he said, "Well, they told me you were going." I said, "I'll go if you go!" So he went and I went and Vivienne Westwood came, and we ended up all having a great time. No one else knows what you're going through other than another designer.
MC: Are you guys always sizing each other up?
MK: Oh, of course! The craziest thing about fashion people in general, not just designers, is that it's always, "Oh my God, you lost weight! I love your hair!" Or "Oh, you're so tan!" Or, "You're so skinny! I love your shoes!" These are fashion icebreakers. Everyone's always looking at each other.
MC: You recently shot a short film with Matt Tyrnauer, the director of The Last Emperor. Any chance you'll be doing a full-length documentary on your life?
MK: We talked about it. But is it going to happen tomorrow? No. For all of my gregariousness, I'm still a pretty private person, and I live a pretty low-key life. So I don't know if I'm open enough just yet for that.
MC: What would you be afraid of him capturing on film?
MK: That when I'm not working I'm a slug — a full slug. I am not good at the in-between. I'm just not. I'm either fever-pitched or want to just pass out on a beach with a really sleazy book and eat a cheeseburger. I might be passed out in a glamorous location but I'm still a slug. So I don't know how glamorous it would actually be.
MC: Both Nina Garcia and Tim Gunn are successful authors. When can we expect a tell-all from you?
MK: I probably have 50 books in me — everything from anecdotes to fashion ideas. But I'm not really one to look over my shoulder. I'm really one to look ahead. You never know, though. I certainly have an opinion about a lot of things.
MC: What would the title be?
MK: Falling Apart at the Seams: The Drama of Fashion.