What's In Katy Perry's Bag
The Teenage Dream pop star shares the colorful items she can't hit the road without.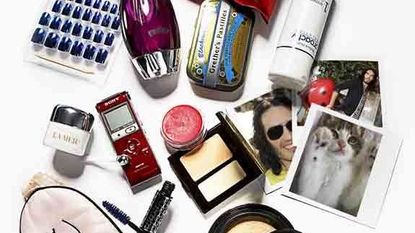 (Image credit: Jeffrey Westbrook/Studio D)
Purr by Katy Perry perfume: "I wanted this scent to be fresh but not as light as a spritzer and not so concentrated that one squirt would knock people out. This is perfect—as you walk by, you leave a trail of mystery."
Sunglasses: "I wear a mix of Super and Giles sunglasses. The Super ones are a nice shape—I have a pair of white ones I wear all the time. The Giles are more outrageous."
Dashing Diva nails: "I love polished nails, including these fun prestick nails. The metallic-blue ones have saved me so many times. If I don't have time to get a real manicure, I pop them on and they look amazing. You can't tell the difference."
La Mer Eye Concentrate: "I use this every day. Hopefully it will save me a couple of years. Preventive care, everyone!"
Sony IC Voice Recorder: "I use voice memos to remember lyrical ideas and what I want to do next."
DiorShow mascara: "I live and die by blue Dior mascara. I actually think it's better for my eyes than black."
Sleeping mask: "One of my prized possessions is a silk sleeping mask. It's really adorable and has two giant lashes on the front of it. I take it everywhere I can because I like to fit in little catnaps."
Popcorn, Indiana Kettlecorn: "Kettlecorn is my favorite snack because it's both salty and sweet—the best of both worlds."
Proactiv Cleansing Wash: "No, nobody is on the line telling me to say this! I really use it because I have to. If I'm far away in a different place in the world and I'm running out, I'll have a meltdown."
Grether's Pastilles in black currant: "They contain glycerin, so they're great to loosen up my throat and voice—especially after a nap."
Polaroid photos: "I have Polaroid pictures of my husband [Russell Brand] that I keep with me. I love Polaroids; they're so lovely. The film has a wonderful feel to it."
Krusty the cat: "I'm a crazy cat lady! Russell and I have three—my new kitten, Krusty, acts like a dog. I can just pop her in my purse. She's coming on this tour with me—I've brought my cat Kitty Purry on the road before."
Laura Mercier Secret Camouflage SC-2: "I like that this concealer blends so well. It takes away all of the redness and makes your skin look pretty flat."
African Red Tea Exfoliating Lip Salvation: "I use this lip scrub from Ole Henriksen before I go to bed, particularly after wearing heavy lipstick. When I wake up, my lips are moist."
Guerlain Les Voilettes Powder in 02 Perlee: "This also comes in a really cute gold compact, and the powder stays forever."
The Bag: Chanel. "I bought a pink one at first, but the leather was so soft that it lasted only two days. But my classic black one is fantastic—it's been through hell and high water and still looks new."