Exclusive Q&A: Melissa Leo on Her Unconventional Oscar Ads
The awards season frontrunner talks about why she went rogue and launched her own campaign for Best Supporting Actress.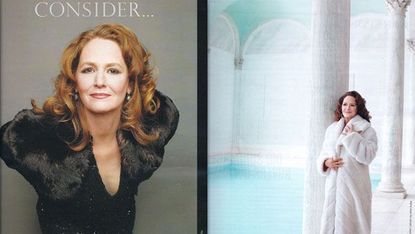 (Image credit: Archives )
Actress Melissa Leo inevitably surprises. Usually, it's because she dives so deep into her characters. Whether she's jabbing her forefinger at the camera as The Fighter's peroxide-blonde matriarch Alice Ward, or driving a clunker across a Frozen River, her unsinkable spirit and enormous heart shine through. She conveys an honesty stripped of vanity unlike other actresses of her generation. But, now, she's surprised the Hollywood community, and her die-hard fans, with a self-funded ad campaign. Above magazine-cover-ready photos of a glammed-up Leo is the single, simple word, Consider. Even more surprised at the sudden uproar in the press following the ads' publication is Leo. Back in December when she hatched the plan to run ads in the trades, she hadn't realized she was the Oscar frontrunner. She's an actress, not an advertising maven.
Marie Claire: You've already won a Golden Globe, a New York Film Critics Circle Award, a Critics Choice award, and a SAG award, which seems to put you in a good spot to get an Oscar. So, why do this?
Melissa Leo: You have to understand what I needed to understand two years ago when I did Frozen River: You don't go to Vogue in June for July's cover. Around the middle of December I had finally gotten the info that I was not going to get a national cover.
MC: Obviously, that was frustrating. What do you attribute that to?
ML: It seemed to come down to issues between box office and age. It's a selling-magazines issue. I get it. So, fine, why even bother?
MC: Full disclosure: We did put Amy Adams on our cover in January. But we adore you, too! Has it been interesting sharing the nomination with Amy?
ML: That's not hard to do. The spread that you did on Amy… The cover was spectacular and said so much about Amy. I can't think about her without going back to the shoot itself and the friendship we made then. It gets stronger and stronger — the way she taught me and helped me as an actor both on and off the set in Lowell.
MC: And how has it been sharing the red carpet with her?
ML: Her graciousness and joy with every one of my wins… The night of the SAGs, I thanked her, and I told her that I don't know if I could do it if underneath the bright smile I sensed jealousy. She's overjoyed for me. And I will be overjoyed for her when I hear her name called one of these days.
MC: It seems that the big criticism has been that you're the frontrunner behaving like the underdog.
ML: Whatever my position might have been as we came in closer to the date with some wins in my pocket, I was not being told frontrunner. I could just feel in my heart this opportunity that has so vastly eluded me. I spent a month-and-a-half flying back and forth from the set of HBO's Treme in New Orleans to L.A. to "pimp myself out" like we all are doing this time of year.
MC: So, what made you finally pull the trigger on this ad campaign?
ML: I had deadlines to meet. In Sundance, we wondered: Should we put the ad in or not? Sure, it would just be fun, let's jump and shout, because all I was going to say was "Consider." Here I am. Recognize me as this. It's all okay.
MC: Cue the firestorm.
ML: The people I talk to know that I'm barely getting through each day. I don't know if I would have thought of it alone, and nobody was saying to me that I was a frontrunner. There is something very disconnected about all of it because absolutely none of it is me. I'm known as an actor that people don't recognize and as the characters that I play.
MC: Is acting like a Hollywood movie star just another role in your arsenal?
ML: It's a really serious weapon if we're going to take that analogy. I have never dreamt of being that or felt I was that. I'm being asked to try that on now. And it's oddly fascinating, a little uncomfortable, and tremendous fun.
MC: It sounds like a push-up bra.
ML: The definition of a movie star is to the vast public a great unknown. They like that relationship with something that they can have a pure fantasy life about. It's something that I'm in a dilemma about because the respect I get for being an actress is not in being a movie star but in being an actor.
MC: More full disclosure: I attended the photo shoot in early January that created those pin-ups in your ad campaign. People don't know that that shoot was done in the Hudson Valley where you have a house. You tapped local talent. Another little known fact: it was shot on a frosty night in Rhinebeck's Astor Court where Chelsea Clinton got married last summer.
ML: There's something about the whole Hudson Valley connection. I continue to support the local economy.
MC: Tell us about your looks in the two ads. That is quite the faux fur coat!
ML: It always seems to be a crapshoot when it comes to pulling it all together. Mostly, I was guided by the kind generosity of Marc Bouwer, and inspired by old Hollywood style.
MC: Have you gotten any feedback — positive or negative — from the campaign?
ML: In the true story, when we're 90, we'll giggle and write about the negativity. As we have witnessed before, it's only the generator of the discussion. If there's no negativity, there's no discussion. It generated a conversation and I have no fear of it because I have nothing to hide. I don't think I did a bad. I'm deeply sorry if I offended. That's ignorance on my part. I operate from instinct, and my instinct guided me in the choice to do this. You saw the photo shoot. It's not everything I ever dreamt of for me, either. It is what it is. And it seems to be a part of what I do for a living, so there you have it, unashamed.
MC: It's easy to forget during the Oscar campaign that the fun begins when you go back to work.
ML: I come more alive on a set or at a theater. They are the most comfortable places on the planet for me. I know my place. I know my role. I know my people. And when I say I don't know much about this Oscar thing, I mean it. I'm not even a girl that got dressed up and went to the prom, or even dated a lot.
MC: If the pictures at the Golden Globes and in your ads are any indication, it seems like you're getting the hang of it.
ML: Oh, good God, yes! I've had fun with this year. Maybe I've had too much fun! I loved the Oscar luncheon. I feel very warmly welcomed by the Academy. I've met and talked with Annette Bening and I've also met all the women in my category beyond Amy. Hailee Steinfeld I met in an airport. She was doing her pimping, er, I mean promoting in some town, with her mother. I can't remember where she was heading, nor I. She is the real deal, and very dear and grounded. And Jacki Weaver I had met in New York and seen her beautiful, remarkable, awesome performance. At the luncheon I got to finally meet Helena Bonham Carter. She wouldn't take my compliments. She was shoving me toward the Oscar statue, and I was trying to do-si-do her closer. She's very playful and lovely, and I have the suspicion that she's quite shy. Every single one of the very best ones I've met is so shy.
MC: How will the Oscar nomination affect your career?
ML: I really love working. And, in the handful of experiences where I've been given so much of the film to carry -- Frozen River, Racing Daylight, Welcome to the Reilly's — you can eat the whole apple and not just a quarter of it. Maybe the recognition thus far this year will get me those juicier roles.
Regular Contributor Thelma Adams is the author of the novel, PLAYDATE, out from St. Martin's Press/Thomas Dunne Books. It was a January pick in Marie Claire, O: The Oprah Magazine, and Parade.
Marie Claire email subscribers get intel on fashion and beauty trends, hot-off-the-press celebrity news, and more. Sign up here.