Sarah Jessica Parker's Next Act
Three young kids, two back-to-back movies, and one busy husband juggling his own demanding career — SJP tells just how she does it. Plus, check out the photos from SJP's cover shoot and see her most memorable red carpet moments.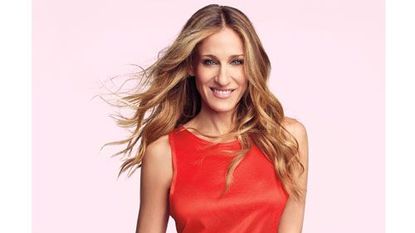 (Image credit: Tesh)
A child star on Broadway, Sarah Jessica Parker has lived in the public eye for so long, you'd think she would be as tough-skinned as an elephant by now.
But when we meet for a late lunch in Manhattan's West Village, the 46-year-old Parker is still stewing over the morning's snide New York Post gossip item claiming she complained about being called for jury duty. Although she spent hours on the phone explaining that it wasn't true, the item ran anyway. Given how lame and trivial it was, I'm astonished she cares.
In fact, she cares so much that she spent the previous evening "sobbing to Matthew," admits Parker, who has been married to actor Matthew Broderick for 14 years.
"For Page Six to be so cavalier — I was so outraged by the character assassination!" she exclaims, flushing with indignation. "I have served so many times, I was asked to come speak at Jury Appreciation Day! I expect I should be more calloused by now, but I am so sensitive about not ever living up to anybody's worst idea about an actor who is well-known."
Story continued below.
Given her triple-threat résumé as a stage, film, and television actress who long ago reached icon status as Sex and the City's Carrie Bradshaw, Parker could be forgiven for diva-esque tendencies. Instead, she seems determined to hold herself to a Girl Scout's standard of behavior.
"I never wanted to be a celebrity; I never wanted to be famous. And in my daily life, I work really hard to not trade on it in any way," she says earnestly. "I am so desperately worried about anybody saying, 'She cut in line' or 'She took our table' or 'She got out of jury duty' or 'She doesn't do her own grocery shopping.' The things that bother me are counter to who I am and the way I live. It's not like it's hard to be decent and respectful and well-behaved. I do wait in line, and I do take the subway, and I do do my own grocery shopping, and I do take the kids to school. But it almost doesn't matter to a certain segment of the populace — they're projecting onto you this status and entitlement I don't have."
She sighs. "I wouldn't say I'm great at dealing with it. Every time something is written that isn't true or is intentionally hurtful — after all these years, you'd think I'd say, 'It's not true. It doesn't matter.' But it's really hurtful. Call me out on my bad habits — I have plenty of shortcomings. But when it has to do with things you pride yourself on being the opposite of, it's really upsetting. When it's about my conduct and character, it really chaps my ass."
One of eight children, Parker grew up poor in Ohio, New Jersey, and New York. Last year, she and Angelina Jolie were the highest-paid actresses in America, according to Forbes, which estimated their earnings at $30 million each. After decades of success, Parker still revels in the perks — from couture clothes to vacations in Tuscany — even as she worries about raising her own three children to have sensible values despite the privileges they enjoy. "We didn't have a lot when I was growing up, and it's the best thing that happened to me because I appreciate everything," she says. "I developed a really strong work ethic, and I don't take anything for granted."
Nor does she flaunt her celebrity. Carrie's penchant for outrageous fashion notwithstanding, Parker is unpretentiously dressed in a tank top, light sweater, and casual pants in neutral colors. Sitting in the back of an Italian restaurant, she has made herself so inconspicuous it would be easy not to notice her. Her luminous face seems entirely unmade-up, and her hair is pulled back in a practical ponytail; no stylist labored over Parker's appearance before sending her off to our appointment.
It's a very low-key look for a very high-powered woman whose workload is enough to make anyone's head spin. Coming out this month is Parker's latest movie, I Don't Know How She Does It, which costars Greg Kinnear and Pierce Brosnan. Based on Allison Pearson's best-selling novel, the film follows the frantic life of Kate Reddy, a frazzled mom who's juggling two kids, a demanding job as a financial analyst, and the needs of her long-suffering husband, while trying not to come unglued from the stress of it all.
"Kate's life is very different from mine, but the inner workings rang so familiar for me," Parker says. "The great struggle to have it all, to be leading a rich, full life — how does one do that? There are choices, and there are consequences to those choices — and we all know how wonderfully complicated that is."
For her, the complications have sometimes been excruciating — particularly with SATC 2, the second movie sequel to the HBO series. When filming started, Parker's son, James Wilkie Broderick, was about to turn 7 (he's now 8 years old), but the shooting schedule forced Parker to miss his birthday; the family celebrated early, before her departure. Her 4-month-old twins were too young to receive the requisite shots that would have permitted them to accompany her to Morocco, and Parker was gone for seven weeks — a painful separation that still brings a grim look to her face when she discusses it.
"I don't want to say I regret doing it. My son came to see me on his Thanksgiving break, and he loves talking about his trip to Morocco. But emotionally it's hard," Parker says. "I dealt with it the same way working moms deal with it all the time: You miss them; you wish you were sharing every experience with them; you stay in touch; you annoy them with your sentimental phone calls and Skyping."
But she vehemently denies published reports that her husband resented her having left him with their newly expanded brood for such a long time. "No, no, no!" Parker says. "He was completely immersed in a play he was working on. Matthew is a working actor, and he knows sometimes things require some hardship. It's the same when he goes away for two or three months. We're really accustomed to this, and he wouldn't have wanted it any other way for me."
Parker also refutes speculation about her daughters' parentage; unlike their brother, the twins — Marion Loretta Elwell, who is called Kitty, and Tabitha Hodge, whose nickname is Babe — were born to a surrogate mother in Ohio, which generated a flurry of questions about whether they were Broderick and Parker's biological children. "Yes, they're ours," Parker says firmly when asked.
Read the rest of Marie Claire's exclusive interview with the star in our September 2011 issue, on newsstands August 16.
Celebrity news, beauty, fashion advice, and fascinating features, delivered straight to your inbox!