Evan Rachel Wood Transforms Herself … Again
The gift to young Hollywood that keeps on giving: The Ides of March star herself. She's anything but predictable — even to herself.For more, check out the exclusive photos from her shoot.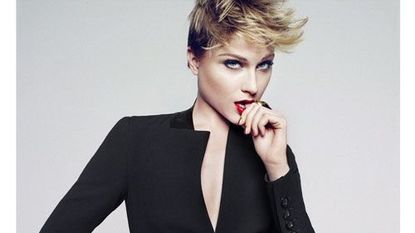 (Image credit: Txema Yeste)
Tucked into a booth at a Manhattan diner, Evan Rachel Wood is giving off a Mary- Stuart-Masterson-in-Some-Kind-of-Wonderful vibe. Her tomboy trappings — newly shorn locks, porkpie hat, vest, cutoff shorts, and Dr. Martens — just barely hide the gorgeous girl underneath. It's a striking contrast to her former image as the corseted vampy fiancée of Marilyn Manson (from whom she split last year). And it's one that she's enjoying immensely. "The other day, I was in my hotel and room service came," she says. "I had my back to the door, and the guy said, 'Oh excuse me, sir.' It was so cool!" At 24, Wood — who first made waves as a pubescent terror in Thirteen — has already lived a pretty full life and garnered major fans along the way. In the last three years alone she's worked with Robert Redford, Woody Allen, and Darren Aronofsky. And in this month's political think piece Ides of March, Wood finds herself not only being directed by but also sharing the screen with George Clooney.
George Clooney the actor or George Clooney the director — which do you prefer?



He's amazing as both. Quite honestly, I wish every movie I worked on was a George Clooney movie — him directing, that is. It was a stupid amount of fun.
How so?



He just surrounds himself with really great, smart, laid-back funny people with good energy. He loved to keep the camera rolling when we didn't know it was on. I'm pretty sure he has me dancing to Justin Bieber on film. We were playing around and joking with Ryan [Gosling] off-camera and started doing this dance. It got really quiet, then George poked his head around the corner and said, "Enjoy the DVD!"
Are you saying you're a Justin Bieber fan?



Yes, that I am. I saw the movie [Never Say Never], and that's what did it. I ended up seeing it three times — in the theaters. One of those times was the director's cut, I'm not even kidding. I got obsessed with the kid. It's going to be weird if I ever meet him. He's brought so much joy to my life.
In Ides of March you join an enviable group of ladies who've gotten to make out with Ryan Gosling. Is it really as great as we all imagine?



Yeah, it was awesome. We had fun. Ryan's amazing because he has this way about him that's incredibly attractive, not just in a sexy way but he's smart, he's cool, he's talented, he's really creative, and he has this mysterious quality to him that drives people crazy. So yeah, it wasn't a hard day at work.
Your character is very sexually forward for an intern.



I swear to God I was channeling George a little bit in those moments. He has a very calm, quiet, direct way about him, and I think that's what he wanted for the character. Just very in control.
Let's talk about Broadway's Spiderman: Turn Off the Dark. You were supposed to play Mary Jane under the direction of your friend Julie Taymor. Has it been hard to watch her get dragged through the mud?



I don't think it's fair from where I'm standing, but I don't know the whole story since I wasn't there. I'd been attached to it for years, and I was missing out on jobs because I thought I was going to be on Broadway. I finally just had to say, 'I've got to take a job!' But Julie's vision is amazing and the things about her in the show are incredible. Visually, it's brilliant.
When you were with Marilyn Manson, did you actually call him Marilyn?



No, I called him Manson. Or just Babe.
Did you ever say, 'Hey, babe, maybe all eyes can be on me for once — can't I be the one to stand out?'



No. I think that would be impossible to do anyway. I don't like eyes on me, so I was fine giving that up.
Are you glad you didn't go through with the marriage?



I am glad — for both of us. We both have a lot more growing to do. I don't think it would've been right, but I am glad that we were engaged. I think we needed to make a statement to each other that it was legit. So that was good.
Since then you've come out as being bisexual.



Yeah, that's a big part of who I am, and it always has been for as long as I can remember. I can't say I'm one way or the other because I've honestly fallen in love with a man and I've honestly fallen in love with a woman. I don't know how you label that, it's just how it is.
Have you had a serious relationship with a woman?



Yes. And it was wonderful. I mean, it was terrifying at first. Not because I thought it was wrong but just because I was intimidated by women. It's a totally different arena! The approach is completely different than it is with a man but I finally let myself say, "You've got to go for this. It's in you and it's not going away." And it was wonderful.
You were photographed seeing the show with your ex Jamie Bell. Does that mean you two are back on?



I mean, I've got his initial tattooed on my ankle, so…
You've got a lot of tattoos, though!



Yeah, I seriously have to count sometimes. I think I want to get the one on my ankle removed because it's huge! It's technically my first tattoo, which is always the worst one. It's like the first pancake. The bad news is you can't throw it out.
What are some of your other ones?



An illustration from Where the Sidewalk Ends, an infinite love sign, my lucky number 15…
What makes 15 your lucky number?



It haunts me. I'm just confronted with the number 15 all the time in hotel rooms, addresses, phone numbers, and my birthday year '87 adds up to 15. It's funny because I wondered what 15 was in Tarot, and it's the devil. I was like, 'Of course! Why wouldn't it be?' But I think a devil is just a manifestation of something you do, so I don't mind it. The devil is actually a pretty human thing.
Marie Claire email subscribers get intel on fashion and beauty trends, hot-off-the-press celebrity news, and more. Sign up here.