12 Weird Things Women Do When They're Alone
Sex and the City coined it our "secret single behavior," but women have been doing strange things since take-out and sweatpants were invented.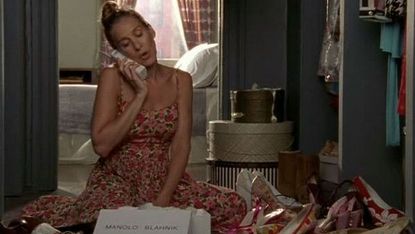 (Image credit: Marie Claire)
Marie Claire Newsletter
Celebrity news, beauty, fashion advice, and fascinating features, delivered straight to your inbox!
Thank you for signing up to Marie Claire. You will receive a verification email shortly.
There was a problem. Please refresh the page and try again.
1. Somersault off the couch to go the bathroom. Weird, I know, but it's fun and it gets me there faster. No other human has ever seen me do this but hey, I can classify it as a workout when my doctor asks how often I exercise.
2. No pants party. What's the first thing you do when you walk in the door after a long day? Pants off. The home zone should be for comfort and happiness—not restricting waistlines and tricky zippers.
3. Eat Chinese food about 90 percent of the time. Eating kale and Brussels sprouts is all fine and good, but sometimes a girl just needs a fried dumpling. Or spare ribs. Or sesame chicken. Or all of it at once. Am I right?
4. Watch all the ABC Family series on repeat. Switched at Birth. Gilmore Girls. Pretty Little Liars. Does anyone remember Jane by Design? There's something strangely wonderful about rewatching shows that speak to my inner tween. Maybe it makes me feel taken care of... or maybe I just can't get enough teen drama.
5. Listen and belt to Beyoncé on loop. There's nothing like getting groovy to female-empowering lyrics on a Sunday afternoon. I feel drunk, in love, and like I run the world all in the span of three minutes. Now that's power.
6. Clean like a maniac and try and perfect a flower arrangement. I don't know where this came from—apparently now I'm domestic (but only in secret). This type of behavior used to be very atypical for me, but living on my own and paying for all my own stuff has made me appreciate keeping them clean and organized. Now, getting complimented on my apartment rings just as impressive as getting complimented on my hair. Cheers to adulthood!
7. Try on outfits. Leave me alone for three hours and I'll have every outfit from tomorrow at the office to a month from now at my birthday party picked out, planned, and accessorized. So what if I have to buy a new pair of shoes to match my ensemble a week from Monday? At least now I can plan and save (sorta) for it!
8. Douse my body in fancy lotion, cover my face in a hydrating mask, and comb in a hair treatment. Alone time is precious in this respect. I love nothing more than trying every new beauty remedy, but many times the paper masks and body peels leave me looking like Freddy Krueger for 20 minutes. No roommates allowed.
9. Sometimes I'll do the solo brunch. It makes me feel French and sophisticated. Not to mention it allows for perhaps obsolete but lovely practices like reading the *gasp* newspaper (even if I'm just doing the crossword).
10. Binge-watch Netflix. Mad Men with whiskey, Scandal with wine. Fall asleep on the couch. Repeat.
11. Practice my smile in the mirror. It's a productive activity. Or maybe it's not, but I'm alone and you can't judge me!
12. Buy new underwear. Who else has trouble washing delicates? Do I hand wash? Can I throw them in with my whites? How does everyone but me seem to know how to maintain lacy underthings without a hitch? I usually wear them, wash them, and then buy new ones to replace those now destroyed pairs. Oops.
Follow Marie Claire on Instagram for the latest celeb news, pretty pics, funny stuff, and an insider POV.
Celebrity news, beauty, fashion advice, and fascinating features, delivered straight to your inbox!
Hallie has worked in beauty editorial for ten years and has been editorial director at Byrdie since 2021. Previously, she was a senior editor at Byrdie since 2016. During her time at Byrdie, she's written hundreds of high-performing stories on skincare, wellness (including fitness, diet, mental health, body image, et al) makeup, and hair. She's a regular on set, helping to source inspiration for makeup and hair looks, as well as interviewing celebrities, models, and other notable women and men in the beauty space.
Before that, Hallie ran Marie Claire's social media and wrote beauty and culture stories for the site, and helped launch Time Inc.'s digital-only beauty brand, MIMI. After college, she contributed to Time Out New York's Shopping & Style section before landing her first beauty editor gig at Hearst's Real Beauty. Hallie's writing has also appeared in ELLE, Cosmopolitan, and InStyle. Hallie graduated with a BA in Communication Arts from the University of Wisconsin-Madison.