Unstoppable Angelina
Jolie has written and directed an astonishing movie about love, war, and betrayal. In the Land of Blood and Honey is unlike anything you have ever seen. Make room, Steven Spielberg and Kathryn Bigelow, Hollywood has a new power director. Be sure to check out all of the photos from our exclusive cover shoot with Angelina!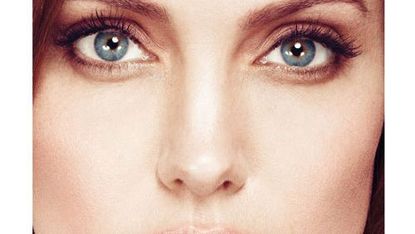 (Image credit: Archives)
It is a drizzly autumn midday, and all's serene on King's Road, the main thoroughfare in Chelsea, one of London's posh neighborhoods. A parade of stylish young moms push up-to-the-second strollers, their kids swaddled snugly against the incipient chill. So it startles when, on a side street, a sedan pulls up in front of a low-key Indian restaurant to discharge one of the most famous women on earth, rocking her trademark gold-framed aviator sunglasses despite the cloud cover.
Attempting to greet Angelina Jolie on the street will be the worst idea I have all day. A paparazzo is in position across the road, so Jolie motions us inside the restaurant. That's when I notice that there are no other diners here — Jolie has secured the whole place for us. Clad head-to-toe in black, she wears no apparent makeup, no necklace, no earrings. The effect is simplicity itself: world-class beauty that no longer needs to advertise.
Aptly so, because her celebrated glamour is, for once, beside the point. Angelina Jolie — Oscar-winning actress, siren and provocatrix, tattooed hellion turned U.N.-certified activist — can now add writer and director to her lengthy list of professional accomplishments. Her film, In the Land of Blood and Honey, unflinchingly explores the horrors of the war in the former Yugoslavia through the tangled romance between Danijel, a Serbian officer, and Ajla, a Muslim woman who eventually becomes captive in a forced-labor camp.
Much of the film is harrowing, because it must be. Jolie scrupulously honors the historical record. The war waged against Bosnia's Muslims by the Serbs featured all the atrocities of 20th-century warfare: death camps, ethnic cleansing, massacres of civilians, innocents used as human shields, and rape. What the heroine of In the Land of Blood and Honey, played by Zana Marjanovic, must witness and endure in the first half-hour alone will put any audience on the rack.
"I think it is still hard to understand what happened," Jolie says, "and how it could happen 40 minutes away from Italy in the '90s, at the time Schindler's List came out." Jolie has borne witness to humanitarian crises around the globe, yet it is this war whose fury and barbarism she found impossible to shake. "You can't make sense of something that innately doesn't make sense: to rape and kill your neighbor with whom you have lived forever," she says.
When Ajla is taken prisoner and brought to a forced-labor camp for women, she is surprised to discover that her lost love, Danijel, is one of the Serbian commandants. The war rages fiercely around them, but within the room this couple will eventually share — an emotional and sexual landscape that Jolie navigates with mystery and assurance — love, art, and tenderness will vie with issues of identity, betrayal, and responsibility. "I obviously put myself in the position of what would have happened if I were in this situation," says Jolie, who knows what it means to have loved defiantly. "If I were in love with somebody and we happened to be from separate sides of the conflict but we were in love before the conflict started, how far would I be able to go? How much could I be open to, and when would I start to close off? Is it love, or is it survival?"
Writing the movie, Jolie says, began as a private exercise, "an excuse to get out some of my frustrations [with] the international community and justice issues. I just assumed nobody would ever see or read it." Before long, the project consumed her. "Some of the very darkest sections were probably conceived in Shiloh's art class; I was in the back corner, waiting for the kids to finish," she says. "And then somehow it slowly ended up being read by Brad, and then friends. There was a discussion of making it, and I just was terrified to hand it over to anybody. It wasn't that I said, 'I'm going to write something, and I want to direct it.'"
Jolie's engagingly informal manner couldn't be more different from the regal remove that the camera seems to catch. (What did she wear while directing? "Ball gowns," she jokes.) But when the subject is her movie, she fidgets with her ring, rapidly taking it on and off. She fervently wants to have Gotten It Right, less for her own sake than to honor the lives of the many people she met from the region who trusted her to tell the story of their land and their shared suffering. In some cases, members of her cast had lived through the moments she was filming: One had been shot; another lost 28 relatives in the war. "For them, it was hard to revisit, but it was something that they had the strength to do — a strength that I don't know," Jolie remarks in admiration.
She especially enjoyed, she says, the opportunity to work closely with other actresses. "It was nice for me to play with other girls; I don't really have girlfriends in movies, if you've noticed," she says, suggesting that the same is true off-camera, as well. She quickly corrects herself. "Well, I have a few girlfriends. I just ... I stay home a lot. I'm just not very social. I don't do a lot with them, and I'm very homebound."
For the rest of Angelina's interview, pick up the new issue of Marie Claire on December 20.
Marie Claire email subscribers get intel on fashion and beauty trends, hot-off-the-press celebrity news, and more. Sign up here.