Scarlett Johansson: Scarlett's Web
The ever-intriguing actress has woven music and theater into an already impressive film career. This summer, she prepares for the release of racy dramedy Don Jon and pulls on her superheroine Black Widow catsuit to film the Captain America sequel. Don't miss all of the photos from our May cover shoot with Scarlett, and check out the star's red carpet retrospective!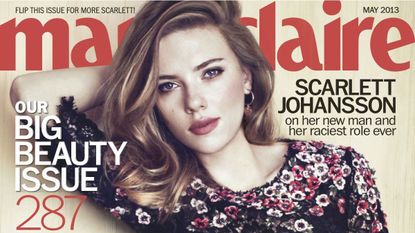 (Image credit: Txema Yeste)
Marie Claire Newsletter
Celebrity news, beauty, fashion advice, and fascinating features, delivered straight to your inbox!
Thank you for signing up to Marie Claire. You will receive a verification email shortly.
There was a problem. Please refresh the page and try again.
At 1:45 a.m. on a Friday in January, dozens of stylish, attractive revelers began pouring into Manhattan nightclub No. 8 for the opening-night cast party for the latest Broadway production of Cat on a Hot Tin Roof, starring Scarlett Johansson as the smoldering, sexually frustrated feline Maggie. The actress arrived in a black peplum top, tight black leggings, bright red lipstick, and perfect skin, bringing to mind Sandy after her transformation in Grease. Standing by the bar, she kissed her new boyfriend, 30-year-old French creative agency manager Romain Dauriac, whispering in his ear and throwing her head back laughing. Pretty soon, everyone — her two brothers; her sister-in-law; actor Benjamin Walker (who plays Maggie's alcoholic, sexually repressed husband) and his wife, Mamie Gummer — caught her good vibe and spilled onto the dance floor. Johansson started boogying backward toward me, inching closer to a table covered with champagne flutes. I reached down to move the table, creating a pocket of space for Johansson, who safely lingered there until shimmying out of harm's way. I figured I would spend the rest of my life wondering if she had been trying to include me.
"Well, not if you were behind me," she tells me a month later a Greenwich Village loft. "But we like to include everyone in a good party. That night was super-fun. I've never been the person who sits in the corner, orders bottle service, and judges everybody. The next day my boyfriend and I were saying, 'We were the best dancers in the whole world last night!'" She clarifies both were "completely delusional" to think that way: "I'm sure we were absolutely, like, ridiculous together."
This morning Johansson, 28, woke at 9 a.m., worked out with a trainer, and now feels tired after her brothers (twin Hunter and Adrian, 36) dropped by her midtown penthouse unannounced the previous night. "They're just gross — oh, they're just awful!" she says, laughing. "They're just sitting on the couch, eating all my food. We gossip about family and watch stupid TV shows. But I treasure the time I get to spend with them." Wearing a plum snowflake-patterned sweater, burgundy pants ("vintage-y, old, crummy, dirty things"), and her favorite No. 6 clogs, she comes across as a bright, fetching graduate student, not a megastar with 37 movies to her name.
Besides making movies and records (her Tom Waits cover album features two duets with David Bowie), her other commitments include being the face of Dolce & Gabbana Beauty; a global ambassador for international relief agency Oxfam; and a political activist (she was a fundraiser for Manhattan Borough President Scott Stringer, now running for comptroller, and campaigned for both of Barack Obama's presidential bids). Had Johansson come up in a game of word association, I might have said Ghost World, Lost in Translation, and trio of movies she made with Woody Allen.
"Everything good," Allen says at the mention of her name. "I was enchanted with her the minute I met her, and I've never stopped. She's great-looking, sexy, funny, a good dramatic actress, she can sing. I mean, she's got it all, really." The two keep in touch with sarcastic e-mails and lunch whenever possible. She wants him to write a Citizen Kane or Sunset Boulevard for her. "I always said that I'm going to wind up like Erich von Stroheim in Sunset Boulevard," Allen says. "She was going to wind up the aged movie actress who everyone was in love with, and I was going to end up the director who once directed her, now her chauffeur. Anytime I have an idea, if there's anything that she could play in it, she's always my first option. I'd love to come up with a tremendous vehicle just for her."
Johansson began acting in second grade, in an Off-Broadway play called Sophistry. Her breakout performance came at age 13, when she stole The Horse Whisperer from the A-list cast, three of them Oscar winners. For the past decade she hasn't been typecast as an ingenue or a sex symbol, yet that perception persists. "She just can't help it," Allen says. "Her beauty and sexuality are so overwhelming — it's a far, far bigger plus in her life than the little penalty she has to pay . . . yeah, she is God's answer to Job."
A major career transition for Johansson is under way. There's her onstage work (she won the best actress Tony Award for her first Broadway role in 2010's A View From the Bridge) and the Truman Capote debut novel, Summer Crossing, that she has adapted for the big screen and plans to direct next year. She doesn't intend on forever playing Black Widow in comic-book blockbusters (Iron Man 2, The Avengers, and Captain America: The Winter Soldier, which began filming last month), but she would like to balance commercial roles with thought-provoking projects like Under the Skin, based on the Michel Faber novel in which her alien character delivers hitchhikers to a grisly fate. "In The Avengers, a lot of the characters are quite deep and flawed," she says. "Not that it will make grown men cry."
Chris Evans, who plays Captain America, first met Johansson when they costarred in the 2004 teen heist movie The Perfect Score. "She is who she is, and she is unapologetic," he says. "When you're around her, you feel an honesty that brings out the honesty in you. She has an old soul. I'm a few years older than she is, but I still feel like her younger brother. To this day, she still seems a little more wordily and intelligent than most people in the room." Evans says that if you were going on a caravan road trip, you would want Johansson in your car: "She's very spontaneous, and she can make something fun out of nothing. Anything that seems interesting or adventurous, she'll go for it — and her willingness breeds a kind of allegiance. Before you know it, you're having a good time when you didn't even know you could."
An example of her spontaneity, for which Evans apologizes to Johansson for revealing ("I'm going to tell it anyway! Because it is who Scarlett is"): While they were in Ohio filming The Avengers, they went to a bar. "We get a couple beers, and Scarlett says, 'We should get onstage and sing a song!' And this is the type of balls that Scarlett has: She walks up to the band, asks if they know 'Rocky Raccoon,' and she sings it — flawlessly, mind you — to about 15 people sucking down beers in some dive bar in Cleveland. It was surreal. It was phenomenal. It was hysterical."
For the full article, pick up the May issue of Marie Claire when it hits newsstands on April 16.
Celebrity news, beauty, fashion advice, and fascinating features, delivered straight to your inbox!