Lauren Conrad: Golden Girl
Far from a reality-TV star destined for where-are-they-now oblivion, Lauren Conrad has nimbly parlayed small-screen fame into a mini empire of fashion, books, and now crafts that give back. And she's just getting started.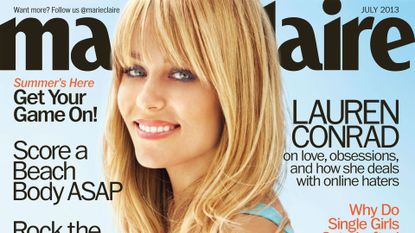 (Image credit: Unknown)
Lauren Conrad surveys the Rose Bowl Flea Market with an aficionado's intent. The reality star turned mini mogul doesn't need anything, but her spree serves to show off her designer's eye. A vintage gumball dispenser is like the teal one in her Laguna Beach bungalow and matches "the color story" there. A gigantic clamshell Conrad spots is smaller than the one she turned into a planter for succulents in the entryway of her Beverly Hills condo. She drops a vintage orange juice advertisement for her Brentwood house's kitchen — "We're going to do a yellowy pop" — into her cart and picks up a pink-and-mauve cup and saucer to add to her collection of 50 sets, which she's lending to a friend for a bridal shower. On this gray Sunday in a Pasadena, California, stadium parking lot, Conrad, wearing an LC Lauren Conrad chambray shirt, Rag & Bone black skinny jeans, huge Karen Walker sunglasses, and Converse sneakers, pauses at a cluttered table over a Precious Moments figurine of a boy kissing a girl similar to one she kept in her girlhood bedroom. Conrad, 27, could revisit her own moments captured during seven years on MTV's Laguna Beach and then The Hills, but these days she doesn't watch any reality shows other than the real estate porn on HGTV.
In a few hours, she will board a plane to meet with the New York design team of Kohl's, which puts out her LC Lauren Conrad line. She is also the sole investor in another line, the contemporary Paper Crown, and has written best-selling novels, including the just-published Infamous, based on her experiences that reveal a fuller picture of herself than slyly edited 20-minute episodes ever allowed. "I only ever got to tell half my story," she says on why she started writing. "People are very quick to judge these days, especially behind the anonymity of a screen name. It's very easy to say, 'I hate her, I hate what she wore, she seems mean.' But you're only seeing a small fraction of her life." Her next venture is an e-commerce site called The Little Market, launching in September, which will sell artisanal crafts made by women from around the world, providing them with opportunities to support their families. She's doing it with friend Hannah Taylor Skvarla, an advocate for Human Rights Watch. "We've been to Bali and El Salvador and Africa and India and Nepal," Conrad says. "Hannah is good about educating me about not just the beautiful places we go to but also the issues people there face. I think when you've been fortunate, you have a moral obligation to do things for others."
And she has been fortunate, plucked from Laguna Beach High School by MTV producers in 2004 to star in a then-unknown show about members of the senior class. But sometimes you create your own luck, and by 2006's spin-off The Hills, Conrad and her father, Jim Conrad, saw reality TV as an opportunity to get what she wanted. "Lauren wasn't a great student — she wasn't that interested," says Jim, an architect. "We figured out along the way that she was an artist and her real love was fashion." They found an agent and shrewdly geared every offer toward the goal of running her own business. The Hills followed her attending classes at the Fashion Institute of Design & Merchandising in Los Angeles and interning at the offices of Teen Vogue. MTV may have employed Conrad, but she made MTV work for her. Whereas the drama of her former costars continues to generate headlines (ex-boyfriend Jason Wahler's stint on Celebrity Rehab; Heidi Montag and Spencer Pratt spending $10 million in anticipation of the Mayan apocalypse), Conrad's reserve has built her career.
When Conrad was learning to talk, her mother recruited her to crack eggs to help make breakfast. "She just pushed my hand aside and said, 'Me do,'" Kathy Conrad recalls. "Pretty much everything she does she prefers to do on her own, as much as we'd love to help her."
Conrad didn't feel she had to stick to the show to reach the level of success she has. "I hoped I didn't," she says. "Everybody told me to stay on TV. Nobody wanted me to leave." She is still perpetuating the public interest in her — she has more than 3 million Twitter followers. Still, when she blogs or Instagrams, commenters post slashing words alongside the gushing. "There is always gonna be a little bit of … negativity, which just comes with the territory," she says. "You realize it doesn't matter. It's so simple, but it's a very hard lesson to learn. At the end of the day, it doesn't really affect you in any way."
For the full article, pick up the July issue of Marie Claire when it hits newsstands on June 18.
Celebrity news, beauty, fashion advice, and fascinating features, delivered straight to your inbox!