What's On: Kate Hudson
The Los Angeles and London-based actress and guest designer of a new Ann Taylor capsule collection on traveling, chips and salsa, and how her agent has infiltrated her phone.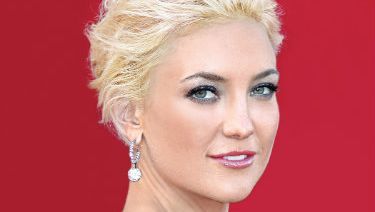 (Image credit: Frederic Nebinger/Abaca/StarTraksPhoto.com)
Marie Claire Newsletter
Celebrity news, beauty, fashion advice, and fascinating features, delivered straight to your inbox!
Thank you for signing up to Marie Claire. You will receive a verification email shortly.
There was a problem. Please refresh the page and try again.
What's on Your...
CHARITY LIST: As a guest designer for Ann Taylor—where I helped create a collection of clothes, accessories, and shoes—I got involved with the company's philanthropic efforts, which support women's empowerment. I also do work with endangered species organization WildAid. And I'm on the board of my mother's school-curriculum foundation, MindUp.
GO-TO TAKEOUT MENU: In L.A., it's from El Cholo, Sugarfish, or La Scala Presto. In London, it's pizza and Chinese food—everything is so much closer for us to walk to, so we don't order in there as much as we do in L.A.
WEEKLY GROCERY LIST: Watermelon, pineapple, berries, zucchini, broccoli, chicken salad, and chips and salsa. And I swear half my fridge is different Tabasco and jalapeño sauces.
BUCKET LIST: I'd love to learn how to fly.
PET-PEEVE LIST: Why do video games have to be so violent? I love them, but I can't stand the violent ones.
NIGHTSTAND: A crystal bowl filled with rose quartz heart crystals that my mom gave me for Mother's Day one year.
WORKOUT PLAN: I'm always dancing. I do a little Tracy Anderson and SoulCycle. I like riding my bike outside.
BED: I love a lot of pillows. My husband, Matt [Bellamy], is like, "Why do we have so many pillows?"
FANTASY ITINERARY: When my two kids, Ryder, 9, and Bingham, 1, get older, I want to travel with them for a month or two to India and other places within Asia. I'd love to have them experience that part of the world in a hands-on way.
BOOKSHELF: I'm looking forward to reading NW by Zadie Smith.
ITUNES PLAYLIST: The Alabama Shakes song "Always Alright."
LAST CREDIT CARD STATEMENT: I plead the fifth! It probably consists of plane tickets.
VANITY: I carry Egyptian Magic skin cream with me everywhere. I've been the brand ambassador for Almay for a few years, and I'm totally obsessed with its Makeup Remover Pads and Q-Tips-like Eraser Sticks.
DVR: I'm a massive Breaking Bad fan.
GUILTY PLEASURE LIST: Annie's Macaroni and Cheese—the gluten-free kind.
COFFEE TABLE: It depends on in which room. In my living room, I have a Taschen book about London that my sister-in-law gave me.
SPEED DIAL: Honestly, my agent is before Matt and my mom. I've never programmed my speed dial, but for some reason my agent comes up as No. 1. I think it's because he calls me, like, seven times a day!
Celebrity news, beauty, fashion advice, and fascinating features, delivered straight to your inbox!