The Zen of Jen (and Ben)
She's the nicest girl in town, but as a newish mom and Ben Affleck's wife, Jennifer Garner is finally learning to show some steel.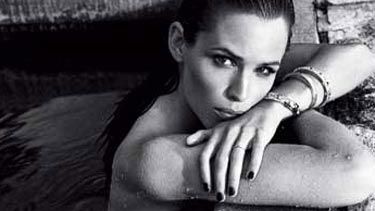 (Image credit: Mark Abrahams)
A rolled-up yoga mat and a baby stroller is pretty much all you need to blend in at the farmhouse-red Brentwood Country Mart in west Los Angeles, where Jennifer Garner has asked me to meet her. The cozy-looking place is an apt choice for Hollywood's most down-to-earth star, except for the novelty item being sold at the bakery today: $5 cupcakes commemorating Paris Hilton's imminent trip to jail. There's a camera crew set up by the cash register.
In a pair of blue jeans, a short-sleeve polka-dot blouse, and sneakers, Garner is walking along the cafeteria-style counter, selecting some sliced chicken breast and a Caesar salad, when I stroll over to say hi. At which point she shoots me a curt "hello" and turns her back. Cuts me dead.
I am at a loss. Isn't she supposed to be — doesn't everyone say she's really ... well, you know, nice?
We'd actually even met once before, at a benefit for the victims of Hurricane Katrina. Her pregnant stomach was huge, complete with an outie belly button showing through her gray jersey top. She was totally sweet — and now this?
It's clear she is looking around for someone — the writer from Marie Claire, no doubt. So I approach her again and introduce myself. Suddenly, her eyes go wide, her lips forming an enchanting oval of surprise: "But I thought you wanted to ask me about Paris Hilton cupcakes!" When I assure her that, no, I am not with the camera crew, her apologies are abundant. We head for a table in the back.
I start by asking her about her new movie, The Kingdom, costarring Jamie Foxx, in which Garner curses a lot as part of an elite FBI team investigating a terror attack on an American compound in Saudi Arabia. Renowned for her stamina while shooting her TV series, Alias, Garner was nonetheless staggered by the heat on the Arizona set. "It made people crazy," she recalls. "It was like another character in the movie. Your whole body is saying, 'Go inside. Find somewhere cooler.' And there you are, just standing there, baking. The crew had it worse than we did."
Although crew members, presumably, weren't nursing a baby between shots, like Garner was. (Her daughter with Ben Affleck, Violet, is now 22 months old.) "I checked with a pediatrician, I checked with my gynecologist," she recalls, "and they said, 'Breast-feeding? You'll be fine. Just drink plenty of water.' But the rules when it's 138 degrees are different." The upshot? "Well, it sent me to the hospital a couple of times," Garner says, facing me head-on, elbows resting on the table. When she clasps her hands together, I get a peek at her ring, encircled with diamonds, looking like a crown plucked from the head of a miniature prince. "I guess I was getting heatstroke. All my electrolytes were going to the baby — I wasn't keeping any of the potassium in my body. I would never pass out or anything, but I just got so dizzy that I thought, I can't pick up my daughter when I get back to the hotel. It happened twice. It was scary.
"I made it through, though. I really didn't want to give it up, and I didn't," she notes, standing and skootching up her jeans to her waist before sitting down again, as if to punctuate the point. All told, she nursed Violet for 14 months, pumping in airplane bathrooms when necessary — even in the car on the way to the Oscars. "I really loved it. It gave me peace and a sense of purpose."
Garner's voice brims with girlish optimism, but her manner is unflinchingly direct, her gaze coming across the table with the ka-pow of a Serena Williams forehand. Not the teetering-on-heartbreak look she shot at Mark Ruffalo in 13 Going on 30; not the comely opacity of Alias's Sydney Bristow; not the breezy, toothy cheerfulness you've seen in photos of her and the family at the beach. She may look happy, yet knowing the paparazzi are always there "just nips away at anything you're doing, the small pleasures," she says. "I would give just about anything to make it go away, especially for my daughter. I feel like she has a right to her privacy, and it's kind of encroached on."
Nice she may be, but there is a certain steeliness to Garner. The planes of her face, the way they sweep back from her mouth, make her look like a lioness, defender of a brood. I ask the inveterate people-pleaser how she is at saying "no" these days. Without hesitation, she responds, "It got a lot easier once I had a kid."
Garner isn't a 20-something naïf anymore — that starry-eyed West Virginian who took ballet and studied chemistry and drama at Denison University before packing up and heading for New York in search of a stage career, only to discover (via a role in Felicity) that TV would make her a star. Now she is a 35-year-old woman, divorced (from actor Scott Foley), remarried to an actor with his own storied past. She spent five years headlining a high-profile TV series, carried a hit film (13 Going on 30), performed admirably in a critical favorite (Catch and Release), and even withstood a flop (Elektra). Now she's a mother. Not the résumé of an ingenue. It's why doing The Kingdom felt so right. "In the end, the character was not at all like Sydney Bristow," Garner says. "Alias had a fun, entertainment-y vibe to it. This doesn't have that at all. It's not slick." Garner thinks for a moment. "She's a grown-up."
With Garner, all conversational roads lead back to the best thing in her life right now: Violet Anne Affleck. "She's pretty awesome," Garner says. We're in that sweet spot before the terrible 2's. She sleeps till 7! Yeah, we lucked out. Supposedly [when] you have one that's this easy and great, you're screwed the next time around."
Garner says she gets to be with the baby during the morning four out of five working days. "Then I put her down for her nap, I run out and have a meeting, I run back. Sometimes I get home before she's even woken up."
It's not hard to imagine the clan expanding someday. "We definitely wonder what it would be like to have another — hopefully, knock on wood, someday," she says, predictably giving the tabletop a rap. "My job is great to have as a mom. I get to take long breaks and then work in a really concentrated way. During that concentrated time, it sucks, but whatever."
The extra pregnancy pounds took some getting used to, especially for someone who had years of rigorous dance training, whose roundhouse kick on Alias was a thing of beauty. "I wasn't a woman who stayed tiny like I thought I would," she says. "I definitely gave myself the freedom to eat what I wanted. I thought, Oh, it's going to drop away; I'll have another cookie. Next time around I won't need to go quite that hog wild. I did not have a huge baby, and I was ginormous!"
Her postpartum figure made a dazzling debut at the 2006 Oscars in a beaded Michael Kors gown with a neckline down to her sternum. According to Garner, such an outing is far from stress-free. "I usually feel like, No matter how many girdles you put me in, you will not be able to zip this. They always say to you — as though it's like something that should make you happy — 'This is fresh off the runway.' But what I think is, That was made for some 14-year-old girl from Russia! It was not made to go on my body."
Garner's allure has so much to do with the fact that she's not a creature of Hollywood — her West Virginia wholesomeness always comes through. "Growing up where I did, the thought of working on a television show or in a movie ... that existed on a parallel plane, you know?" she says. "When I was a kid, the Professor was the Professor and Mary Ann was Mary Ann — [the actors] did not have personal lives. They lived on Gilligan's Island, where they were very busy, you know, escaping the natives. I never watched that stuff ever, ever, ever and thought, I want to be that."
Yet she now finds herself in a starry marriage, part of a show-business power couple. She worked with Ben Affleck on the set of Daredevil — and started dating him soon after — as he was coming off two wildly publicized, over-scrutinized romances (with Gwyneth Paltrow, then with Jennifer Lopez) that had Hollywood holding its collective breath on Garner's behalf. By May 2005, she was showing; by June 2005, they were married. When I ask her how they make it work, Garner's words slow to a crawl. She doesn't want to disappoint — nor does she want to divulge.
"I don't know what makes it work. But it does," she says, one careful clause at a time. "One thing that makes it not not work is that we're both pretty nice. He's not someone who's ever going to blow up on anyone. What I mean is, if he's ever angry with me, he doesn't act out on it in a weird way or yell at me. And I am the same. So we can handle conflict in a very loving and adult way." Garner marvels at Affleck's ability to connect: "Ben's very interested in finding out what makes people tick. When he's listening to someone — and this can be someone he meets in the street, his brother, anyone whom he's standing next to in line — if he clicks into them, he can stand in one spot for hours. It's amazing."
Another key to their success: During their courtship in 2004, Garner made room in their relationship for Affleck's first true love, the long-cursed Boston Red Sox, who, that very year, won their first World Series since 1918. ("I said it to him many, many times: 'Do you see what's broken the curse? Do you see the killer of the jinx?'") Never a baseball watcher in the past, Garner says, "I think that [games] are like soap operas. If you watch five in a row, you know enough to get hooked."
Still, she tried to resist. "I kept saying to him the first year we were together, 'I'm not going to hook on to this team and declare myself a fan just because you are ... and I won't wear a hat, and I won't wear a T-shirt.' Then, yeah, we got married, and now I can't help it."
Apparently, she's in deep. "When Pedro Martinez left, I cried," Garner says. "And then when Johnny Damon left, I couldn't get out of bed." It fell to Affleck to give his wife the downside of life as a citizen of Red Sox Nation. "He just was like, 'This is something you're going to have to learn to get used to. It's just pain and disappointment.'"
It all reeks of the healthiness you simply expect from anything Garner's involved in. There's never a peep anymore about Affleck spending his weekends at casinos or buying Rolls-Royces on a whim; he has even given up tobacco. "Three weeks before we had Violet, he went to a hypnotist and has not smoked since!" Garner exclaims. "I so admire him, because it was so painful. But he is sick so much less often, and I don't lose him every 15 minutes while he wanders around outside. He smells great. It's a huge gift that he gave me — and our daughter as well. I probably annoy him, I celebrate it so much."
The one thing Garner isn't celebrating these days is how far she lives from her family — her dad, a retired chemical engineer, and her mom, who "did all the cooking and cleaning, made our clothes, and cut out paper dolls for us" before returning to school for a master's and later working as a teacher. "My mom has always said that the one thing she wishes she had done differently is have a job. She felt like the single-mindedness made her a little nuts sometimes, and she could have used an outlet for herself when we were little." Garner and her two sisters were expected to attend church every Sunday and weren't allowed to get their ears pierced until they were 16. "But my little sister went out and did it, and we all sat at the dinner table waiting for my father to see this. My older sister and I were quaking in our boots! He was never mean to us, certainly never physical. He just commanded so much respect, my dad — still does. He said, 'Susannah, something happened to your ears.' Susannah said, 'I got them pierced.'"
The sun did indeed rise the next morning. And yet two decades later, Garner flicks her own earlobes with a big grin: "I still don't have mine."
Her mood shifts. "I can't live in West Virginia and do what I do — I'm not going to get a lot of jobs there," she notes, adding how far they are from Affleck's family as well. "It bums us out. We haven't figured it out yet."
But maybe that sadness will produce some quality TV: Garner has an idea for a version of The View aimed solely at mothers. "I feel like women, and especially mothers, are disenfranchised from our families; we don't have the same support group around us that we did a generation ago," she says. "All my girlfriends and my sisters were having these same issues, and I felt like, Why isn't this being addressed? There are tons of talk shows, yet there's nothing that is specifically for them. But I've never gotten the balls to go out and do it."
Before Garner leaves and hops into a big, black Yukon SUV, I have to ask: Does she ever wonder how she managed to deserve the luck, the serendipity, of the life that's led her here?
She gives it a think. "It's not that I just was like, 'Oh please, oh please, oh please.' I am as ambitious as the next working woman. I'm not going to pretend that I don't want to be good at what I do and that I don't care a lot about it, because I do. But it doesn't define me."
And then she stops talking, places her hands on the table, and says, "You look at me like you don't believe me."
No, I do, I say. I do believe you. (And I do!)
"It's just I worked really, really hard for it. So, yeah, I do think I deserve it." Then Garner's steeliness turns to reflect the light: "All the lucky things that come with it — not having to worry about money right now — that is lucky and a blessing. But," she smiles, "I was really happy when I didn't have that, too."
Celebrity news, beauty, fashion advice, and fascinating features, delivered straight to your inbox!