Best Supporting Player: Joan Scheckel
She's behind many of the films you've loved over the past 15 years—so why haven't you heard of Joan Scheckel? Lauren Sandler gets in on the act.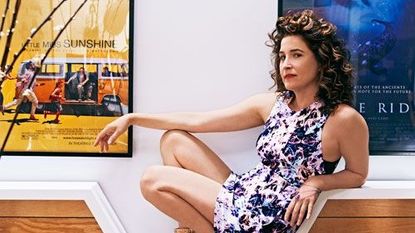 (Image credit: Dan Monick)
In a 4,000-square foot Los Angeles loft strewn with vintage furniture and lit with skylights and Chinese lanterns, Joan Scheckel strides in, wearing a black camisole and short shorts. It's here, in what's called "The Space," that Scheckel holds the performance, writing, and directing workshops that have become an underground sensation in Hollywood. On the stage in the back of the room, director Jonathan Dayton and his wife and directing partner, Valerie Faris—who helmed 2012's indie hit Ruby Sparks and the 2006 Oscar-winning Little Miss Sunshine, and have participated in Scheckel's workshops for a decade—are stretching in anticipation of a grueling day. Meanwhile, Cindy Chupack, the co–executive producer of Sex and the City and Modern Family, is kibitzing on a leather couch with Robin Swicord, director of The Jane Austen Book Club. Chupack is here to prepare for her directorial debut, Whatever Makes You Happy, while Swicord is working on an adaptation of an E.L. Doctorow short story. When Scheckel sails into The Space, chin cocked and shoulders squared, the place goes silent. The director of directors has arrived.
Scheckel, 45, isn't a film director herself: She's a former stage actress turned filmmaking and storytelling coach, and if you've seen Snow White & the Huntsman, Arbitrage, Never Let Me Go, or Whale Rider, you've seen her work. On these movies—and more than 400 others—she has left her stamp, even if her name doesn't usually appear in the credits. Her films have earned 517 award nominations, 326 awards, and more than $1.2 billion; one of the most recent releases is Afternoon Delight, for which Jill Soloway won the directing award at Sundance this past year. "There are very few people out there who have such a clear handle on material and the trick of getting that material to a screen," says actor Mark Ruffalo, who worked with Scheckel for his 2010 directorial debut, Sympathy for Delicious.
She is one of the first people directors will call, long before they show up on set. Although she doesn't advertise her services, Scheckel is well-known throughout the industry as a secret weapon for helping directors dig into their scripts' underlying meaning—which, in turn, helps them do their job better. Take last year's Snow White & the Huntsman, starring Charlize Theron and Kristen Stewart. "That whole movie is about the queen trying to get Snow White's heart," says Scheckel. "I was trying to help [director Rupert Sanders] make a movie that wasn't just about young bodies and jealousy, but about violent desire for inner beauty." Sanders had never made a feature film before, and he was about to make a reportedly $170 million one. He called Scheckel, anxious that he wasn't prepared for the challenge. She told him to hang up the phone and come right over—"at some ungodly hour in the early morning," she remembers. When he got to her Hollywood bungalow, Scheckel immediately asked him the question she asks all directors: "What do you want the movie to say?" His answer: "I want it to have a beating heart." Acting out his script, they doctored each scene until it aligned with Sanders' vision. Case in point: one scene in which the Huntsman pushes Snow White to be a fighter. What the directing guru said that night is classic Scheckel: "Why turn her into a killer? Why not let her use feminine insight and compassion as weapons—so that instead of killing that ogre, she sees its fear, and she stands there and feels her own fear? That way she renders the ogre moot, and it lumbers off."
Her work with directors (and actors and screenwriters, whom she also coaches) is based on a process she created over 15 years that she teaches in her labs and workshops, which range from $500 per month for a weekly drop-in class to $8,500 for an intensive six-week course. These sessions span rigorous physical play and trust-building exercises to working through every facet of a character and story. Students might close their eyes, form a handheld chain with the other students, and run across a wide-open space. Or they might spend part of an afternoon trying to act out "vanity" or "passion." It may sound New Agey, but tough-as-nails types, like Chupack (who listens to Sheryl Sandberg's Lean In during her drives to The Space), swear by Scheckel's effectiveness. Chupack tells me she could have never pitched Whatever Makes You Happy without Scheckel's guidance.
The process Scheckel has developed is tough to capture, but a huge part of her work involves identifying what she calls "the nugget," or central meaning, of each film. (Her classic example is that "jealousy" is the nugget of Shakespeare's Othello.) Emotions are her currency: not her own feelings or her students'—she's not a therapist—but the characters'. "Just because we have feelings doesn't mean we know how to work with them," Scheckel tells Dayton, Faris, and the five other students at The Space. She pushes them to experience the characters' feelings, not by mining their own psychology and pasts, like in the Method approach, but by physically embodying the feeling. Working with writer-director Maria Finitzo on an adaptation of Alice Munro's short story "Passion," Scheckel helps to identify the nugget as "desire," and then works through how to bring that out through Finitzo's writing. "Feel it! Throw your head back!" shouts Scheckel. "Say, 'We feel enraged when our desire is suppressed!'"
It's not always easy to be pushed through this process. "Everyone talks about [working with Scheckel] with a certain kind of dread-admiration," says actor-director Miranda July, who worked closely with Scheckel on her 2011 indie hit, The Future. But before my eyes, I watch Finitzo, a tense, petite redhead, close her eyes and morph into the picture of passion. It feels like magic, and I actually tear up, watching the thwarted desire of an imaginary character. That, after all, is what great movies do. "Oprah made a whole dynasty off her ability to connect to other people and to feel," Scheckel says. "While I'm not a mogul, I'm a leader, and I want to encourage that connection in movies. I go to a movie because I want to feel something. I'm overwhelmed, and I want to know how to react to the violence I'm seeing in the world, or how to understand what's going on with my daughter or my friend."
At the space, Scheckel explains that film is a young art form that blossomed during wartime when, she says, people needed escapist stories of heroism. "We're growing out of that story, that we're here to vanquish and win," she says. "It's not working for America, it's not working for anybody—it's done." It's a male story: boys fighting boys, boys getting girls, winners and losers, all disconnected from the complicated emotional realities of our lives. She's not against blockbusters; she loved The Dark Knight. But usually, those films feel empty, she says: "It's like, you can have a really thrilling conversation with a guy you meet in a bar and feel all stirred up and hot, but you never hear from him again, and it was a lot of excitement for nothing. Movies can be like that," says Scheckel. "If I go see a movie that's just a lot of things blowing up, I might get excited, but I leave feeling distracted or confused." In contrast, she's trying to help directors and screenwriters tell stories that will resonate with viewers long after the screen goes dark.
Later, in the tiny kitchen of her Moroccan-antique-filled and book-strewn house built into Hollywood bedrock, she stands barefoot while sautéing jumbo stalks of organic asparagus, describing how she and director Niki Caro adapted Witi Ihimaera's novel Whale Rider into an Academy Award–nominated film. They inherited a story about a Maori grandfather losing footing in his tribe, and transformed it into the 2003 film about his granddaughter's awakening to her own power. Scheckel says it was a metaphor for the change she wants to deliver in filmmaking: "That this is the century of women," she says.
Her coaching career began here, in 1997, when her first student, Rainer Judd, an actress and the daughter of artist Donald Judd, showed up in Scheckel's living room asking for acting lessons. At the time, Scheckel was a recent transplant from New York, where she'd graduated from NYU as a performance major and acted in more than 200 plays. Shortly after teaching her first students in her small Hollywood bungalow, a friend's film went on hiatus at Warner Hollywood Studios, and 35,000 square feet of soundstage lay empty. Scheckel asked if she could use the space. Word spread that she was coaching actors, and as the film's hiatus dragged on, her reputation gained traction—not just for taking over a studio lot with an underground workshop but also for the unusual effectiveness of her methods.
Scheckel's work has always come first; in fact, she turned down a marriage proposal (one of many, she says) to move to Los Angeles. Her romantic history sounds as rich as her performance career: Over wine at dinner, she laughs that her relationship with Alexander Payne, the director who gained fame for his Oscar-winning viticulture-obsessed film Sideways, left her without an ounce of wine expertise. Later she mentions another ex, classical composer Osvaldo Golijov. A trained opera singer, Scheckel is a huge music lover and also hosts "all-night '70s-soul dance parties, a screening series, and art shows" at The Space, which she signed the lease on this past spring. "My workshops are intense, but come over on Saturday night and there's a huge party."
While I watch Scheckel lead the lab in L.A., I keep thinking of the word power: Rather than the sort of Louis Vuitton–toting Beverly Hills power that clings to successful women in this city, Scheckel's is a power of presence. As Bryce Dallas Howard, known best as one of the Twilight stars but who's worked with Scheckel to develop as a director (she's shot a few shorts), says of her: "She's like one of these old-school transformative teachers. She's elevating an entire generation of storytellers." Howard says she doesn't "want to be too grand about it, but it's kind of like a movement."
But besides indie actors and filmmakers like Howard, Scheckel is winning over Hollywood's Old Guard, too. She worked closely with director Nicholas Jarecki in preparation for his first major feature film, Arbitrage, a film that eventually garnered Richard Gere a Best Actor Golden Globe nomination for his portrayal of a callous, overambitious hedge fund manager. After Gere agreed to do the movie, he found out that Jarecki had worked with Scheckel. "When I met Richard," says Scheckel, "he said, 'So you're the one who opened Nick up!' I was like, 'I can't believe I'm standing at a bar and Richard Gere is talking to me, much less complimenting me.'" Her students wouldn't find it hard to believe at all. In fact, they'd tell him to get in line.
Marie Claire email subscribers get intel on fashion and beauty trends, hot-off-the-press celebrity news, and more. Sign up here.