What's On: Alexa Chung
The author of style guide It on her compulsion for taking selfies, fascination with dinosaurs, and advice on getting over heartbreak.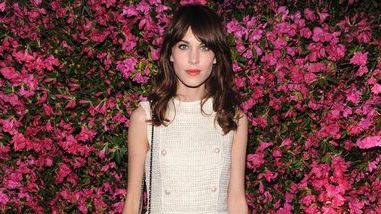 (Image credit: Getty Images)
What's on your...
MIND: Bangladesh and how we can ensure that factory workers in the garment industry are taken care of more effectively.
LAST CREDIT CARD STATEMENT: Karaoke bill; coffee and a cheese croissant from my favorite coffee shop, the name of which I'd like to keep to myself; and a skirt from Prada I found on sale.
NETFLIX QUEUE: Friday Night Lights.
IPHONE APP LIST: Period Tracker, Susan Miller's Astrology Zone, ShakeItPhoto.
LIST OF CHARITIES YOU SUPPORT: Oxfam.
WALLS OF YOUR FAVORITE ROOM IN YOUR HOUSE: I painted my bedroom the closest I could find to a Dior gray, and I hang clothes from the picture rail near the top of the ceiling because it looks cool and I have no remaining closet space.
FANTASY ITINERARY: I'd like to go to a waterfall in upstate New York and have a picnic, swing on a porch swing with someone cool, and drink red wine.
FEET: I like a nude polish for my pedicure.
NIGHTSTAND: A contact sheet of photographs of [Motörhead's] Lemmy Kilmister, a painting of a Siamese cat, and last week's flowers.
GO-TO MENU: Westville takeout in NYC.
RADIO DIAL: Jenny Eliscu's show on SiriusXM U.
BED: My mattress is too short for my bed, so there's a gap at the end that people fall through—and by people, I mean unsuspecting lovers.
WISH LIST: I wish they would make adult versions of those trainers for kids with heels that light up.
PHONE SCREEN SAVER: A picture of Dev Hynes from Blood Orange that I took.
BOOKSHELF: A book of poetry I was given called The Big Red Book by Rumi.
TV IN THE MORNING: I don't have TV!
REFRIGERATOR DOOR: A picture of my friend Valentine pregnant and of Jean Shrimpton, and a magnet of a fake can of caviar, which is weird because I don't think I've ever tried caviar.
INSTAGRAM: As many selfies as one human can possibly take. It's ironic that there is something on there called a "filter" because it's something I don't know how to do.
LIQUOR SHELF: Maker's Mark, Maker's Mark, Maker's Mark.
KITCHEN COUNTER: Almonds, cornichons, and the world's largest rotting yam.
PERENNIAL TO-DO LIST: Learn more about dinosaurs because it blows my mind that there was actually a time when they were around.
WORDS-TO-LIVE-BY LIST: "The best way to get over one man is to get under another."
@alexa_chung