Katie Linendoll's Tech Guide to Staying Organized
Clad with a gold iPhone 5S and pink 5C (perks to the job!) technology guru and "Today" show contributor Katie Linendoll shares her favorite apps and gadgets to staying organized this holiday season.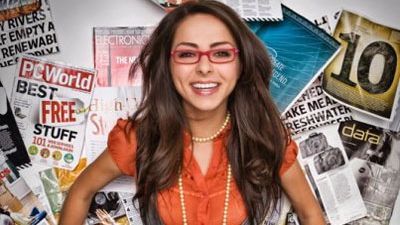 (Image credit: Archive)
The holidays are filled with family get togethers, office functions, and social engagements. With a phone that's constantly buzzing and an inbox that's virtually overflowing, it can often feel like we're racing to the year ahead with few moments to pause. To avoid any additional holiday stress that will naturally arise from feeling overextended, we asked technology guru and "Today" show contributor Katie Linendoll for her organizational tips and tricks that will help us get through the winter months unscathed.

MarieClaire.com: What is your must-have organizational gadget?

Katie Linendoll: Believe it or not, I stay organized the old-fashioned way. It's probably the only thing I do old-fashioned! I became obsessed with Post-it's Big Pads (which come in a variety of sizes) and love using them for to-do lists. The bright colors are all over my tables and office walls. There is just something about physically crossing something off a to-do list! (Full disclosure: I worked a bit with Post-it.)

MC: What are your favorite phone apps that help get you through the day?

KL: I have three:
AroundMe (Android and iOS, free). Yes, I love Google Maps when I'm going from point A to point B, but when I want to know what businesses, restaurants, hotels and movie theaters are nearby, I really rely on AroundMe. From FedEx to grocery stores, this app makes it quick and easy to see what's in the area.
Glympse (Android and iOS, free). Bid farewell to the dreaded question, "When are you getting here?" With Glympse, you can text someone your location and the recipient can then track you (for a set amount of time). The app will even show your miles per hour and and ETA, so no one will wonder why you're running late.
Halftone (iOS, 99 cents). This app never fails to gain likes on Facebook photos. It takes your everyday pics and applies finishing touches so that they look like they came out of a comic book. Nerdy chic!

MC: What are your favorite gadgets for women with busy lifestyles?

KL: I can't live without my iPad. With all the travel and meetings in my life, I live on it (the cell data option on iPad is a must!). The ZAGGfolio keyboard makes it feel like a mini computer. I think I increase my productivity by about 10-fold, just by having that physical keyboard to type on.
For those in class, l highly recommend a new gadget called MirrorCase. With this device, you can discreetly record presentations or take photos. It relies on your phone's back-mounted camera, but uses it in a subtle manner—because we all know holding up an iPad and recording video isn't cool.

MC: Do you have a favorite gadget gift to give this season?

KL: BlueBuds X by JayBird. I have tested a lot of headphones and these are my favorite. They've got great sound quality and they don't fall out of your ears! This gift is perfect for my friends who like to work out or just walk around the city listening to music. And trust me, once you try Bluetooth headphones, there's no going back to wires!

MC: Do you have any tips to make your phone battery last longer throughout a busy day?

KL: I can't live without my mophie. It's a case that looks like a protective iPhone cover—and it is—but it's also a charger that adds another six to eight hours to your battery's life.
For Android and iOS users, I recommend the myCharge devices. Each device adds hours and hours of charge to your phone or tablet. For example, the Peak 6000 can charge up to three devices at once, adding up to 27 hours of power. It can be a digital lifesaver!

MC: What do you use to edit the photos you take on your phone? Any apps or processes in particular that comes to mind?

KL: There are two. Camera+ (iOS, $1.99). Sure, Instagram rocks, but Camera+ takes it to the next level, resulting in photos that will even wow the photographer. Personally, I love using the filters, borders and captions to make my shots more distinctive. This is a must-have for your app arsenal!
Diptic (Android and iOS, 99 cents). Can't decide between the selfie or the group shot? Go with both! Diptic makes it simple to create photo collages, combining your solo shots, group shots, scene shots and more using more than 175 layouts.

MC: We all need some gadget-free time every now and then. What do you do you electronically detox?

KL: Sadly, I've been to a digital rehab facility (relax! I did it for a segment on CBS!), but I barely made it out intact. When it comes to down time, I'm obsessed with working out. But, at the same time, I use a fitness device, Under Armour Armour39 to push myself to the limit. It measures your willpower, calories, intensity and heart rate in real-time and gets my competitive nature going. So I guess you could say I use my downtime gadgets to focus on my inner workings, rather than the fixating on all of the external distractions of phone/email/social media and more. Regardless, I'm always connected in some way.
Celebrity news, beauty, fashion advice, and fascinating features, delivered straight to your inbox!