15 Couples We Wish Were Still Together (PHOTOS)
Whether they're real or fictional, the lovesick romantic in all of us lived vicariously through these famous pairs of the past. Though we may hate to admit it, we were there for all their ups and (many) downs, and we sometimes dream we had that back in our lives. Check out our favorite fifteen couples that we wish would get back together stat.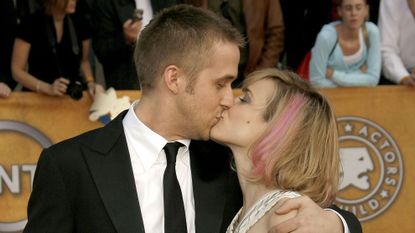 (Image credit: Marie Claire)
1. Johnny Depp and Kate Moss
Rap sheet: They may have had their reunion in "Queenie Eye," but it totally doesn't count. How about some actual interaction? We miss the days of their legendary four-year romance that ended with their split in 1998.
2. Kristen Stewart and Robert Pattinson
Rap sheet: Here's a couple that we really thought were going to stay strong, ever since they set their red vamped eyes on each other in Twilight. It goes without saying that we're still in denial of their media-hyped breakup last year.
3. Angela Chase and Jordan Catalano
Rap sheet: It was the timeless bad-boy-meets-good-girl setup that we all know and love. Or, should we say loved. Fifteen years after their breakup in "My So-Called Life," we wish we can see them speed off in Red together once again.
4. Carrie Bradshaw and Mr. Big
Rap sheet: They're relationship in "Sex and the City" always had us reeling and hooked with anticipation, only to end with the happy ending we all hoped for.
5. Rachel McAdams and Ryan Gosling
Rap sheet: It's safe to say that these two are the iconic couple of romantic movies everywhere. In The Notebook, Noah and Allie loved each other until death did them part, but they're real-life relationship sadly ended in 2007. We'll never forget their steamy on-screen kiss in the rain and on-stage kiss at the MTV Movie Awards.
6. Elizabeth Bennet and Mr. Darcy
Rap sheet: "It is a truth universally acknowledged..." that we can't get enough of the love-hate relationship between these two. The film's beautiful meadow scene and ending kiss (tip: only available in versions outside the U.S.) will remain in our dreams forever.
7. Renee Zellweger and Colin Firth
Rap sheet: If we can't get Elizabeth Bennet and Mr. Darcy in real life, Renne Zellweger and Colin Firth's pairing in the Austen reinterpretation, Bridget Jones's Diary, would be the perfect equivalent.
8. Blair Waldorf and Chuck Bass
Rap sheet: Sex, lies, and cheating was the name of their game. The Blair-Chuck chemistry had us confused most times, but it was definitely entertaining.
9. Kurt Cobain and Courtney Love
Rap sheet: The world may have tried to keep this rockstar couple apart, but they went all-in with their 1992 marriage. May this couple be alive in our hearts, always.
10. Reese Witherspoon and Ryan Philippe
Rap sheet: Despite a relatively long marriage of eight years after confirming their love on set of Cruel Intentions, they broke hearts everywhere when they filed for divorce in 2006.
11. Rachel Bilson and Adam Brody
Rap sheet: Not only did Seth lose his virginity to Summer, but they got married in "The O.C." and were in a three-year, real-life relationship that ended in 2006.
12. Sophia Bush and Chad Michael Murray
Rap sheet: Sophia Bush's long history of dating her "One Tree Hill" co-stars all began with Chad Michael Murray. Despite their rocky five-month marriage that ended with a scandalous divorce, the two professionals say they are keeping it friendly even today. Does this mean that there's still hope?
13. Winona Ryder and Johnny Depp
Rap sheet: We loved everything about this Edward Scissorhands couple, who stayed engaged for three years after Depp proposed in mid-1990. He even had her name tatooed on his arm. This has got to mean that he still thinks of her every day when he looks at it, right?
14. Lisa Bonet and Lenny Kravitz
Rap sheet: The two eloped after meeting on the set of "The Cosby Show" and remained married from 1987 to 1993. Though now separated, they say they're still one big family.
15. Rachel Green and Ross Geller
Rap sheet: Jennifer Aniston and David Schwimmer's on-screen romance was living proof that friends make the best lovers.
Which of these celebrity couples do you want to see again most? Tell us in the comments below!
Related Video: The 21 Most Stylish Celeb Couples
Celebrity news, beauty, fashion advice, and fascinating features, delivered straight to your inbox!