Elisabeth Moss Talks Project Runway All Stars and Peggy Olson's Workwear Obsession
Mad Men actress and red carpet staple, Elisabeth Moss, dishes on her experience guest judging Project Runway All Stars.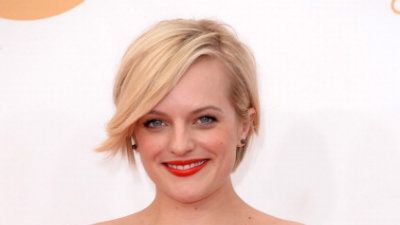 (Image credit: Courtesy of Getty)
Marie Claire: What was it like being a guest judge on Project Runway All Stars? Had you always been a fan of the show?

Elisabeth Moss:I am a really big fan so I took pictures on the runway and in front of the Project Runway sign. There was a part of me that acted like a person who has never encountered television before. I was impressed that it was all real and actually happening. I was sitting there and saying, "Oh my God, they are coming out on the runway!" I had this weird little star-struck feeling. Everything was so cool and exciting, even when we went to commercial break.
MC: Tell me all the details about the actual judging experience.
EM: It is very different when you sit at home shouting out criticism and judgement at the TV and nobody can hear you. When you have the designers right in front of you, most of whom look exhausted and stressed, it's terribly hard to be critical. Also, when you see the dresses in person you realize how insane it is that they have even constructed anything of that caliber in 24 hours or however long they have been given. I couldn't make a sheet to put over your body! I wouldn't even be able to make the hole for your head!
MC: Did you feel like you had to hold back from being honest or did you speak your mind?
EM: Actually, I had to force myself not to say all nice things! I didn't want to hurt anyone's feelings! On my episode one of the designers revealed something very personal about himself. It was a very brave moment and it was very real. To see someone have a moment like that is very humbling...We [the judging panel] were all in tears.
MC: If you could wear one of the looks to your next red carpet appearance, which one would it be?
EM: If I were taller, I would wear Korto [Momolu's design] because I personally loved it. But since I am short, I would go with Christopher Palu's piece.
MC: When it comes to your own fashion, who are some of your favorite fashion designers?
EM: I love Zac Posen. I mean, who doesn't? I love Stella McCartney. I love what Louis Vuitton did for Fall 2013. The fact that slip dresses are back, pajamas are in. I was very excited about that! I have always loved Dolce & Gabbana. Fashion is such a beautiful art form.
MC: What is your day-to-day style? Do you have a certain look that you tend to wear a lot?
EM: Absolutely. I have a uniform that almost always involves jean shorts. I have at least 10 pairs of denim shorts and that is just denim, I have other shorts too. When people wear jeans, I will wear shorts, unless it's winter. So my day-to-day look is usually shorts and a white T-shirt or black tank top with Rag & Bone booties. I have them in four different colors. And then I usually wear my Burberry leather jacket or a Rag & Bone jacket. I pretty much bow down to Rag & Bone for recognizing how a lot of us women dress, especially in New York.
MC: What are you working on now?

EM: I just finished a film in New York called Listen Up Phillip with Jason Schwartzman. We play a couple. Jonathan Pryce and Krysten Ritter are also in it. Before that I was working on a film with Mark Duplass called The One I Love. We start prep for Mad Men in a few weeks so I am taking a break in New York until we start filming the last season in Los Angeles.
MC: Tell me a little bit about the fashion on Mad Men and what it's like dressing up as your character.

EM: The coolest thing about my character is that I have evolved over the years and every season has been different. It's not like I am representing '60s style at its highest fashion. It's more about a real working woman in the office and the fact that, in reality, you would have five different colors of the same shirt because it works well on your body. And maybe you wear the same skirt a lot and the same two pairs of shoes. Also, I have learned everything about what works well on my body from being on the show and from working with Janie Bryant. She showed me how to wear things that are more form-fitting, not like jeans and a t-shirt. It has helped me a lot with my own red carpet choices because I have to wear dresses all the time.
MC: What designers do you wear on the show?
EM: It is all mostly vintage for me. There are girls that wear fancy designers but Janie tells me that my wardrobe is all what you would go buy at Bloomingdale's or Macy's at the time. Some of the stuff is by designers who no longer exist. This year was cool because the whole time I have been on the show, I have struggled to wear the pants from that time period. They are so unflattering. They are high waisted and make your ass look four feet long. I would say "No, no, no, I am not wearing pants," but now that we are getting into the late '60s, the inseam on the pants is shorter and they are less tapered and either straight leg or bells, so I am happy to start wearing pants. Peggy starts wearing pants!
Celebrity news, beauty, fashion advice, and fascinating features, delivered straight to your inbox!