Exclusive: Q&A with It Model Zen Sevastyanova
Fashion Features Editor, Jessica Minkoff, sat down with the "it" model to discuss her career highlights, fashion inspirations, and her favorite item in her closet.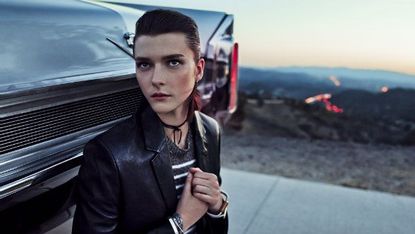 (Image credit: Archive)
Marie Claire newsletter
Celebrity news, beauty, fashion advice, and fascinating features, delivered straight to your inbox!
Thank you for signing up to . You will receive a verification email shortly.
There was a problem. Please refresh the page and try again.
Name: Zen Sevastyanova
Agency: IMG
Age: 24
From: I was born in Russia but I moved to Poland when I was 7 years old.
Where do you live now? I live in Manhattan near the United Nations. I love living there because there is a feeling that we you are not in the city. We have our own garden and it is not so hectic. I live with my boyfriend who works in film.
Where is your family? My mom is in Poland with my 13-year-old half sister and my dad lives in Russia with my grandparents.
Do you have any other siblings? I have a 13-year-old half brother and a stepsister who is almost 30. She is a great inspiration for me. She speaks five languages.
How were you discovered? I wanted to be a dancer when I was 13 years old so I went to a dance company in Poland and they told me that I wouldn't be a good dancer and that I should try to model instead. So I went to a small agency and I started working right away. It was really cool.
What was your first job? I did an editorial for Bravo Magazine which is a girly, fashion magazine in Poland. It was a New Years story.
What was your first runway show? Preen was the first show that I walked in. I was cast by Sarah Richardson for Fall 2011 and that pretty much changed my career path. I have also walked in Prada, Chanel, Hermès, Haider Ackerman, Fausto Puglisi….Fausto Puglisi was really fun. The whole concept was like tough biker chicks but we were wearing dresses. It was a great time because there was a mix of really well known girls and some up and coming girls.
Have you been traveling a lot for work? Yes! I was just in Paris and London doing a few shoots for magazines and meeting with people there because you have to always show yourself or else you will be forgotten. I also got to go see my family in Russia for a little bit which was amazing. I am going back to London in January. I really like it there because I feel like they are very adventurous and they like to experiment with my androgyny.
What is your most memorable modeling moment? It's hard to pick because every shoot becomes a lesson or an experience that pushes you forward, but I would say the first time I walked in Hermès. I was pleasantly surprised by the atmosphere. Generally I think of Hermès as a status of luxury. The clothes are super expensive but I really saw that luxury is an essence and it is not just about material wealth. Everyone was relaxed and smiling and the clothes were so beautiful, I felt as though I was embodying that sense of luxury.
Who are some of your favorite designers? Christophe Lemaire at Hermès, Zac Posen for his love of femininity and for creating clothes that make you feel sexy and classic, and Alber Elbaz. The first time I saw the Lanvin clothes I saw color, fur, and sparkling texture but when you put on the clothes they are so structured and sophisticated, they make you feel like a goddess. I also love Rick Owens, Haider Ackermann, and Riccardo Tisci. So there are a few polar opposites, the extremely feminine and the edgy.
Who is your style icon? I just like to observe what is happening around me, in terms of trends, and then I look to see what is missing. I often return to history for inspiration and I try to modify what is current to make it different for myself.
What are you wearing today? A vintage leather jacket that I got in Paris, a denim jumpsuit that I got from my friend, a Preen coat, and Zara shoes that look like Jil Sander. I really appreciate Zara for that!
How would you describe your personal style? It really depends on my mood and the season. Sometimes I try to be understated, depending on where I am going. But generally my philosophy when it comes to clothing is that you should wear something that attracts attention but still defines who you are. I love to mix masculine and feminine.
What are some of your favorite stores to shop in? I love shopping in Paris because you are surrounded by designer stores that really leave an impact on your sense of style—whether you want them to in or not—but then you can go around to vintage stores and find interesting fabrics and prints to combine with the mainstream pieces from Zara and Topshop.
What is your favorite item in your closet? This leather jacket that I am wearing. I will never get rid of it. It's like a second skin. I will be a grandma with gray hair, still wearing it.
What do you like to do when you are not modeling? I like to do ink drawings, surreal nudes, with essential oils. I started drawing when I was three years old but I never had and formal training. When you are under the influence of creative people, it comes easily.
If you had a week free to do whatever you want what would you do? I would probably spend most of my time in museums. I would really sit by the art and sketch and analyze what I was looking at. I would also like to travel to a third world country, or some place that is radically different from my surroundings and explore local artists there.
If you could travel anywhere right now where would it be? I would go to Mexico because its a beautiful place to vacation but its also so alive and there are so many beautiful and spiritual things there.
What are the pros and cons of modeling? The pros are obvious: You can work in the industry as a model regardless of your background and your knowledge, it's a fast lifestyle so you are always on the move and you get to travel and make great friends. I also love that you can step into different personalities. Traveling would also be a con because you can easily lose yourself if you are not grounded emotionally.
Is there a modeling job that you are dying to book? I would love for a major magazine like Italian Vogue to do an entire issue on me like they did for Kate Moss! I would also love to work with Ellen Von Unwerth. I really admire her work. She makes women look powerful and sexy without objectifying them. There is a fine line that she manages to work around.
If you weren't a model what would you like to do? I would love to be a scientist. I have always been fascinated by plants and the natural world. I try to educate myself in Chinese medicine when I can.
Tell me about shoot you did for Marie Claire. Did you like the androgynous clothing? It was so much fun. The male model was super feminine. He had big blue eyes and plump lips, he was super calm like a "petit prince." And then I was this tough chick. I liked that the styling was tough but not one dimensional. Boe and Marion were so sweet, and they worked simultaneously which was so cool to see. Plus, being in suburban LA was great!
See Zen's full spread, "Blurred Lines," in Marie Claire's January issue.