Being a Successful Actress Sometimes Includes Police Ride-Alongs
Will this bullet-proof vest match my shoes?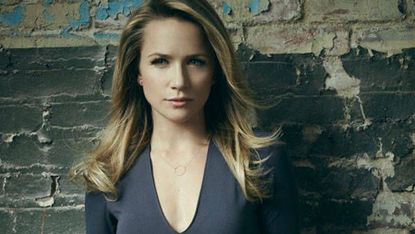 (Image credit: Courtesy Fox)
FOX's hotly anticipated new crime drama Gang Related has it all: sex, inter-gang warfare, double agents, corruption, courtroom drama and of course delicious leading men intensely throwing down throughout. Going head to head with these guys is Shantel VanSanten (One Tree Hill) who plays LA's Assistant District Attorney and daughter of the Gang Task Force leader (Terry O'Quinn, Lost). She also owns some of the show's steamiest scenes with star Detective Ryan Lopez (Ramon Rodriguez, The Wire). The stunning model and actress dropped by Marie Claire to teach us a thing or two about gangs.
Marie Claire: We are so excited about this show! It's seriously got it all. How did you prepare for it?
Shantel VanSanten: I actually went and shot a lot of guns. I did a lot of training for it because it's a world that's so far removed from anything that I know. And I sat in on different court trials and I did ride alongs.
MC: Seriously, ride alongs? In LA?
SV: In Mission Hills, it's outside of it [LA]. Huge gang territory. It was really creepy—they don't hand you a bulletproof vest and be like, "we're going to take care of you." You wear your street clothes. You sign your life away. We rolled up, there were like 20 cars, and there was a guy with a gun and they were trying to calm him down and get the gun from him and put him in custody.
MC: Holy crap! And where were you?
SV: They were like [to me], "Just stand out of the way, behind one of us or behind the car." And I was like, "Uh no, I'm going to be in the car, crouched down on the ground!" I was freaking out. I felt like it was every man for himself, which is that way when you work around the gang task force and that mentality and that life. It's like it's every man for himself but you take care of your team. It was really eye opening. We exist in worlds and sometimes we're not even aware of what's happening in our backyard.
MC: Totally. And that's what's so cool about the show; it makes you question things from a different perspective.
SV: That's the best part about what we do: making people think and question. And it's interesting to try to understand a different culture or a different way of life—the gang world in general. Because we just see them as bad people when in all actuality they're doing what they have to do because they love people. And not that it's always right but it made me morally conflicted when I read things because I would think, "Well shit. I may do that. I don't know, maybe if I were put in that position I would do the same thing." It's about the gray areas that we live in. And that's what makes people interesting and makes good characters.
MC: Absolutely. The more complicated and morally conflicting the better. The show almost feels similar to Scorsese's The Departed that way.
SV: Yes. And it's very Soprano-like in the sense it's all about loyalty and family. It's a really intense show. When I watch it I think I feel the same as I do when I watch Homeland. And that's a strong comparison but I feel like we have that. We have amazing writers and we have an amazing cast and everybody showed up and killed it.
Gang Related

premieres tonight at 9 PT/ET on FOX
Related:
Modern Family's Sarah Hyland on Her New Film
3 Questions With Alessandra Ambrosio
Celebrity news, beauty, fashion advice, and fascinating features, delivered straight to your inbox!