The Perfect Fit
As Aria Mia Loberti's career took off in Hollywood, it gave her the confidence to finally be herself. That included wearing what she always wanted.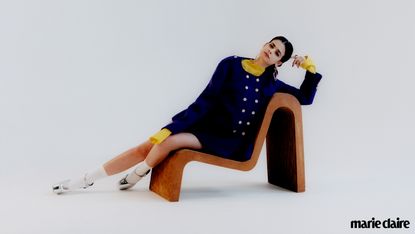 (Image credit: Jingyu Lin)
The plan was to get a Ph.D. But while studying ancient rhetoric at The Pennsylvania State University (after completing a triple major in philosophy, political science, and communication studies at the University of Rhode Island), Aria Mia Loberti began doubting her career trajectory. Then she heard of a casting call for the series adaptation of a book she loved. "I just thought I might enjoy the audition, and when it came time for them to reject me, I wanted to ask if they could see someone like me getting involved in local theater," the 29-year-old tells me over Zoom, before we get a chance to meet up in person a few days later for Loberti's photoshoot in New York City.
---
The directors didn't see someone like Loberti getting involved in local theater, though. Instead, they cast her in the lead role, one that would put her on screen (at the time of our conversation, the SAG-AFTRA strike was ongoing, which prevented us from discussing the project in greater detail).
If you haven't heard of Loberti (yet), it's in part because she's still getting used to the spotlight; having so much recognition is a complicated thing. As a legally blind woman, Loberti spent most of her childhood fighting off unwanted attention so she wasn't subjected to hurtful stigmas associated with her rare genetic eye condition, achromatopsia. At home she was a natural entertainer, performing one-woman shows at family gatherings—she's a pro impressionist and master movie-line reciter—but outside of those four walls, Loberti had been conditioned to disappear. "I always loved the idea of acting, but I did everything I could to hide," she says. "I thought to myself, 'As soon as I leave the house, the world is going to mistreat you.'"
Loberti became adept at masking herself with invisibility cloaks—mostly oversized sweaters in drab color combos. "It wasn't fashion-forward," she says. "It was armor." Even as a fashion fan who cherished vintage from her mom and grandmother, she ceded to anonymity.
That's changing—both her confidence and her style. Over the past year, as Loberti has gone from academic to actress, she's felt something of an evolution. "My clothes and the risks I've taken with them have mimicked the changes in my life—this whole new experience [and platform]," Loberti says.
"There's a sort of pride that comes with getting dressed now. I can finally wear the pieces that demonstrate how I feel on the inside."

Those items tend to be an eclectic mish-mash that mirrors Loberti's style as a "confused time traveler," she says with a laugh. "I'm cautious about traditional masculine 'power dressing' because I feel powerful in dresses, tighter-fitting tops, a cinched waist, and a pretty skirt," she says. "Masculine or able-bodied shouldn't be considered the default for power." Most of her wardrobe is made up of pre-loved garments, items that stand the test of time.
Loberti's single splurge to date was on the heels of filming in Europe last summer, where she stumbled upon a Dior coat—only one of two in circulation—at the designer's boutique on the Champs-Elysées in Paris. The Dior purchase was unplanned but wasn't arbitrary. Loberti has long admired the French fashion house's history rooted in women's empowerment, specifically Christian Dior himself for revolutionizing the female silhouette with The New Look. Now 77 years later, Creative Director Maria Grazia Chiuri continues to carry the torch as the feminist force behind the brand.
More than that, though, it was a symbolic purchase for the actress, who grew up in a "lower-middle-class family" and has spent years as a human rights and disability advocate. She recognizes that a high percentage of blind women are unemployed and live below the poverty line. "Every time I put that coat on, I'm breaking free from the discrimination and stigma many people in the blind community face; people with so much to offer. The coat is a physical manifestation of that," she says.
As someone who studied the history of language, Loberti recognizes that clothes speak a language in their own right—with the power to change people's perceptions, even of themselves.
"Fashion has become tactile, multi-layered, even sonic for me. In a way, I've realized it can help people get to know me and who I am without having to say anything at all," says Loberti, teary-eyed. "I'm in a position where I'm representing people who have been voiceless and unrepresented for hundreds of years in the media. It's intimidating, but I can finally open so many doors. I never had someone like me to look up to." It's a role for which she's well suited.
---
Photographer: Jingyu Lin | Creative Director: David Graham | Art Director: Brittany Holloway-Brown | Entertainment & Talent Director: Neha Prakash | Fashion Director: Sara Holzman | Stylist: Sarah Slutsky Tooley | Beauty Director: Deena Campbell | Makeup Artist: Quinn Murphy | Hair Stylist: Tommy Buckett | Manicurist: Jade Farrar | Producer: Luciana De La Fe

This story appears in the November 2023 issue of Marie Claire.
Marie Claire email subscribers get intel on fashion and beauty trends, hot-off-the-press celebrity news, and more. Sign up here.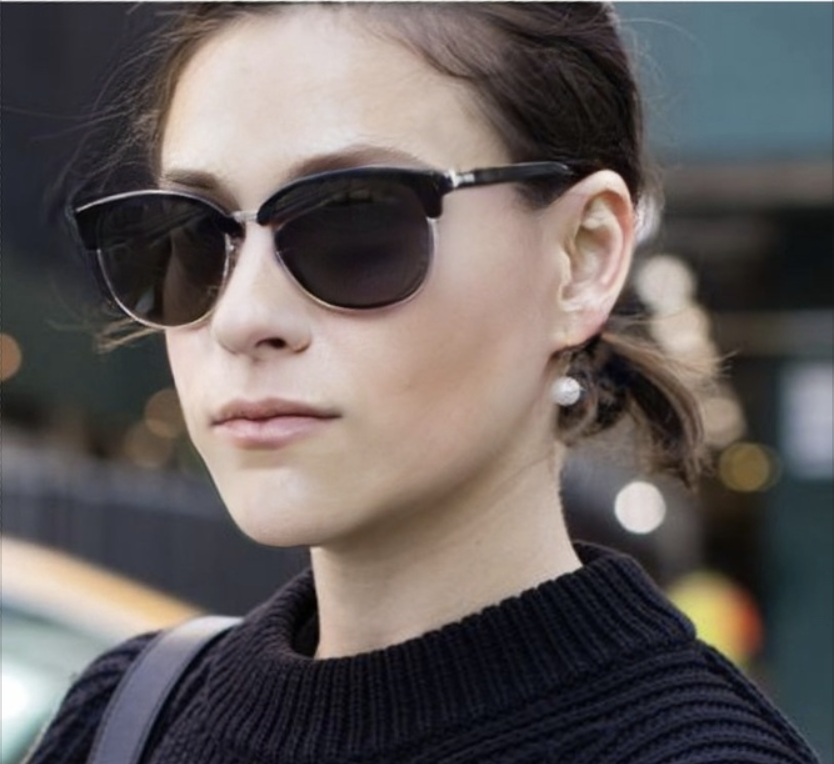 Sara Holzman is the Style Director at Marie Claire, covering runway trends and tracking down the latest finds to buy and wear. When she's not writing about fashion, she pens about the best places to jet-off to. Over her six years with Marie Claire, Sara has reported on the ever-evolving world of fashion— covering both established and emerging designers within the industry. Sara has held fashion positions at Lucky and SELF Magazine and was a regular contributor to Equinox's Furthermore website, where she wrote across their style, wellness, and travel verticals. She holds a degree in Journalism from the University of Missouri, Columbia, and currently resides in Manhattan. Follow her along at @sarajonewyork.