These Celebrity Smile Transformations Will Astound You
With expert input on the time, money, and possible pain it took to achieve them.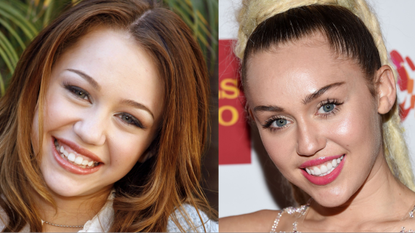 (Image credit: Getty Images)
Bones provide the architecture of your face, but so do your teeth, as anybody who's ever had a surprise extreme makeover via braces can attest to. That's why Hollywood pays so much attention to dental work, even if they're not very vocal about it. Here, 10 astonishing celebrity before-and-afters—with expert commentary by Dr. Andi Jean Miro, DDS, aesthetic dentist at Rosenthal Apa Group.
1. Kate Beckinsale
"Kate Beckinsale had very long teeth with some enamel discoloration. She appears to have achieved a healthier and whiter smile with the placement of porcelain veneers. By removing a small amount of enamel from the tooth and replacing it with custom-made porcelain veneers, you can create a more balanced smile that blends with the surrounding facial features. There is little to no downtime associated with placement of porcelain veneers, and when maintained properly, they can last 15–20 years."
2. Zac Efron
"To close the gap between his front teeth, it appears he may have used braces, bleaching, and a small amount of bonding. He now has a more masculine smile that suits his strong facial features."
Shop similar: Supersmile Professional Whitening System, $36
3. Celine Dion
"Celine had crowded and discolored teeth. Her smile appears to have been improved with the use of porcelain veneers to create a straighter, whiter, and wider smile that enhances her facial features."
4. Miley Cyrus
"This singer/actress had small teeth and showed a lot of gum when she smiled as a child. She swapped out her old smile for a much less gummy smile (which can typically be done by removing gum with a laser) and a set of porcelain veneers to give her a fuller, whiter, and more grownup appearance. This would typically take four visits over the course of a week from start to finish. This procedure can cost anywhere from $2,500–4,000 per tooth, depending on the complexity of the treatment."
5. Nicole Kidman
"Like Miley, Nicole also had small teeth and showed a lot of gum when she was younger, so removing some gum tissue to make the teeth appear bigger can enhance the smile. It appears she also may have gotten porcelain veneers."
6. Blake Lively
"Less is sometimes more. When it comes to Blake, who has a naturally wide smile, it appears she had some minor gum reshaping and bleaching. Gum reshaping can be done with a laser and sometimes with just topical anesthesia. Healing time can be as little as one day."
Shop similar: Crest 3-D White Whitestrips with Light Teeth Whitening Kit, $100
7. Matthew Lewis
"Braces are a great option for someone like Matthew Lewis because he had nice teeth that were not aligned properly. Matthew's teeth appear to have been professionally whitened as well. Depending on the type and time in braces, the cost can vary from $5,000–9,000 for treatment."
Shop similar: Apa Beauty Teeth Whitening Duo, $100
8. Lindsay Lohan
"Lindsay is proof that a small amount of dentistry can go along way. It appears she had some dental bonding on her front teeth to correct the chipping and discoloration. Bonding, combined with professional bleaching, appears to have created a whiter and healthier look. Like all things in life, bleaching requires upkeep, which can get expensive."
9. Gwen Stefani
"Using a combination of adult braces and bleaching, Gwen aligned her teeth and lightened her smile. The amount of time in braces varies depending on how crowded the teeth are, and the initial and desired position of the teeth."
Shop similar: Luster Pro Pro Light Teeth Whitening System, $39
10. LeAnn Rimes
"LeAnn had small spaces between her teeth. These spaces can be closed in a number of ways, such as braces, bonding, and porcelain veneers. It appears LeAnn may have opted for porcelain veneers which close the spaces, lighten the color, and create balance in the smile and harmony in the face."
Chelsea Peng is a writer and editor who was formerly the assistant editor at MarieClaire.com. She's also worked for The Strategist and Refinery29, and is a graduate of Northwestern University. On her tombstone, she would like a GIF of herself that's better than the one that already exists on the Internet and a free fro-yo machine. Besides frozen dairy products, she's into pirates, carbs, Balzac, and snacking so hard she has to go lie down.