29 Celebrities Who Have Reportedly Romanced Royals
Meghan Markle's not the first star to get cozy with a crown.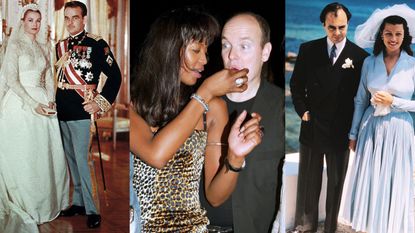 (Image credit: Getty Images)
Back in the day, royal romantic pursuits were typically limited to marrying some distant cousin. You laugh, but Queen Elizabeth II and Prince Philip are both the great-great-grandchildren of Queen Victoria, who married her own first cousin. Thankfully, the royals have oh-so-graciously let some commoners infiltrate their ranks, and while Meghan Markle may be the only duchess to have two Hallmark movies on her IMDB page, she's hardly the first celebrity to rub shoulders with the royals. Here are 29 stars who have reportedly sparked romances with royals, members of nobility, and other assorted aristocrats. Is there a Tinder for HRHs we should know about?
1/29
Grace Kelly
Meghan Markle's Suits departure isn't unprecedented; Grace Kelly also gave up her acting career when she married Monaco's Prince Rainier III, whom she first met at the Cannes Film Festival. Her last movie was the 1956 musical comedy High Society, which co-starred Frank Sinatra and her ex-boyfriend Bing Crosby. Kelly wore her own Cartier engagement ring throughout filming.
2/29
Olivia Wilde
Before settling down with Jason Sudeikis, Wilde was married to filmmaker, photographer, and musician Tao Ruspoli—the son of Italian aristocrat Alessandro Ruspoli, 9th Prince of Cerveteri. The couple split in 2011 after eight years of marriage.
3/29
Ellie Goulding
There aren't many folks who can claim they've dated a royal and had a song on the Fifty Shades of Grey soundtrack. In fact, there's just one: singer Ellie Goulding, who squirmed when confronted about (pre-Meghan) reports that she and Prince Harry were an item.
4/29
Cressida Bonas
You may have seen Prince Harry's model and actress ex—they dated from 2012 to 2014—in films like 2017's Tulip Fever and The Bye Bye Man. It ended amicably, though: Cressida attended THE Royal Wedding in 2018.
5/29
Caroline Flack
X-Factor host Caroline Flack met Prince Harry through a mutual friend, and the couple hit it off immediately. They started dating, but things got complicated when news of their relationship spread. "To meet a prince is so unlikely it would be weird not to acknowledge it. However, once the story got out, that was it," she wrote in her 2015 autobiography Storm in a C Cup. "We had to stop seeing each other. I was no longer Caroline Flack, TV presenter, I was Caroline Flack, Prince Harry's bit of rough."
6/29
Rita Hayworth
The Old Hollywood icon put her film career on hold when she married Prince Aly Khan, a descendant of the Iranian royal family and son of Sultan Muhammed Shah (a.k.a. Aga Khan III) in 1949. The couple divorced in 1953 after clashing over how to raise their daughter Princess Yasmin Aga Khan—not to mention the prince's rumored affair with Oscar-winning actress Joan Fontaine.
7/29
Gene Tierney
Prince Aly Khan was still legally married to Rita Hayworth when he popped the question to classic film star Gene Tierney. His father Aga Khan III reportedly rejected the relationship, and they ultimately split after a year-long engagement.
8/29
Diane von Fürstenberg
The famed fashion designer was known as Her Serene Highness Princess Diane of Fürstenberg during her marriage to Prince Egon of the German noble house of Fürstenberg from 1969 to 1983. She lost her title when they divorced, but that DVF name is now rooted in sartorial history.
9/29
Naomi Campbell
Monaco's Albert II was quite the playboy in his day. His girlfriends reportedly included Naomi Campbell, and Google Images is teeming with PDA receipts (hugs, hand-holding, feeding him with her very own supermodel hands). Things must have ended on friendly terms, as Campbell was invited to the then-Prince's 2011 wedding to swimmer Charlene Wittstock.
10/29
Janice Dickinson
Prince Albert is rumored to have dated another high-profile model: Janice Dickinson. The self-proclaimed "First Supermodel" made mention of the royal tryst in her 2006 book Everything About Me is Fake...and I'm Perfect.
11/29
Claudia Schiffer
Prince Albert denied being "romantically involved" with the supermodel in a 1993 profile, insisting that the "hoopla" and "high visibility" of their relationship "scared [him]." That said, the pair did spend much of the early '90s together, and Schiffer was rumored to have rejected the royal's engagement proposal.
12/29
Gwyneth Paltrow
The Queen of Goop has been linked to two current heads of state. Paltrow denied rumors of a romance with Spain's Felipe VI (who was then *just* a prince) in 2002, the same year she met future ex-husband Chris Martin. She's also one of many actresses—including Brooke Shields and Sharon Stone—said to have dated Albert II of Monaco.
13/29
Charlene Wittstock
Charlene Wittstock made headlines as a member of South Africa's 4x100 meter medley swimming relay at the 2000 Olympics in Sydney, Australia. Her team didn't win (they came in fifth), but Wittstock continued swimming competitively. She met notorious playboy bachelor Prince Albert at a competition that same year, and the two began dating.
Because of Albert's litany of rumored relationships, many wondered if their relationship would last, but the couple surprised the world by tying the knot in 2011. Today, Charlene is known as the Princess of Monaco, and she and Albert are parents to two adorable twins.
14/29
Gad Elmaleh
The Moroccan-French comedian—whom you may recognize from Priceless, Midnight in Paris, and Comedians in Cars Getting Coffee—was in a relationship with Princess Caroline of Monaco's daughter Charlotte Casiraghi until in 2015. They have a son together.
15/29
Rob Lowe
The Parks and Recreation actor nearly made the leap from Brat Packer to Monaco consort when he had a fling with Princess Stéphanie of Monaco, the singer-model daughter of Grace Kelly and Prince Rainier III. According to his autobiography, Stories I Only Tell My Friends, Lowe moved into the royal's Paris apartment the day after they met in 1986, and their romance involved lots of lie-ins, vodka tonics, and clubbing.
16/29
Casper Van Dien
The Starship Troopers actor split from actress wife Catherine Oxenberg (Dynasty) in 2015. Oxenberg is the daughter of Princess Elizabeth of Yugoslavia, and is the only royal to have hosted Saturday Night Live. She's also a second cousin once removed of England's Prince Charles, which must have made for an awkward family reunion when she played Princess Diana in the 1982 TV movie The Royal Romance of Charles and Diana.
17/29
Sophie Winkleman
Princess Michael of Kent has problematic jewelry and a famous daughter-in-law. Winkleman, best known for playing Big Suze in the cult British show Peep Show and a recurring role on Two and a Half Men, became Lady Frederick Windsor when she married the son of Prince Michael of Kent, first cousin of Queen Elizabeth II.
18/29
Zsa Zsa Gabor
Who needs royal blood when you've got a checkbook? The legendary actress' ninth husband, Frédéric Prinz von Anhalt (also known as Prince Frédéric of Anhalt, Duke of Saxony and Westphalia, Count of Ascania) bagged his royal title by paying the money-strapped Princess Marie Auguste of Anhalt to adopt him as an adult. Sensing an opportunity, he and Gabor then went on to adopt at least 10 grown men for large sums of money. Gabor, who died in 2016 at age 99, also took to styling herself as Princess von Anhalt, Duchess of Saxony. A truly extra move.
19/29
Princess Sofia
This should give hope to reality stars and A Christmas Prince fans across the land: Before she married Sweden's seriously dreamy Prince Carl Philip in 2015, Princess Sofia was Sofia Kristina Hellqvist, a glamour model famous in part for kissing adult film star Jenna Jameson on the mid-2000s reality show Paradise Hotel.
20/29
Jessica Chastain
The Molly's Game star could claim countess status thanks to her marriage in 2017 to Gian Luca Passi de Preposulo. Though he makes his living as a fashion executive, Passi de Preposulo is a member of an Italian aristocratic family dating back to the 1300s.
21/29
Jamie Lee Curtis
As the daughter of actors Tony Curtis and Janet Leigh, Jamie Lee Curtis is Hollywood royalty in her own right. As the wife of British actor Christopher Guest, the Halloween star is also a bonafide member of nobility. Curtis officially became Lady Haden-Guest in 1996, when her husband inherited the title of Baron upon his father's death.
22/29
Laura Harring
The Mulholland Drive actress and former Miss USA became Countess von Bismarck-Schönhausen when she married Count Carl-Eduard von Bismarck-Schönhausen, the great-great-grandson of German chancellor Otto von Bismarck, in 1987. The marriage ended two years later because, as Harring has claimed, she refused to give up her acting career.
23/29
Lee Radziwill
Jacqueline Kennedy married a future president. Meanwhile, her sister married a prince. Lee Bouvier's second husband was Polish prince Stanislaw Albrecht Radziwill, who was distantly related through marriage to yet another man who was famously assassinated: Archduke Franz Ferdinand of Austria.
24/29
Kitt Harington...
Your favorite IRL Game of Thrones couple has a claim to the royal throne. Rose Leslie may have played a wildling on the fantasy series, but she's actually more of a lady in the real world; the Scottish actress was born and raised in Lickleyhead Castle, a real life castle located in Aberdeenshire, Scotland, that has been occupied by the Leslie family since the 15th century. Leslie's mother is also a direct descendant of King Charles II.
25/29
...and Rose Leslie
King of the North Kitt Harington also has a royal connection—his grandmother Lavender Cecilia Denny married Richard Harington, the 12th Baronet Harington, directly connecting him with King Charles II as well.
26/29
Queen Letizia
Letizia Ortiz Rocasolano was working as a journalist (her resume boasts positions at ABC and Spanish international news agency EFE as well as CNN+ and Televisión Española) when she fell in love with Prince Felipe VI, the heir to the Spanish throne. In 2014, the couple exchanged vows in Cathedral Santa María la Real de la Almudena in Madrid, the first royal wedding celebrated in the capital in over a century.
Prince Felipe's father King Juan Carlos abdicated the throne to his son later that year, and Rocasolano became the first commoner to become queen in Spain.
27/29
Emma Thynn
When model and celebrity chef Emma McQuiston started dating Ceawlin Thynn, Viscount Weymouth, tongues went wagging; though McQuiston is the daughter of a Nigerian oil tycoon and comes from old money, she's not of royal blood. The viscount's parents were disinvited to the couple's 2013 wedding after Thyne discovered that they were making racist remarks about his fiancée.
If the viscount succeeds his father to become the 8th Marquess of Bath, his wife will become the first Black Marchioness in British history.
28/29
Barbara Hutton
Long before any of her five marriages, Barbara Hutton was a famous socialite and heiress to a New York retail empire (her father was Frank Winfield Woolworth, the founder of F. W. Woolworth Company). The heiress was married and divorced seven different times, and several of those marriages were to different royals from around the world.
29/29
Barbara Hutton
Hutton married Danish count Kurt Haugwitz-Reventlow in 1935. After a short-lived marriage to Hollywood icon Cary Grant, the socialite exchanged vows with Prince Igor Troubetzkoy of Russia in 1948. Her last marriage was to Prince Pierre Raymond Doan Vinh in 1964, a member of the former royal family of the Kingdom of Champasak (modern-day Laos). Whew!
Celebrity news, beauty, fashion advice, and fascinating features, delivered straight to your inbox!