The Outfits 31 Celebrities Wore to Other People's Weddings
"Not here to upstage the bride, but..."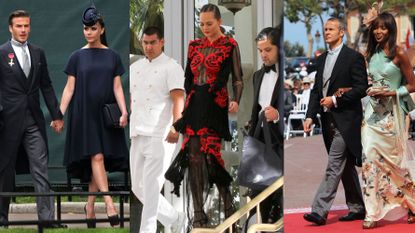 (Image credit: Getty Images + Backgrid)
Marie Claire Newsletter
Celebrity news, beauty, fashion advice, and fascinating features, delivered straight to your inbox!
Thank you for signing up to Marie Claire. You will receive a verification email shortly.
There was a problem. Please refresh the page and try again.
It's always risky inviting a high-profile celebrity to your wedding (even if you're one yourself), when there's the chance your big day will be overshadowed by their presence (remember that Justin Timberlake/*NSYNC snub?). But when it does happen, it's usually the best kind of spectacle. Ahead, 30 celebrity wedding guests trying their best to be low-key or the opposite—being extra fabulous—because they can't help it.
1/27
Nicky Hilton Rothschild and Paris Hilton
Nicky and Paris snap a picture with Amanda Hearst (in Oscar de la Renta) at the wedding's after-party at the Chateau Marmont.
2/27
Naomi Campbell
Supermodel Naomi Campbell is a stunner in a Balmain outfit at Marc Jacobs and Char Defrancesco's star-studded NYC wedding.
3/27
Giovanna Battaglia Engelbert
Fashion's own Giovanna Engelbert left us speechless in her epic Moncler dress at the $6.5 million St. Moritz wedding of Stavros Niarchos and Dasha Zhukova.
4/27
Jenna Lyons
A look that almost (almost) threatened to upstage Solange's all-white wedding.
5/27
David and Victoria Beckham
Ever the dapper gent and lady at the wedding of Prince William and Kate Middleton.
6/27
Emily Blunt
When you're attending the black-tie wedding of Amal and George Clooney, one does not simply show up in an average frock.
7/27
Kanye and Kim Kardashian West
Nothing to see here...
8/27
Elle Macpherson
Elle Macpherson wearing paparazzi-repellent shades at her arrival at a Miami wedding.
9/27
Charlotte Casiraghi
Definitely what we'd wear to a wedding if we had Chanel on speed-dial.
10/27
Kate Middleton
Having a royal attend your wedding is basically a sure-fire way to make sure everyone else on your list is RSVP'ing "Yes." The words "Hats strongly encouraged" were somewhere there in the fine print, too.
11/27
John Galliano
We would expect no less from John Galliano attending a wedding.
12/27
Keith Richards
Still the same Keith Richards (👋, ever-present bandanna) but with a suit on.
13/27
Lenny Kravitz
Cosplaying as Zorro at the wedding of his friend Barbara Becker.
14/27
Naomi Campbell
Whoever said you can't wear Gothic black to a wedding?
15/27
Madonna
Madge giving off major Cruella DeVil vibes at this New York Public Library wedding.
16/27
Tina Fey
Liz Lemon spotted on her way to Alec Baldwin's wedding.
17/27
Joan Rivers
At the wedding of Howard Stern and Beth Ostrosky.
18/27
Ciara
Casual wedding vibes at the marriage of La La and Carmelo Anthony.
19/27
Naomi Campbell
Looking like actual royalty at the royal wedding of Prince Albert II of Monaco.
20/27
Kate Moss and her daughter Lila
When in doubt, the most glamorous cover-up is a full-on fur coat.
21/27
Cindy Crawford
Attending George and Amal Clooney's wedding.
22/27
David and Victoria Beckham
Subtlety is overrated, TBH.
23/27
Brooke Shields
In crimson velvet at the wedding of Katie Holmes and Tom Cruise.
24/27
Anna Wintour
In a glam feathery shrug and her signature shades at George and Amal Clooney's wedding.
25/27
Jessica Alba and Cash Warren
In black-tie get-ups at the wedding of Eva Langoria and Tony Parker.
26/27
Hillary Clinton
Still rocking the jewel tones even when off-duty.
27/27
Will and Jada-Pinkett Smith.
Matching to a T while attending the nuptials of Katie Holmes and Tom Cruise.
Celebrity news, beauty, fashion advice, and fascinating features, delivered straight to your inbox!