Katy Perry Lights Up the Stage at CW Upfronts
The singer performed to a quiet crowd at the 2010-2011 upfronts for the CW Network.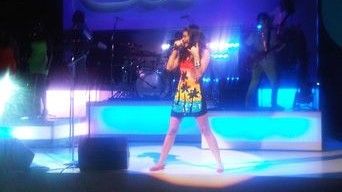 (Image credit: Jessica Henderson)
The four-season-old network and teen dream The CW lived up to its younger, fresher, hipper, let's-give-them-something-to-tweet-about demo with one of the livelier upfronts of the week. Having no idea who would be there, it didn't take long to figure out what, or who, would be kicking things off at the Madison Square Garden Theater Thursday morning once the live band took the stage.
Complete with backup singers bound in tight, fluorescent dresses and a guitar player wearing a conspicuous LED light-up tie — the male formal-wear counterpart to the much-ridiculed Lite Brite dress Katy Perry wore to the Metropolitan Museum of Art's Costume Institute Gala a few weeks ago — you could feel the inevitable "I Kissed a Girl" joke being written on a cue card backstage before it was ever uttered.
Yup, she-of-the-shorty-bangs, Katy Perry, tried to get the bleary-eyed suits out of their seats and grooving along to her two-song set comprised of her past hit, "Hot and Cold," and her new single — and, not so coincidentally — the CW anthem of the summer, "California Girls," off her upcoming album, Teenage Dream. Apparently "upfront" is the code word for guilty-pleasure concert viewing this year, and Perry is a smart fit for a network that boasts the youngest median audience on television (33, if you're wondering).
Everyone's favorite retro poptartlette also proved to be a good sport, keeping her energy high and attempting to razz the sedate ad crowd into action, bellowing, "Is it too early to ask that you get out of your seats?" during her 10 minutes on stage. (It was; hardly anyone stood up.) For this show, the recently engaged star ditched the fruit rompers of yore and hit the stage in a colorful sequined tank dress with an outline of palm trees — an ode to that West Coast skyline — flamingo pink flats, and a pair of sparkly striped sunglasses that one could envision were bought on a shopping spree with her rumored BFF Rihanna.
After her set, Perry handed the mic to the Executive VP of Marketing and Sales, Rob Tuck, who, yes, made an eye-rolling "I Kissed a Girl" reference before launching into a presentation that included the obligatory parade of CW stars awkwardly bantering with one another onstage, which included the tasty Chace Crawford, smoldering Ian Somerhalder, Robert Buckley, CW newbie Ashley Tisdale, 90210's AnnaLynne McCord and Superman himself, Tom Welling. As Maggie Q, star of the new drama Nikita, deadpanned when she stepped into the spotlight, "That's one good-looking room back there."
Celebrity news, beauty, fashion advice, and fascinating features, delivered straight to your inbox!