Prepare to Feel Old: These Pop Songs All Turn 10 This Year
There's nothing that makes you feel older than realizing some of the songs you once jammed out to on the daily are now turning a decade old. From Beyoncé to Kanye, these hits are hitting 10 in 2017.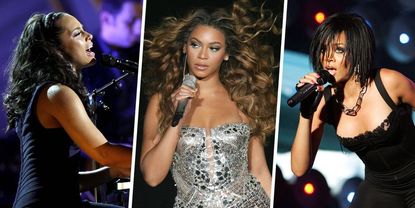 (Image credit: Unknown)
Marie Claire Newsletter
Celebrity news, beauty, fashion advice, and fascinating features, delivered straight to your inbox!
Thank you for signing up to Marie Claire. You will receive a verification email shortly.
There was a problem. Please refresh the page and try again.
The year was 2007. You were the proud new owner of your very first iPhone. Hillary Clinton was a hopeful new presidential candidate. And these songs were blasting non-stop on the radio. Here, a reminder of what life was like 10 years ago, by way of its biggest hits.
1. "Glamorous" by Fergie, featuring Ludacris
If you spell "glamorous" correctly, you owe it all to this song. The track was actually recorded for Fergie's debut solo album, which feels like it came out yesterday. (FYI, The Dutchess is releasing her comeback album sometime this year.)
2. "Umbrella" by Rihanna, featuring Jay-Z
It might be a decade old, but Rihanna's "Umbrella" will never stop being iconic.
3. "Crank That (Soulja Boy)" by Soulja Boy
Ahhhh, the Soulja Boy. You can do it in the car, in the shower, at weddings, at the club, while making dinner...the list goes on and on. And while many dance fads have followed, nothing can touch this one.
4. "Gimme More" by Britney Spears
"Gimme More" was the lead single on Britney's fifth studio album Blackout, and literally no one was not obsessed.
5. "Beautiful Girls" by Sean Kingston
Sean Kingston exploded onto the music scene when he released "Beautiful Girls" as his debut single. Though it should be noted: the lyrics "you had me suicidal" were censored to "you got me in denial" 99% of the time.
6. "Buy U A Drink" by T-Pain
"Buy U A Drink" most definitely gave a new generation of creepy men pick-up line fodder (ugh), but this track is just as good 10 years later.
7. "Lip Gloss" by Lil Mama
Ah 2007, when our lip gloss was poppin'. Fun fact: Lil Mama went on to play Lisa "Left Eye" Lopes in VH1's biographical film CrazySexyCool: The TLC Story. The more you know.
8. "This Is Why I'm Hot" by MIMS
Hands up if you spent 2007 blasting this song while getting ready to go to the club. Or, you know, eating pizza in your room with friends. Either way.
9. "Girlfriend" by Avril Lavigne
We are welling to bet significant (imaginary) money that you remember ever single word to this pop anthem.
10. "Low" by Flo-Rida
Yes, Apple Bottom Jeans and boots with the fur used to be a thing. This song also sparked about a billion memes, which are still just as funny today as they were then. (See?)
11. "Beautiful Liar" by Beyoncé and Shakira
Beyoncé and Shakira's duet combined the best of both worlds: two incredibly talented singers and two music styles. Also, #HairGoals.
12. "I Don't Wanna Be In Love" by Good Charlotte
This song had everyone dancing back in 2007. And if you turn the volume up juuust loud enough now, it'll have the same effect.
13. "Apologize" by Timbaland, featuring OneRepublic
You know those songs that instantly make you feel overcome with emotion? This is one of them. BRB, have some people to apologize to.
14. "S.O.S." by the Jonas Brothers
Before Nick Jonas went solo, he was in a very PG-rated band with his brothers, Joe and Kevin. This is also about a year before Joe broke up with Taylor Swift over the phone in 27 seconds. Never forget.
15. "Valerie" by Mark Ronson, featuring Amy Winehouse
If you need any sort of reminder of just how talented Amy Winehouse was, this is it. And fun fact: Since Amy couldn't make the music video shoot, Mark found a few lookalikes to replace her.
16. "Stronger" by Kanye West
You first heard this song one of two ways: 1) From the millions of times it was played on the radio, or 2) From Daft Hands, otherwise known as that super-cool finger dance that went viral on YouTube.
17. "No One" by Alicia Keys
Just want to casually point out that Alicia Keys looks exactly the same 10 years later...
Celebrity news, beauty, fashion advice, and fascinating features, delivered straight to your inbox!
When she's not keeping up with the latest health news, Tehrene is probably doing one of the following things: walking her fluffy little dog, Trixie, blogging about food and fitness at TehreneFirman.com, watching Law & Order: SVU, or getting her sweat on in Pilates or spinning. And if she's not doing any of the aforementioned activities, she's probably eating french fries.