Mel B. Fills Us In on Plans for the Spice Girls' 20th Anniversary
Zig-a-zig-OMG.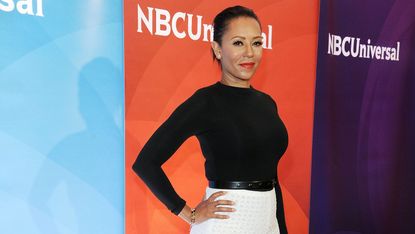 (Image credit: Archives)
We hereby declare this the day that all of our wildest '90s-nostalgia dreams came true: we sat down with Melanie Brown, AKA Mel B., AKA Scary Spice, while she was in town here in New York City. Oh, and she hinted at the possibility of a reunion (🙏🙏🙏) for the Spice Girls' 20th anniversary next year...
Marie Claire: Next year is the Spice Girls' 20th anniversary!
Mel B.: Yeah! From when we kind of first got together.
MC: How does it feel to look back?
MB: It's great that we're still best friends and that we still all get along and that we all support each other in what each of us are doing. It's fun. I like it.
MC: Do you guys have anything planned to celebrate?
MB: Not yet—but I'm sure something will happen. It would be a shame not to!
MC: What comes to mind when you think of being on the "Wannabe" set?
MB: We're such control freaks—we kind of creative directed a lot of our own videos as well as properly qualified creative directors. It was fun, we were involved in everything: from what we wore, to styling, hair, makeup. It was good times.
MC: Is there anything you wish you knew 20 years ago that you know today?
MB: I don't mind not finding out the way that I found out in my life, because I've always had a really open mind on being really reliant on my gut instinct and what I feel inside. I've had a pretty okay time from good to bad to happy to super happy, I think that's all relative and that all makes sense, otherwise, who just wants a completely happy life or a completely sad life? You need a life that has a mixture of everything, and I've definitely had my fair share of everything and I love that, I wouldn't change it.
MC: Craziest fan encounter—go!
MB: I've been asked to sign boobs! And the backs of hands that afterwards are going to go get tattooed, and I'm like, No, my signature was not that good today! I've been asked to sign all kinds of things…but I remember signing boobs.
MC: What do you find scary?
MB: I don't like spiders. Even if it's a little daddy longlegs in my house I'm like, "Ahh! Get away." But I'd like to think that I'm not too scared of anything—if I am literally that terrified, I'll challenge myself to try or to do it.
MC: So what's the last fear you conquered?
MB: God. I can't remember. I mean, I just went up the Empire State Building, and I was kind of scared of heights, so I kind of did that today.
MC: Are girl groups having a moment again? (See: Fifth Harmony, G.R.L., Little Mix.)
MB: I think there's always room for girl groups. I come from a girl group with my friends, we weren't manufactured, we put ourselves together. I'm always going to be an advocate for a good girl group. Or just girls getting along in general!
MC: What's your definition of girl power, and how has it evolved over the years?
MB: Girl power is, still, believing in yourself as a woman and being the best version of yourself that you can be for yourself, both inside and out. I've just been a supporter of other women because us women we go through a lot. Whether it be what we think of ourselves and our own body image or what we're projecting; or, does that person like me, don't they like me? I think it's nice to have girlfriends that you can trust and that you are there for. So, it's always kind of been the same like that for me.
Celebrity news, beauty, fashion advice, and fascinating features, delivered straight to your inbox!
As deputy editor, Jen oversees Cosmopolitan's daily digital editorial operations, editing and writing features, essays, news, and other content, in addition to editing the magazine's cover stories, astrology pages, and more. Previously, Jen was a senior editor at Marie Claire. Before that, she worked at GQ.