What Happens When Cyndi Lauper Visits Your Office
The legendary singer stops by to promote her new star-studded "Home for the Holidays" benefit concert.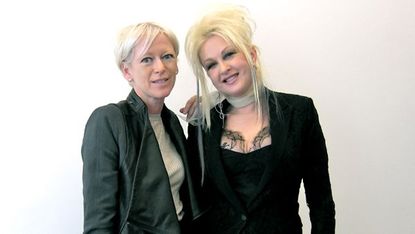 (Image credit: Archives)
Christmas came early at the Marie Claire offices. Last week, all business came to a halt when our favorite friend-to-the-stars, Sergio Kletnoy, had none other than Cyndi Lauper stop by for a visit.
Not only did we get to meet everyone's favorite '80s pop icon — not to mention fashion trendsetter (we all still rock an armful of bangles in her honor) — but so did everyone else in the building as the "Girls Just Wanna Have Fun" singer stopped by the Hearst cafeteria for lunch. (Lauper balanced her own tray of squash and sweet potato soup while wearing five-inch platform heels and being greeted by fan after adoring fan.
Even our own cool-and-collected editor-in-chief had a moment. After finishing up a very important meeting, Joanna Coles gasped at the sight of Lauper, telling her that "Time After Time" was her favorite song back when she was finishing college in 1984. (As a thank you, Lauper gifted Coles her just-released new live concert DVD, To Memphis, With Love (opens in new tab).)
So, to what did we owe this pleasure? She's promoting her star-studded "Home for the Holidays (opens in new tab)" benefit concert this Sunday, Dec. 4, at the Beacon Theatre in New York City, which helps raise awareness for lesbian, gay, bisexual and transgender youth homelessness. And by star-studded, she means it. Vanessa Carlton, Harvey Fierstein, Debbie Harry, Alan Cumming, Rosie O'Donnell, Wanda Sykes, Clay Aiken, and Norah Jones — who dueted with Lauper on their new Christmas single, "Home for the Holidays (opens in new tab)" — will all make appearances.
"When I first learned that up to 40 percent of all homeless youth in this country identify as gay, lesbian, bisexual or transgender, I was shocked," Lauper said. "My hope is that through this inspiring evening of music and comedy, we can raise much-needed funds to help these young people."
For tickets, visit Ticketmaster.com (opens in new tab).