'Empire' Star Taraji P. Henson Wants Society to Get Over the Whole All-Black-Cast Thing
Taraji P. Henson, who steals the show as Cookie in this month's drama Empire (Fox), talks about playing a hip-hop mogul's cast-off first wife battling her ex for control of the business.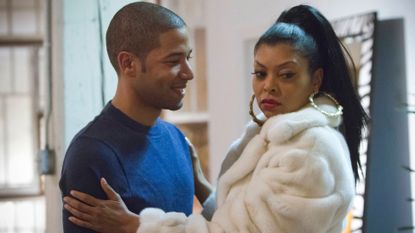 (Image credit: Getty Images)
Marie Claire: How did you get into this character, a drug dealer who served her time, who loves her kids, but has been away from them for 17 years when we meet her?
Taraji P. Henson: "Cookie is from a place where her options were slim. I'm sure she hates that she had to resort to dealing drugs, but she and [ex-husband] Lucious used the only means they had to make a better life for their children. That's what I love about her: Family comes first."
MC: The show is about a record label, and there's tons of music. You've sung in movies and at the Oscars—are we going to hear your voice?
TPH: "It's a possibility. But Cookie's really the producer—that's why she went to jail. She took the bullet for the family because Lucious was the talent."
MC: You left Person of Interest, a big hit TV show, last year. Why do another show?
TPH:" I was not looking for television. My manager said, "I have this script. You have to read it." I was getting paid $5 a week to do theater in Pasadena, eight shows a week. I said, "I don't even have time to read a script." One day, I picked it up, and I couldn't put it down. It scared the hell out of me. I was like, "We're going to offend so many people!" I love that it made me nervous. Cookie is not playing it safe. She's balls to the walls."
MC: This is the first all-black-cast network drama in a while. How do you feel about that?
TPH: "I don't see color. I want society to get past that. If we don't, it will always be the black and the white. Just the word black says to others, "It's not for me. It's a black thing." I look at it like: Humans. Pain. Struggle. Love. Black people don't hurt differently than white or Asian people. That's how I see it."
This article appears in the February 2015 issue of Marie Claire. Follow @TherealTaraji.
You should also check out:
Who Won the Golden Globes? Women.
Should TV Have More Full-Frontal Male Nudity?
Marie Claire email subscribers get intel on fashion and beauty trends, hot-off-the-press celebrity news, and more. Sign up here.